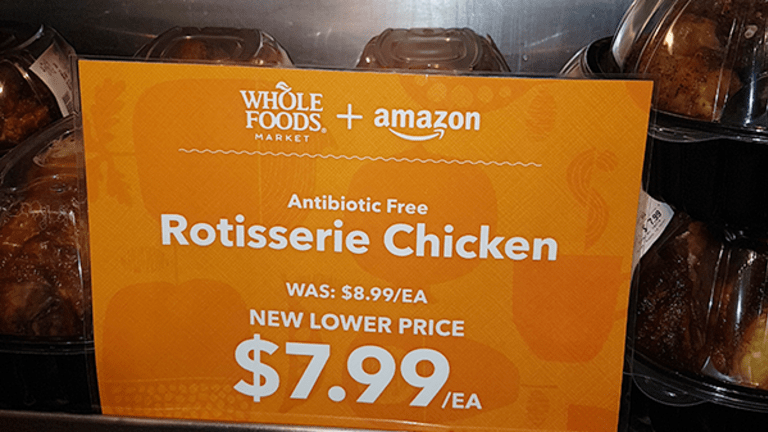 Amazon's Stock Has a Bizarre Third Quarter Even With Whole Foods in the Mix
Whole Foods' CEO would only promise 'some amazing things,' a month after Amazon completed its $13.7 billion acquisition of the organic grocery store company.
Fresh off its biggest-ever acquisition, Amazon.com Inc. (AMZN) - Get Free Report shares finished down 1.2% in the third quarter, while the S&P closed the quarter up for the eighth consecutive quarter.
Amazon completed its $13.7 billion acquisition of Whole Foods Market on Aug. 28, transforming the food and retail industries. Besides organic food retail and its traditional e-commerce business, Amazon, which also includes the world's largest cloud computing platform, Amazon Web Services, may next get into the pharmaceutical distribution business, according to Wells Fargo Securities LLC analyst Ken Sena.
According to Morgan Stanley analysts' "Amazon Disruption Symposium" research, Amazon last year accounted for 49% of all U.S. retail growth, up from 9% in 2013. The analysts expect Amazon to account for 52% of the growth by the end of this year, slowing to 51% in 2018.
On Friday, Sept. 29, Amazon closed at $961.35, up nearly 5%.
 Like Amazon Web Services, the company's Prime membership program is also giving Amazon even more valuable data. Sena estimates that there will be nearly 90 million U.S. Prime members and 120 million globally by the end of the year. More members means more Amazon purchases: Morgan Stanley estimates that Prime members spend an average of $2,486 on Amazon in a year, while for non-Prime members, the number is $544.
The Whole Foods acquisition gives Amazon an instant foothold in the grocery market, one it's long struggled to break into with its food e-commerce programs, Prime Pantry and Amazon Fresh. "We see its acquisition of Whole Foods as greatly enhancing its distribution network and making this massively under-penetrated opportunity, as is evident by the nearly $900bn US grocery market being only 3% penetrated, much more addressable," Sena wrote.
Price is the main reason shoppers avoid Whole Foods, according to the Morgan Stanley analysts, which found that 13 million households shop there, compared to 24 million at Kroger Co. (KR) - Get Free Report , 6 million at Sprouts Farmers Market Inc. (SFM) - Get Free Report and 3 million at Smart & Final Stores Inc. (SFS) - Get Free Report . Some 38% of Whole Foods shoppers, or 5 million people, are not Amazon Prime members, the analysts wrote, adding that they expect half of those shoppers to join Prime before 2020.
Roku (ROKU) - Get Free Report saw a good third quarter...
Echoing the Morgan Stanley analysts' findings was none other than Whole Foods CEO John Mackey, who said at a conference that one reason he sold the company was that its "Whole Paycheck" stereotype for high prices was "a trap" that he "couldn't quite figure how to get out of." Now that Amazon and Whole Foods have joined forces, "We escaped the trap. I feel a little bit like Houdini."
Amazon's first move after the acquisition closed was to lower prices on staples like bananas and eggs and add some Whole Foods private label products to its website. And the strategy is already bearing fruit—almost literally.
According to analytics company One Click Retail, Amazon added over 2,000 Whole Foods items to Amazon.com at the end of August, resulting in "unprecedented" sales of $500,000 in one week. Only 4% of those sales came from Amazon.com, One Click Retail founder Spencer Millerberg wrote, with the remaining 96%,  from Prime Pantry, Prime Now and Amazon Fresh. Meanwhile, traffic surged 25% in Whole Foods stores after the price cuts.
Grocery isn't the only place Amazon is making strides.
In apparel, another relatively new category, Amazon now has a 7.4% market share, behind only arch-rival Walmart Stores Inc. (WMT) - Get Free Report at 8.1%, according to Morgan Stanley. After Amazon come department store giants Target Corp. (TGT) - Get Free Report and Kohl's Corp. (KSS) - Get Free Report at 4.3%, followed by Macy's Inc. (M) - Get Free Report and TJ Maxx parent TJX Cos. Inc. (TJX) - Get Free Report  at 4.2%. 
Beyond promises of "some amazing things," Mackey stayed mum about Amazon's future plans at Whole Foods, joking that his new corporate parent would have him killed. It's early days of the "marriage," he added, and "we're still figuring out what we're going to do."
Don't miss these top stories on TheStreet:
Mom Was a Harley Rider ('70's), I Ride Today ('17), Will my Girls Ride Tomorrow?