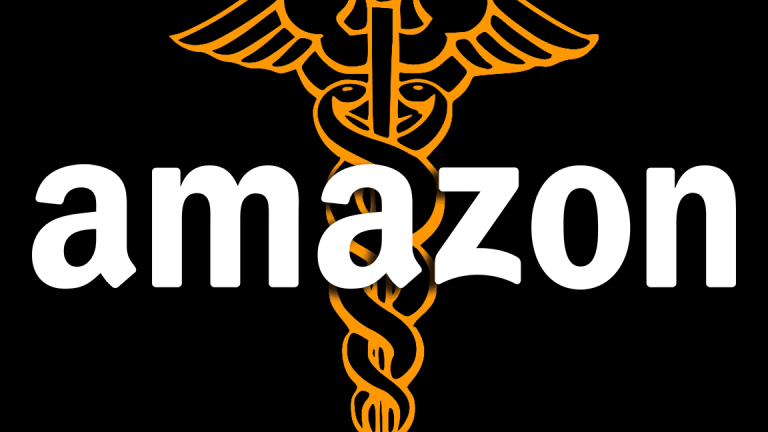 Amazon Faces Major Obstacles Ahead of Any Disruption in Healthcare Industry
Could Amazon be lost in the jungle when it comes to the drug supply chain? RBC analysts say it's possible. Don't count on a big entrance for at least a few years.
Take a breath, CVS. It looks like Amazon.com Inc. (AMZN) - Get Free Report can't poach all of your business just yet.
Action Alerts Plus holding Amazon remains "at least several years away from tackling healthcare's intricacies and complexity," said RBC Capital Markets analysts in a Feb. 26 note.
RBC hosted a panel of hospital purchasing executives at its recent annual healthcare conference, with one panel featuring comments from a member of Amazon's healthcare advisory committee. Per the comments made at that panel, RBC walked away with the impression that Amazon's entrance into the medical supplies distribution business would be unequivocally disruptive, but not particularly imminent.
It's important to note that RBC said they heard few challenges that Amazon couldn't handle with enough time and capital. It seems, then, the questions could be more when, than if. But still, Amazon faces a number of obstacles and barriers to entry.
"The executives on the panel indicated Amazon is not yet in a position to overcome chain of custody issues that are very important in medical supplies and devices - and critically important in pharmaceuticals," RBC wrote. "Amazon appears well suited to match hospital buyers with online suppliers but does not yet have the infrastructure to provide any assurances on product integrity."
Such a possible problem with product integrity could create compliance risk with government payers and lead to hosts of other sanctions as well, RBC said. "With pharmaceuticals, these issues especially as they relate to gray market supply or product counterfeiting could results in patient harm, which was a risk no purchasing manager on the panel seemed willing to entertain."
Amazon also appears to face a challenge in low unit of measure distribution, RBC noted, whereas the current major players in healthcare are able to bundle small numbers of products to specific hospital departments.
Further, Amazon is not particularly competitive on price in this space, analysts said. One executive on the panel described Amazon's healthcare pricing as twice as expensive as Cardinal Health Inc. (CAH) - Get Free Report for items including gloves and masks because Amazon can't contract with a manufacturer at scale. Amazon's best prices also could fluctuate based on market prices, RBC said.
RBC said it maintains an outperform rating on CVS Health Corp. (CVS) - Get Free Report , Express Scripts Holding Co. (ESRX) and Walgreens Boots Alliance Inc. (WBA) - Get Free Report shares, as analysts continue to "remain bullish on the pharmacies and cost containers despite concerns about Amazon's possible disruption in the space."
TheStreet looked at the battle between Amazon and Walmart (WMT) - Get Free Report on the latest edition of its "Technically Speaking" podcast. Listen below.