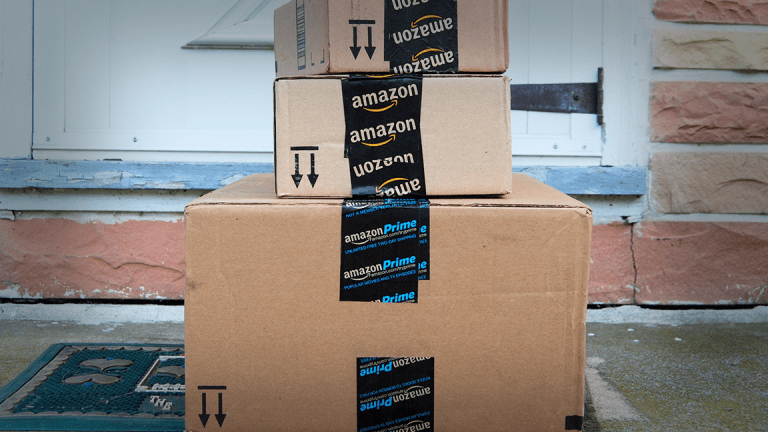 Amazon Effect One Cause of Low U.S. Inflation, According to Goldman Sachs
The bank's chief U.S. economist said retailers aren't raising prices to compete with Amazon and it's lowering overall U.S. inflation.
Goldman Sachs Group Inc. (GS) - Get Goldman Sachs Group, Inc. (GS) Report economists partly blame e-commerce giant Amazon.com Inc. (AMZN) - Get Amazon.com, Inc. Report for low U.S. inflation.
Over the past six months, "many investors worry that structural drags in the retail sector will prevent a return to the Fed's 2% target," Goldman Sachs chief economist Jan Hatzius wrote Saturday, Sept. 30. One potential culprit is the "Amazon effect," through which bricks-and-mortar retailers are forced to "cut prices in a desperate bid to stay alive" to compete with online retailers and their increasingly large market share.
Hatzius estimates that this effect is reducing core goods inflation by 0.25% and reducing overall core personal consumption expenditure (PCE) inflation by 0.1%. That trails the deflationary impact he estimates Amazon archrival Walmart Stores Inc. (WMT) - Get Walmart Inc. Report was responsible for before 2008, which lowered core goods inflation by 0.5% and core PCE inflation by 0.15% to 0.2%, because Walmart and its competitors gained retail market share faster than online retailers are today.
Disinflation due to international trade was also worse earlier in the 21st century, Hatzius noted. U.S. imports from low-cost emerging market countries, "the other key disinflationary force in the goods sector in recent decades," have also dropped sharply, going "from rapid growth to stagnation." That effect is also difficult to quantify, but he cites one study arguing that in the years before the financial crisis imports reduced U.S. producer price inflation by 2%, which would imply a 0.5% drag in core goods PCE inflation and a 0.15% drag on overall core PCE inflation.
While rapid retail change and emerging market imports were both larger disinflationary factors before the financial crisis, "structural forces in the service sector-particularly healthcare and education-are weighing more heavily on inflation than they did back then," Hatzius added. Those forces in the service sector, coupled with the Amazon effect, "may continue to delay a return to the Fed's 2% target."
Watch: After Buying Whole Foods, Here Are Two Other Big Brands Amazon Could Buy Next
More of What's Trending on TheStreet:
Editors' pick: Originally published Oct. 1.