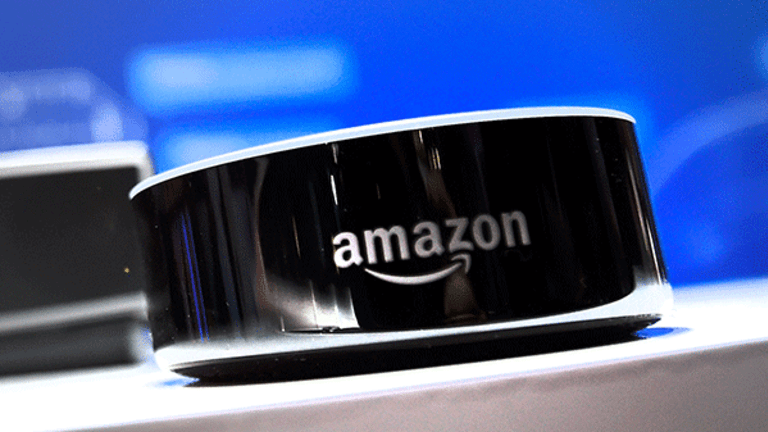 Publish date:
Amazon Echo and Google Home May Soon Be Able to Make Phone Calls
The Google Home and Amazon Echo could make and receive phone calls beginning sometime this year, ramping up the competition between the two voice assistant devices.
The Google Home and Amazon Echo could make and receive phone calls beginning sometime this year, ramping up the competition between the two voice assistant devices.
The Amazon (AMZN) - Get Amazon.com, Inc. Report Echo and  Alphabet's (GOOGL) - Get Alphabet Inc. Class A Report Google Home could soon replace the smartphone as a means to make phone calls. 
The tech giants could bring the feature to their voice assistant platforms sometime this year, the  Wall Street Journal reported this week, citing sources. The launch has been delayed as the companies work out various issues related to privacy, telecom regulations and emergency services. 
The Echo and Home would probably use voice over internet protocol technology to connect with a user's smartphone, the  Journal noted. Call forwarding technology could also be used to connect the devices. 
By adding a phone call feature, Amazon and Google would invent another reason for people to keep using voice assistant devices, instead of their smartphone, tablet or any other technology. 
"It's a natural extension because think of where we typically use these devices - in the kitchen or in the living room - where our hands are busy," said Moor Insights president Patrick Moorhead.
Moorhead added that the calling technology could be a boon for businesses that might use it in conference call scenarios. 
Both the Google Home and Amazon Echo have seen a spike in sales, although Amazon's line of Echo products has arguably seen greater adoption. Google Home came to market later than the Amazon Echo and the Seattle-based company is estimated to have sold 5.1 million Echo units between 2014 and 2016.
Alphabet is a holding in Jim Cramer'sAction Alerts PLUS Charitable Trust Portfolio. Want to be alerted before Cramer buys or sells GOOGL? Learn more now.

Google hasn't released sales figures for its Home device, but analytics firm VoiceLabs estimates that the number of Google Home users quadrupled last December during the holiday season. 
If the Google Home ends up including calling capabilities, it would demonstrate that the search giant is serious in carrying out its vision about the future of voice commands. 
Google CEO Sundar Pichai said on the company's latest earnings call that the company hopes to carry its voice assistant technology beyond just the Home device and into other areas of users' lives, like phones, TVs and cars. 
As more cars have 5G wireless connectivity, it would make sense for voice assistant software to be rolled into that, Moorhead said. 
"When you add a broadband modem in cars, that automatically enables you to do an over-the-top type service," Moorhead explained. "What kind of interface do you need for that? Voice is a really good one."
Both Google and Amazon have ventured into the connected car space. Last month, Ford (F) - Get Ford Motor Company Report said it would begin integrating Amazon's Alexa voice assistant into its vehicles, while Hyundai said in January that its connected cars now work with Google Home.
Including voice assistant calling technology in cars would also extend Google and Amazon's ability to catalog their users, something that's become a major priority for both companies. By including voice calls in Echo and Home devices, Amazon and Google could potentially pull metadata from conversations to help them better understand their users.

"Access to what people are talking about is just a treasure trove of profile building capabilities," Moorhead said. "It gives them an indication of what's on your mind and what's the next service they could sell you."
But that ability to monitor users' conversations has also become a point of contention. Among consumers, phone conversations are considered to be the third most sensitive data category, the  Journal noted.
Both Amazon and Google record and analyze data to improve their artificial intelligence technologies, a practice that may prove to be a sticking point if a call feature is integrated into their voice assistant devices. Moorhead also pointed to Amazon's privacy policy, which says the company won't sell any user data, but can use it to provide customizable user experiences. 
"I have to assume that Amazon does build profiles based on the types of conversations I'm having as well," Moorhead said. 
For Amazon, even though the company continues to diversify itself into dozens of different business areas, it would ultimately benefit the firm's core mission, which is to be an e-commerce company. 
"Amazon likes selling you things and so I think that adds value to the user profiles that it's building," Moorhead added. "It's a very clever way for them to get access to that data."