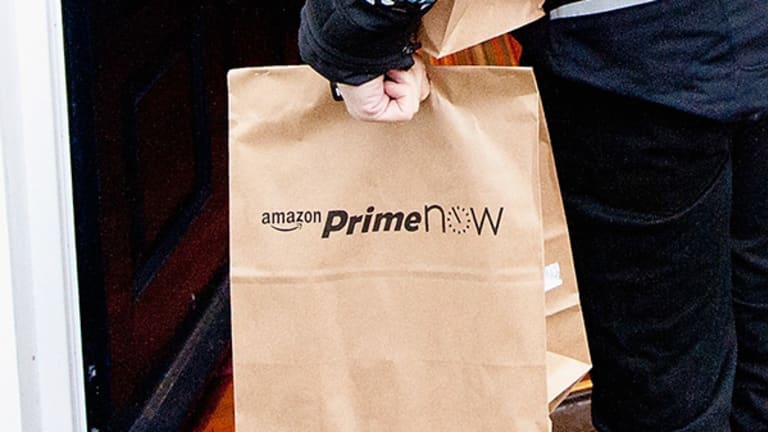 Amazon Dominating Online Holiday Sales but Brick-and-Mortar Retailers Likely to Clinch Final Hours
The e-commerce giant is taking a huge share of online holiday shopping, but physical store retailers have an edge in the last hours leading up to Christmas.
With the holiday shopping season winding down, Amazon (AMZN) - Get Report is taking the lion's share of online purchases, but even it can't compete with physical stores for truly last-minute gifts.
Amazon continues to dominate online sales, with the e-commerce giant controlling nearly 46% of online spending between Dec. 4 and Dec. 17, according to data from market research firm Slice Intelligence. Best Buy (BBY) - Get Report and Walmart (WMT) - Get Report came in second and third in online spending, with a much smaller share of 2.9% and 2.7%, respectively, while Apple (AAPL) - Get Report came in fourth with a 2.6% share.  
Amazon has steadily ramped up its arsenal of last-minute ordering options as a means of holding on to customers who might otherwise head to physical stores. The site has its usual two-day Prime shipping service, but is also offering Prime Now rush delivery. Prime Now customers in 30 U.S. cities can order items until 9:45 p.m. on Saturday for delivery by midnight on Christmas Day.   
E-commerce shopping soared in the early days of the holiday shopping season, making the most recent numbers not all that surprising. Both Black Friday and Cyber Monday topped more than $3 billion in online sales, with mobile devices growing in popularity as the preferred platform for shoppers, according to data from Adobe Digital Insights.   
Despite Amazon's best efforts to hold off physical retailers, however, brick-and-mortar stores will likely end up up stealing the show in the final days leading up to Christmas. 
With expedited shipping often no longer an option, many last-minute shoppers will head to traditional brick-and-mortar retailers to scoop up their final gifts. And about 12% of consumers are waiting until Dec. 23 to buy gifts, according to the National Retail Federation.
By Dec. 23, even Amazon Prime's two-day shipping is no longer a viable option. Plus, most retailers such as Costco (COST) - Get Report ,  Nordstrom (JWN) - Get Report and  Urban Ouftitters (URBN) - Get Report , among others, ended their expedited shipping offers between Dec. 19 and Dec. 22, MarketWatch reports.
Apple and Costco are holdings in Jim Cramer's
Action Alerts PLUS Charitable Trust Portfolio.
Want to be alerted before Cramer buys or sells
AAPL or COST? Learn more now.
Buyers can still use same-day delivery on Christmas Eve, or Prime Now in select cities, but availability varies.
Brick-and-mortar retailers have taken notice of this advantage by offering deep discounts, round-the-clock store hours and in-store pickup for online orders just ahead of Christmas. 
This year's holiday shopping season has been marked by a "heavy" promotional environment, according to the National Retail Federation. Approximately 36% of Black Friday shoppers said all their purchases were on sale vs. 32.5% last year, the NRF said.
Despite the anticipated retail rush this weekend, the post-Black Friday shopping lull was larger-than-expected this year, according to market research firm NPD Group. Dollar sales in the week ended Dec. 10 fell 5% compared to the same period last year, according to NPD.
"The fifth week of Holiday 2016 brought the customary post-Black Friday lull, along with deeper discounts and more abundant week-long deals than in the past," said NPD chief analyst Marshal Cohen in a statement. "Bigger discounts mean deeper holes to climb out of to match last year's sales numbers."
That said, the NRF expects retail sales in November and December to rise 3.6% year-over-year to $655.8 billion, while online sales are predicted to increase between 7% and 10% year-over-year to about $117 billion.