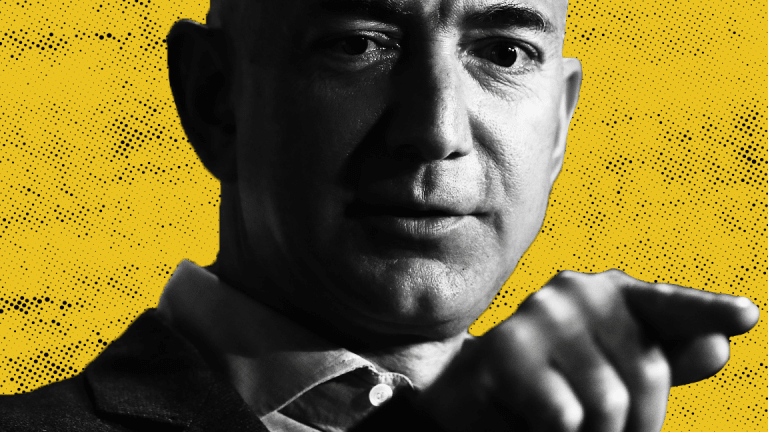 Amazon's Latest Moves Into Delivery Could Yield Lucrative New Revenue Streams
With the help of its massive scale and infrastructure investments, the e-commerce giant continues rolling out fulfillment and delivery services likely to carry high margins.
With the help of its massive scale and infrastructure investments, the e-commerce giant continues rolling out fulfillment and delivery services likely to carry high margins.
Following a year in which Amazon.com (AMZN) - Get Report made warehouse and logistics investments at a breakneck pace and bought a well-known upscale grocery chain, the e-commerce giant is unfurling a slew of new delivery and fulfillment services for consumers and businesses.
Like many previously-launched Amazon services, chances are it will take a little while for the company to roll out the new offerings on a large scale. But the launches do show the degree to which Amazon's unmatched e-commerce scale, together with its willingness to sacrifice near-term profits in order to make big long-term investments, continue fueling the rise of new and potentially high-margin service revenue streams.
On Friday, The Wall Street Journal reported Amazon is set to launch a delivery service -- called Shipping with Amazon (SWA) -- that will involve "picking up packages from businesses and shipping them to consumers." An initial launch will happen in Los Angeles in the coming weeks, with Amazon aiming to launch in other cities "as soon as this year."
The service's reach will probably be limited for now to regions and routes where Amazon, which in recent years has bought a large fleet of truck trailers and leased a fleet of Boeing 767 jets to help move goods between warehouses, has made substantial logistics investments. It will initially cater to merchants selling goods on Amazon's site, but will reportedly be opened up in time to other businesses. Notably, Amazon plans to undercut the pricing of logistics giants UPS (UPS) - Get Report and FedEx (FDX) - Get Report , both of which it still heavily relies on (along with the USPS and other postal services) to deliver goods.
UPS and FedEx shares each were down over 2% on Friday following the reports. Their shares also fell in October following a Bloomberg report about an Amazon's delivery service project codenamed Seller Flex.
In late January, Bloomberg reported Seller Flex was now known as FBA (Fulfillment by Amazon) Onsite. Unlike SWA, FBA Onsite (currently in testing) leverages third-party delivery providers such as UPS and FedEx. However, with the help of Amazon's logistics software, it allows merchants to access Amazon's popular fulfillment services for third-party sellers (FBA) without first shipping goods to Amazon warehouses.
By doing so, FBA Onsite aims to lower shipping costs and delivery times for third-party sellers, and make it easier for their goods to be Prime-eligible. Amazon, for its part, benefits from greater Prime selection, reduced warehouse congestion and additional high-margin FBA revenue. "FBA Onsite is a way for Amazon to significantly increase their sales with almost zero additional overhead cost," said one seller talking about the program to CNBC.
Separately, Amazon said earlier this week it would begin making Whole Foods deliveries eligible for its Prime Now rapid-delivery service, which provides free 2-hour delivery to Prime members for $35-plus orders (1-hour delivery can be had for a $7.99 fee). Whole Foods deliveries will initially be supported in Austin, Dallas, Virginia Beach and Cincinnati, but will expand in time to other cities where Prime Now, currently found in 50-plus metro areas globally, is available.
With Amazon having suggested that bringing costs down for Prime Now, which relies on Uber-like contractors to handle deliveries, remains a work in progress, margins might not initially be great for this service. But in time, it could be an offering that Amazon is uniquely well-positioned to cost-effectively deliver on a large scale, thanks to its ability to leverage both Whole Foods' bricks-and-mortar infrastructure and Prime Now's delivery footprint, as well as the volumes Amazon can drive due to the size of its Prime subscriber base.
All of these moves follow a 2017 during which Amazon's purchases of property and equipment (driven by warehouse and logistics investments) rose 49% to $10 billion. And also during which -- thanks to an ongoing revenue mix shift towards third-party seller services, Prime subscriptions and Amazon Web Services (AWS) -- its gross margin (GM) rose to 37.1% from a 2016 level of 35.1%.
On average, analysts polled by FactSet expect Amazon's GM to rise to 38.2% in 2018, 39.5% in 2019 and 40.9% in 2020. Its latest forays in the realm of delivery and fulfillment services provide fresh reasons to think Jeff Bezos' firms still has quite a lot of headroom to expand margins in the years to come.
TheStreet's Executive Editor Brian Sozzi talked about Amazon taking on the delivery guys on Morning Jolt.