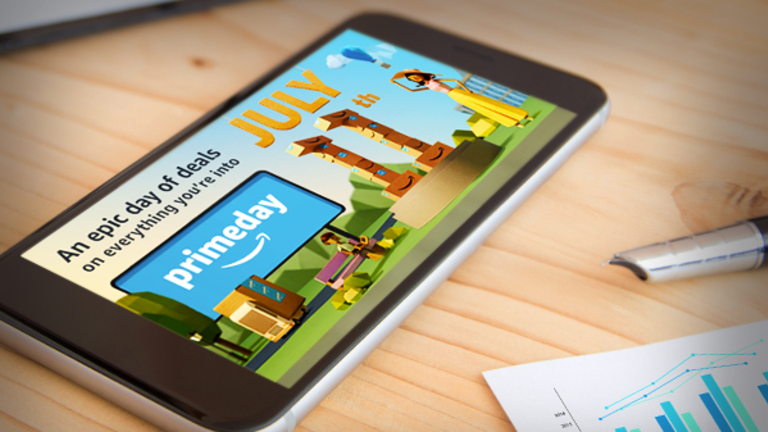 Amazon Could See a Mind-Blowing $2 Billion in Sales From Prime Day: Report
Huge sales gains seen for Amazon on Prime Day.
Prime Day could shape up very well for Amazon (AMZN) - Get Report .
Amazon stands to ring up more than $2 billion in sales worldwide during the 30-hour sale known as Prime Day, Internet Retailer predicts. The gain would mark about a 21% increase from a year ago. U.S. sales alone are pegged at $1.56 billion, up 20% from last year.
Amazon's massive sales event for Prime members will kick off on Monday at 9 p.m. ET and run through July 12 at 3 a.m. ET, with new deals being offered every five minutes. People who aren't Prime members can sign up for a membership on or before July 11 to take part in the big sales event.
The success of Prime Day over its previous two years has led to other retailers getting a bit jealous and putting on their own sales events at the same time.
During last year's Prime Day event, Walmart (WMT) - Get Report notably launched its "Dare to Compare" online sale that showed items on their site that beat the price of the item on the site of one of their main competitors, including Amazon. "Walmart never specifically stated they were trying to directly compete with Amazon with this sale, but the evidence seems pretty clear," BestBlackFriday.com's Phillip Dengler said.
This year, Walmart has refrained from promoting its "Dare to Compare" page, resorting to promoting generic "Huge Summer Savings" sales instead.
Visit here for the latest business headlines.
Watch more retail news on TheStreet:
6 of Walmart's Most Recent Acquisitions