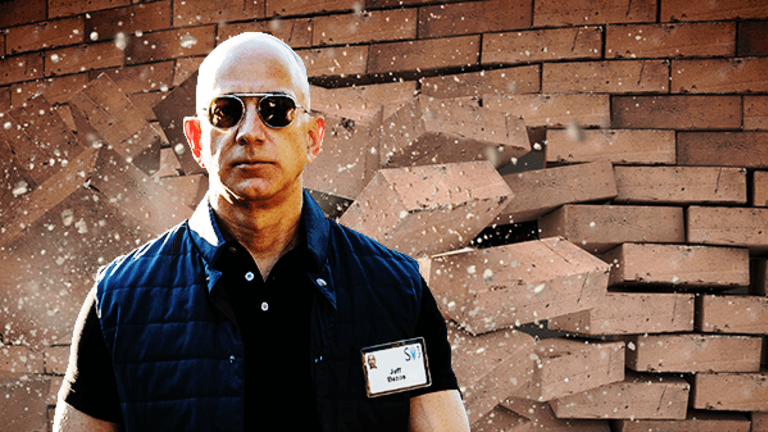 The Reality Is That Amazon Wants to Own You
Amazon is doing a great job at expanding even more into our daily lives. Isn't it sort of creepy how much Amazon knows about us?
Amazon.Com Inc.  (AMZN) wants to own your entire soul. All of it. 
There is almost nothing else that needs to be said. Just look at all of the new stuff the tech giant released at a surprise event on Wednesday, Sept. 27. New, more affordable smart home devices that are packed with improved features. Why? To drive mass consumption. With mass consumption comes more data accumulation. With more data accumulation, comes a better Amazon website that lures you into buying even more on your phone. With that data, Amazon can flip it into offering some form of targeted real-time discounts at Whole Foods that magically pop onto your phone while pushing a shopping cart. 
The reality is that Amazon is doing everything it can to become increasingly more powerful in all our daily lives. If that isn't creepy as hell, I don't know what is. If it continues at its current pace, rest assured Amazon will be hearing from the government on how it's a monopoly that must be broken up. But for now, everything Amazon unveiled on Wednesday is bullish for the stock ... especially ahead of the holiday season. 
What's Hot
How to Think About Trump Tax Plan
Spent some time with Dunkin' Brands Group Inc.  (DNKN) CEO Nigel Travis (part one of video below on coffee wars) on Wednesday afternoon, and of course Trump's tax plan came up. Travis gave helpful insight into how his company is thinking about the impact of the tax plan, noting that the company's current 38% rate is "ridiculous." For Travis, the tax plan should free up franchisees to reinvest in their businesses, serve customers quicker and ultimately, help Dunkin' corporate make more money.
I couldn't help but to think a name such as International Business Machines Corp.  (IBM) is a beneficiary of the plan's capital expenditure expensing framework. With the push to digital in food ordering, companies across the industry will need more servers, etc. Can't solely rely on the Apple Inc.  (AAPL) iPhone X.
If you'd like to receive the free "Morning Jolt" newsletter, please register here.
Feeling Roku?
Dug into the Roku Inc. IPO that will kick off Thursday, Sept. 28. As an avid Roku user, I get it. The user interface is an all-star and the damn thing just seems to work effortlessly. The company has more than 15.1 million active accounts, a number that continues to grow nicely. The CEO/founder is the guy who developed the DVR. And the company is benefiting from the structural shift to watching streaming content. Thanks, Netflix Inc.  (NFLX) . 
But there are question marks here, chief among them the role of the Roku system in an Apple iPhon- based content watching world. Then there are social media platforms like Facebook Inc.  (FB) developing their own video to keep people on the site. 
I am sitting down with Roku's chief financial officer later Thursdayy so hope to have more info on these things. In the meantime, here's a good read on the Roku IPO from TheStreet's Eric Jhonsa that also loops in the threat of Amazon.
More of What's Trending on TheStreet: