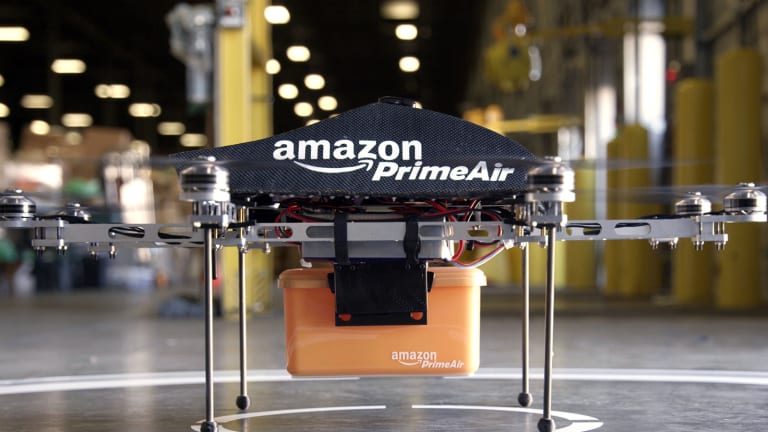 Amazon Completes First Prime Drone Delivery
The ecommerce retailer has started a drone delivery trial in the U.K., and hopes to expand to other countries as it negotiates with regulators.
Amazon (AMZN) - Get Reporthas taken a step forward in its grand vision to use drones to deliver small packages to customers in under 30 minutes.
The Seattle-based company announced on Wednesday that it has begun a private, small-drone delivery beta trial in the U.K., and that it delivered its first package to a customer -- including an Amazon Fire TV and a bag of popcorn -- in only 13 minutes on Dec. 7. The autonomous drones can carry packages of up to five pounds, use "sense and avoid" technology to steer clear of obstacles and employ GPS systems to navigate toward their destinations without any human interaction.
TheStreet's founder Jim Cramer said on Wednesday the development is good news for the company and consumers, but he noted that it could result in a loss of jobs.
Amazon stock closed down 0.7% to $768.82 on Wednesday, but is up about 14% year to date.
"Prime Air has great potential to enhance the services we already provide to millions of customers by providing rapid parcel delivery that will also increase the overall safety and efficiency of the transportation system," the company said in a statement.
This initial beta test is admittedly very small, with only two participants. But Amazon said it will be collecting data and feedback from the participants in the next few months in order to improve the safety and reliability of its operations.
The company is then hoping to expand the trial to dozens, and later hundreds, of customers who live within a few miles of its first Prime Air fulfillment location in Cambridge. Amazon also has ambitions to expand the project beyond the U.K.
"We are working with regulators and policymakers in various countries in order to make Prime Air a reality for our customers around the world, and expect to continue to do so," the company said in a statement.
The company currently has Prime Air development centers in the U.S., U.K., Austria and Israel.
Amazon first announced its plans to devise the futuristic delivery platform in December 2013. CEO Jeff Bezos initially said the service would be available for customers in as soon as four or five years.
Prime Air, however, has raised questions in the U.S. specifically over air flight regulation.
In June, the Department of Transportation and Federal Aviation Administration released their first set of rules for commercial drone flight. The rules are relatively restrictive for Amazon's ambitions.
The FAA mandates that drones remain within a visual line of sight with their pilots, and pilots must be able to see the drones without using visual aids more powerful than typical prescription glasses. Maximum flight speeds also must not exceed 100 miles per hour, and drones cannot fly higher than 400 feet in altitude.
Further, the guidelines dictate that drones cannot fly over "unprotected people" unless they are direct participants in a UAS operation.
The rules went into effect in August.
In the U.K., the Amazon Prime Air drones are currently permitted to operate in the daylight when there are low winds and good visibility. Amazon can't send out its drones when it's raining, snowing or icy. The company added that once it has gathered enough data to improve the safety of the system, it will look to expand its operating conditions.
Amazon said the new drones "look like science fiction" but projects that one day "seeing Prime Air vehicles will be as normal as seeing mail trucks on the road."
It seems that day might be getting closer, at least in the U.K.
Amazon.com is held in the Growth Seeker portfolio. See all of the holdings with a free trial.