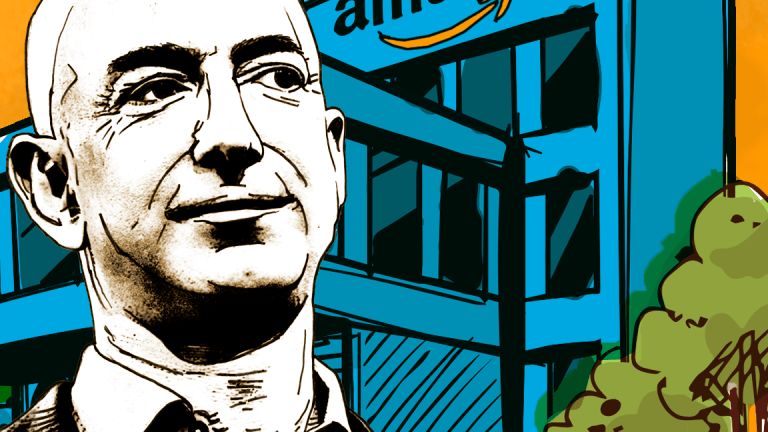 Amazon's Cloud Is Still in a League of Its Own (Sorry, Microsoft and Google)
New product announcements and the drama surrounding a big Pentagon contract act as fresh signs that Amazon Web Services still has big competitive advantages against hungry rivals.
If you need convincing that Amazon Web Services (AWS) is now an enterprise tech giant in its own right, just try keeping up with AWS-related news and commentary for a few weeks.
Last week was a particularly news-filled one for Amazon.com's (AMZN) public cloud unit, in large part thanks to announcements made at or timed to coincide with its AWS Summit San Francisco conference. It also saw a flurry of headlines related to AWS's bid for a $10 billion Department of Defense (DOD) contract as President Trump steps up his attacks on Jeff Bezos' company.
The product announcements made at the latest AWS Summit weren't as numerous as the ones unfurled at last November's massive AWS re:Invent conference, but they did strengthen Amazon's hand in two fields that have been getting a lot of attention from its customer base. Namely, security -- a top priority for many enterprises due to ongoing data breaches, and often a concern for firms thinking about moving mission-critical apps or sensitive data to the cloud -- and AI/machine learning, which has seen investments surge to the point where there's an acute shortage of research talent.
The list of new services included:
AWS Secrets Manager, which simplifies the process of storing passwords, database credentials and API keys, and of making them available to different users and apps.
AWS Firewall Manager, which makes it easier to manage security settings for multiple AWS accounts and geographic regions, and to move apps between them without affecting security settings.
An option to encrypt data managed by Amazon's Elastic File System (EFS) storage service while it's in transit.
A cheaper version of Amazon's popular S3 object storage service for firms that don't need data backed up in a different region.
Several new services for SageMaker, a service that helps developers build and deploy machine learning models and algorithms. They include support for more cloud computing instances and local testing.
Support for performing AI inference (the running of trained algorithms against real-world data) on top of AWS Greengrass, software that allows companies to run AWS services on local hardware.
AWS also announced that AI-based translation and transcription services it previously announced are now generally available, and disclosed online photo-printing service Shutterfly (SFLY) had joined its long list of major Internet clients (GoDaddy was disclosed a week earlier). It also stated the customer count for its Aurora database service (a thorn in Oracle's (ORCL) side) has risen by 150% in the last year to the "tens of thousands," and that active users for its machine learning services have risen over 250% during the last year.
Not bad for an event that's far from AWS's largest of the year.
As the San Francisco announcements drive home, AWS is doing a pretty remarkable job of maintaining a large feature-set lead relative to Microsoft's (MSFT) Azure and Alphabet's (GOOGL) Google Cloud Platform (GCP), even as Microsoft and Google have moved aggressively to try and narrow it. In addition to the unmatched array of features its offers on its own, AWS also claims an unmatched ecosystem of third-party software and services, courtesy of its AWS Marketplace.
Jim Cramer and the AAP team hold positions in Amazon, Microsoft and Alphabet for their Action Alerts PLUS Charitable Trust Portfolio. Want to be alerted before Cramer buys or sells AMZN, MSFT or GOOGL? Learn more now.
Meanwhile, the emphasis on security and machine learning services arguably serves as more proof of what AWS chief Andy Jassy has called his division's "customer-focused" R&D approach -- a mindset that drives AWS to build services based on what customers are saying they want, rather than based on what rivals are doing or what Amazon decides on its own is worth pursuing. The November announcements, which included a number of services that filled holes in AWS' lineup, also fit that description.
This feature-set edge is worth keeping in mind as the DOD reviews bids for a $10 billion, ten-year contract to provide a variety of cloud services to U.S. armed forces. Bidders such as Microsoft, IBM (IBM) and Oracle have criticized the DOD's decision to hand the contract in full to a single company on the grounds that it gives AWS, which has already inked major deals with the CIA and other government agencies, the inside track to win it.
As President Trump has taken aim at Amazon's sales tax collections and USPS shipping rates over the last couple of weeks, there has been speculation that he'll act to prevent Amazon from landing the DOD deal. This speculation has been heightened by reports that Trump has mulled cancelling some of Amazon's government contracts, and that Oracle co-CEO Safra Catz brought up the DOD deal during a recent meeting with Trump.
However, The Wall Street Journal has reported that Trump told Catz the DOD contract would be decided by Pentagon officials rather than him. Likewise, Bloomberg reports there's currently no discussion within the White House "about turning the power of the federal government against [Amazon]."
Though its existing relationship with the DOD and possession of important security clearances help as well for a deal like this, the fact that a winner-takes-all bidding format is seen by IT giants as favoring Amazon says quite a lot about how AWS's feature-set lead, together with its global scale and reach, still leave the business in a league of its own among public cloud infrastructure (IaaS) and app platform (PaaS) providers. And that in turn explains why the division has claimed such an outsized share of deals that feature large-scale migrations by enterprises and institutions to a public cloud infrastructure, rather than the adoption of one for a narrow set of apps and services.
In addition to Shutterfly and GoDaddy, the list of firms that have carried out or announced plans for such migrations to AWS includes GE, Capital One, Netflix, Atlassian, Disney, Expedia and Turner, to name a few. Such deals are among the reasons why AWS' share of cloud services revenue (for IaaS, PaaS and hosted private cloud) is estimated by Synergy Research to still be easily more than twice that of Microsoft's, and more than four times IBM and Google's.
Amazon, for its part, reported its AWS revenue rose 45% annually in Q4 to $5.1 billion, and 43% over the whole of 2017 to $17.5 billion. Microsoft doesn't break out its Azure revenue, while Google has disclosed its cloud revenue surpassed $1 billion in Q4; G Suite (formerly Google Apps) subscriptions are believed to account for a large portion of this total. IBM says its "as-a-service" cloud revenue was on a $10.3 billion run rate at the 2017, but this figure includes cloud app (SaaS) revenue in addition to IaaS and PaaS revenue.
Unlike the DOD contract, public cloud services won't be a winner-takes-all affair. Many enterprises are comfortable relying on multiple public clouds, and in some cases complementing them with private clouds they've built using software from Microsoft, Red Hat (RHT) or others. For example, a firm might use AWS as its primary public cloud provider, but still rely on Azure for workloads relying on Microsoft's server OS and databases, and on GCP for analytics and AI-related workloads that Google's cloud excels at.
However, even as Azure and GCP have seen strong growth, there's been little sign of AWS's leadership position being seriously threatened. And certainly, the headlines surrounding AWS's latest conference and the DOD contract drama don't give much reason to think this has changed.
Watch all of Jim Cramer's full NYSE live shows right here: