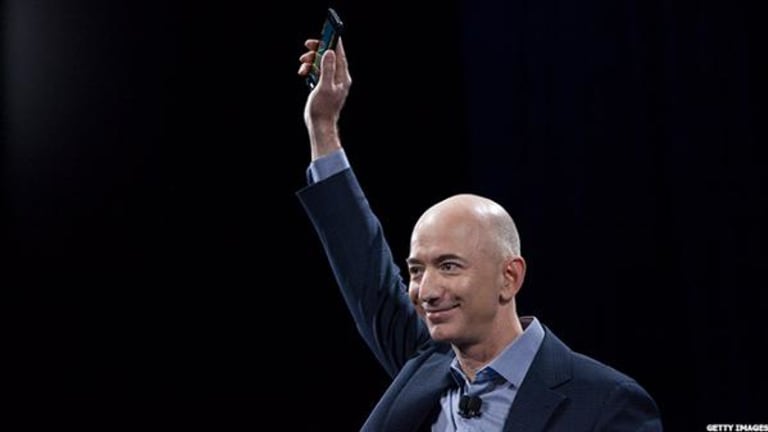 Amazon CEO Jeff Bezos Made One Huge Mistake That Walmart Could Make Him Pay Dearly For
Walmart's e-commerce sales boost in the fourth quarter was a blow to Amazon.
Amazon's (AMZN) - Get Amazon.com, Inc. Report Jeff Bezos is surely "cursing the sky" after Walmart (WMT) - Get Walmart Inc. Report posted killer e-commerce growth in the fourth quarter on Tuesday, said Eric Schiffer, CEO of online marketing agency DigitalMarketing.com.
Walmart said its sales from e-commerce gained a whopping 29%, helped by the $3.3 billion September acquisition of Jet.com, led by founder and CEO Marc Lore. 
Lore also founded Quidsi, the company behind Diapers.com and Soap.com, which was bought by Amazon in 2010 for $550 million. Lore stayed with Quidsi for roughly two years while under Amazon's control.
"I think Amazon letting Marc go was the biggest mistake in history since Caesar let Mark Antony go to Egypt to be with Cleopatra," Schiffer told TheStreet.
Guided by Lore, Schiffer said Walmart could eventually supersede Amazon as the largest e-commerce retailer in the world.
"It's human talent that drives these businesses," Schiffer said. "The CEO of Jet was trained by one of the best (Bezos) in a fierce, savage, bloody environment and it weaponized him for managerial excellence."
Walmart's e-commerce chief, Marc Lore
Although Walmart's fourth quarter earnings were not a "death blow" to Amazon yet, Schiffer said it definitely was a "bombshell." And the fact that Walmart has the distribution edge over Amazon -- operating more than 6,000 Walmart and Sam's Club stores in the U.S. -- it could, he said, eventually offer same-hour home delivery options, compared to Amazon's same-day service.
Watch More: Meet the Richest Heirs to the Walmart Fortune
Last May, Walmart began testing its two-day home shipping subscription service ShippingPass to compete with Amazon's Prime. ShippingPass members received free two-day shipping for $49 a year, compared to $99 for Prime. And, last month, Walmart introduced its free two-day shipping service with zero membership fees.
Lore told TheStreet on a conference call that Walmart has seen a "nice uptick" in sales following the launch of the free two-day shipping service. 
Still, not everyone is convinced.
KeyBanc Capital Markets managing director Ed Yruma said while he sees Walmart and Amazon as the "two dominant e-commerce retailers," he is not sure Walmart's e-commerce business is a direct threat to Amazon.
"Walmart will focus on price and value, similar to the value promise of its existing store fleet," Yruma said. "Amazon is adding more services - video, photos, among others - to attract more affluent customers."
Marketing software company NectarOM CEO Amrit Kirpalani agreed, telling TheStreet that Amazon "reaches a broader customer base, not just the typical Walmart shopper."
Editor's Pick originally published on Feb. 21.