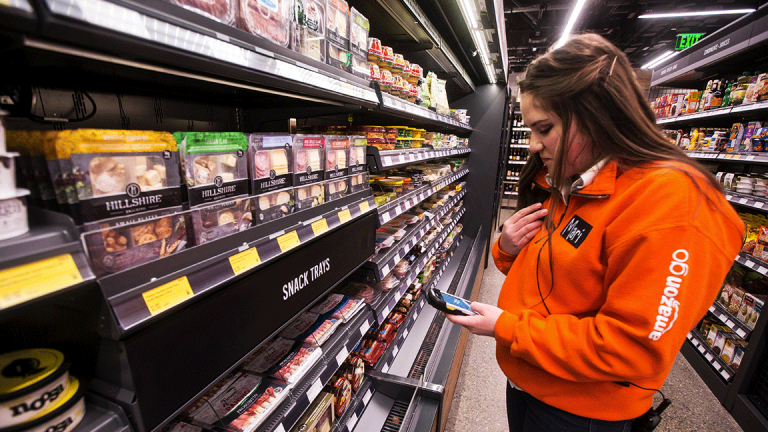 Amazon's New Cashier-Free Store Gives It a Reason to Make Another Acquisition
The technology powering the Amazon Go store concept could provide a valuable competitive advantage, should Amazon enter the convenience store space in a big way.
The technology powering the Amazon Go store concept could provide a valuable competitive advantage, should Amazon enter the convenience store space in a big way.
In the short-term, it's probably best not to expect too much from Amazon.com's (AMZN) - Get Report Go convenience stores and the cashier-free checkout technology powering them. For now, there's only one Go store in operation, and some early accounts suggest Amazon still has a bug or two to work out.
But in the long run, assuming Go's technology works as well as advertised, it stands to give Amazon a huge competitive advantage in a segment of physical retail that to a large degree remains immune to online cannibalization. And that, in turn, would give Amazon more of an incentive to make a fresh bricks-and-mortar acquisition.
Thirteen months after Jeff Bezos' company first unveiled its Go store concept, an 1800-square-foot Go store has opened to the public. It's located near Amazon's downtown Seattle HQ, and customers enter by have their QR code on the Amazon Go app scanned. Once inside, shoppers as promised can grab items from store shelves and walk out without ever standing in a checkout line; Amazon relies on cameras, sensors and machine learning algorithms to detect when an item is taken and bill a customer after he or she leaves the store.
Importantly, Go's product selection differs a bit from that of, say, a 7-Eleven. In addition to some snacks and beverages one might find at a typical convenience store, Go sells fresh sandwiches and salads, wine bottles, Amazon meal kits and snacks from Whole Foods' 365 Everyday Value line. "The inventory caters to health-conscious, affluent millennials rushing to their next meeting and could leave the stoner-slacker crowd searching aimlessly for the machine that barfs out chili and cheese with the push of a button," Bloomberg quips.
Whole Foods, which Amazon is still just five months removed from acquiring, should aid not only Go's product selection, but also its economics. By leveraging Whole Foods' grocery stores and distribution centers, along with its volume purchases of fresh-food items, Amazon can keep Go's cost structure down, despite lacking the scale of larger convenience-store chains.
Naturally, some are wondering how long it will be before Go is implemented within Whole Foods store. Chances are that it'll take a while: At 39,000 square feet, the average Whole Foods store is more than 20 times as large as the first Go store, which makes relying on cameras and sensors to track all purchases far more daunting. Also: Even if the technology was rolled out at a full-sized supermarket, shoppers buying a large number of items might often prefer to have a cashier bag the items.
It's worth noting that Go isn't Amazon's only stab at taking on convenience stores and delis. In August, the company unveiled Instant Pickup, a service that lets Prime members obtain "hundreds of need-it-now items like food, cold drinks, personal care items, technology essentials and Amazon devices" within two minutes of placing an order through the Amazon app.
A handful of Instant Pickup stores have opened up on college campuses; shoppers pick up their orders by scanning a bar code appearing within the Amazon app at a kiosk. The solution isn't as technically impressive as Go, and arguably a little less convenient. But it's easier to roll out on a large scale, and provides Amazon with a useful way to battle traditional convenience stores, which often charge sizable markups for popular items.
Jeff Bezos famously quipped that "your margin is my opportunity," and the convenience store industry's traditionally-high margins have to look like an appealing target to Bezos' firm. And with Go, Amazon also has a way to deliver a superior customer experience. All of that could motivate the company to aggressively go after the market by acquiring a large, established, convenience store chain -- possibly one that owns stories accompanied by gas stations.
As with buying Whole Foods rather than trying to internally build out a supermarket chain, there are a few different reasons for Amazon to turn to M&A here. Among them: Obtaining the real-estate footprint needed to build out its own convenience store/gas-station chain would be challenging in many markets; Amazon could get its hands on a skilled management team that understands the industry; and just as it plans to make Prime Whole Foods' loyalty program, Amazon could quickly start offering Prime members gas and convenience-store discounts at hundreds or thousands of stores.
For the time being, Amazon might be hesitant to make such a move, given that it still has a lot of work left to do when it comes to integrating Whole Foods. But there are plenty of signs suggesting that convenience stores are a space that the company is quite keen on disrupting.
Editor's note: This article was originally published by The Deal, a sister publication of TheStreet that offers sophisticated insight and analysis on all types of deals, from inception to integration. Click here for a free trial.
More of What's Trending on TheStreet: