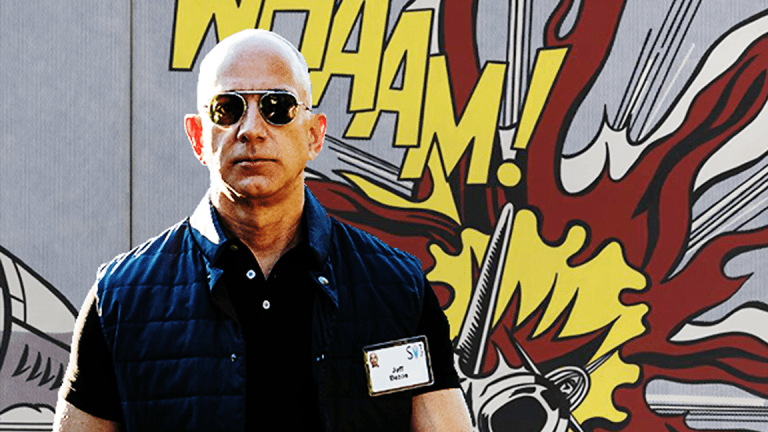 Amazon's Jeff Bezos Lays Out Keys to Company's Success in Annual Letter
The world's richest man channeled Henry Ford in writing about how Amazon has been able to discover and dominate huge new markets.
Amazon (AMZN) - Get Amazon.com, Inc. Report founder and CEO Jeff Bezos just gave the playbook for the company's phenomenal success at discovering new markets and continuing, even after 20 years, to grow so rapidly.
As he has in the past, the world's richest man wrote about the company's philosophy and approach to business in Amazon's annual shareholder letter, which was released on Thursday morning.
The theme of this year's letter was about how Amazon has been able to discover large new markets through a process of exploration, experimentation and learning from failures. Bezos wrote that while listening to customers is often key to executing well, discovering new opportunities that can really move the needle doesn't come this way.
"Wandering is an essential counter-balance to efficiency," Bezos wrote. "You need to employ both. The outsized discoveries -- the 'non-linear' ones -- are highly likely to require wandering."
In an echo of the famous quote attributed to Henry Ford ("If I had asked people what they wanted, they would have said faster horses."), Bezos wrote that "the biggest needle movers will be things that customers don't know to ask for. We must invent on their behalf...AWS itself -- as a whole -- is an example. No one asked for AWS," referring to the market for cloud computing that has become a huge growth driver for Amazon.
Jeff Marks, Senior Portfolio Analyst for Jim Cramer's Action Alerts Plus portfolio, which owns Amazon, said that "the letter highlighted Jeff Bezos' competitive spirit and his drive to innovate. His commentary around inventing things that customers don't know to ask for reminded me of the old Wayne Gretzky quote, 'I skate to where the puck is going to be, not where it has been.' Amazon's strength in e-commerce and cloud computing is confirmation of this."
Bezos began his letter by citing the growth of Amazon's third-party sales, from 3% of overall sales in 1999 to 58% in 2018.
Bezos attributed that remarkable growth to providing third-party sellers with the best tools that Amazon could imagine and build, calling out Fulfillment by Amazon and the Prime membership program in particular for significantly improving customers' experience with independent sellers.
But Bezos again noted that those programs weren't anything that its customers or partners were asking for.
"With the success of these two programs now so well established, it's difficult for most people to fully appreciate today just how radical those two offerings were at the time we launched them. We invested in both of these programs at significant financial risk and after much internal debate," Bezos wrote.
Amazon's chief also affirmed his company's commitment to continue experimenting and failing on a large scale.
"As a company grows, everything needs to scale, including the size of your failed experiments," Bezos wrote. "If the size of your failures isn't growing, you're not going to be inventing at a size that can actually move the needle. Amazon will be experimenting at the right scale for a company of our size if we occasionally have multibillion-dollar failures."
As always, Bezos closed his letter by attaching a copy of his first shareholder letter in 1997 in which he laid out the company's focus on customer obsession and other basic principles that continue to guide Amazon today.
Amazon is a holding in Jim Cramer'sAction Alerts PLUS Charitable Trust Portfolio. Want to be alerted before Cramer buys or sells AMZN? Learn more now.