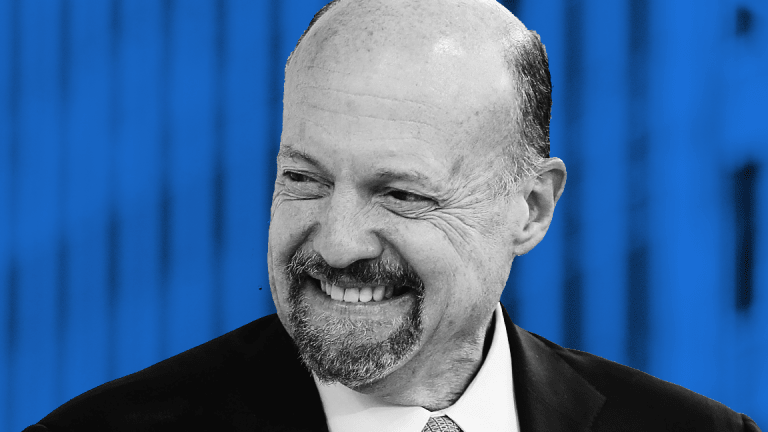 Amazon and Apple Will Weigh on Markets in Q1, Cramer Says
Cramer fears the two tech giants, which have a combined market cap of about $1.6 trillion, will be the principal source of funds for buying the glut of soon-to-launch IPOs.
Jim Cramer doled out nuggets of wisdom during his monthly conference call with Action Alerts PLUS members, providing five themes investors should look out for in the first quarter. Theme number five has to do with the impact of Amazon Inc. (AMZN) and Apple Inc. (AAPL) .
The two companies have a combined market cap above $1.6 trillion and have an outsized influence on the performance of the Nasdaq as large swings in either direction causes the index to follow suit no matter how the rest of the tech-heavy index's components are performing. 
"Apple will continue its alleged Achilles Heel status to the market, with Amazon a close second. That's two $800 billion gorillas weighing on the tape. We own them. We don't trade the former and we are reluctant to trade the latter, but I fear they will be the principal source of funds for the supply avalanche," Cramer said. 
Cramer sees investors selling part of their positions in these two giants in order to fund purchases of the many initial public offerings that are expected to debut in the first quarter, following the lengthy government shutdown that prevented them from coming out earlier.
Why Apple? According to Cramer, it's "because we can't get a handle on the channel and we don't know what the Chinese government is going to do to favor Huawei over Apple no matter what happens, strictly as a way to strike back from the indignation of the indictments and the cordoning off of [Huawei] by the combined forces of multiple branches of the U.S. government."
Cramer has been preaching for over a year that Apple needs to beef up its services segment in order to alleviate any potential headwinds that could come from China, but in the meantime, Apple is subject to the changing winds of the market. Similarly, Amazon has potential headwinds outside of its fundamentals. 
"I think the 'distracted-divorcing Bezos-saga,' replete with a monster amount of supply overhang from his soon-to-be ex-wife, will cloud the story. It will instill a constant worry that will produce selling on every advance," Cramer said.
Want to Join in on Jim's VIP Video-Conference Calls?
Want to listen to all of Jim's members-only monthly video-conference calls? Click here for details on how to join Action Alerts PLUS, Jim's VIP club for investor.