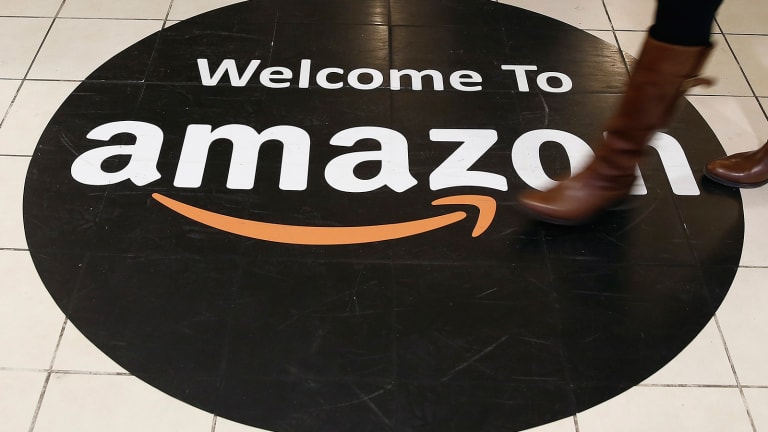 Here's Who Might Be on Amazon's M&A Shopping List in 2018
Industry experts believe Amazon could be eyeing a sprawling list of potential acquisitions in 2018 and beyond, ranging from Lyft to Costco to Wayfair.
Amazon.com Inc. (AMZN) - Get Report isn't typically known for pursuing splashy deals, but that perception has changed since the internet giant closed its $13.7 billion acquisition of Whole Foods Market Inc. in 2017. 
Industry watchers have reason to think that Amazon still has an appetite for M&A this year, particularly as it looks to cement its position in new and old markets including retail, grocery, pharmacy, beauty, logistics and even autonomous technologies. Amazon may be more open to M&A now that the Trump administration has allowed for a one-time repatriation of overseas cash, which makes Amazon's $26 billion share of overseas cash fair game for future acquisitions. 

More room to run in the grocery market?
To start, Amazon may not be finished disrupting the grocery and retail industries just yet. The company has built out a massive, sprawling e-commerce business through its core online platform and now has a nationwide network of physical stores to experiment with thanks to the Whole Foods deal. Yet, there may be some segments of retail and grocery that remain untapped by CEO Jeff Bezos' empire. 
Costco Wholesale Corp. (COST) - Get Report could be a perfect fit for Amazon, according to several analysts. The wholesale retailer would likely demand a huge premium, but it would expand Amazon's offline and distribution footprint, with the added benefit of Costco's strong customer loyalty via its membership model, said Monness, Crespi, Hardt analyst James Cakmak. Costco also has a trusted private label brand, Kirkland, that would fulfill Amazon's ambitions of entering that space. Amazon has several private label brands of its own, including Amazon Basics, apparel brand Lark & Ro, baby care brand Amazon Elements and Amazon Essentials, among others. 
"We think this is highly unlikely, but if we are going to join the parade of calling out potential retailer deals, then this makes a lot more sense," Cakmak said in a note to clients this week. 
It would also give Amazon another leg up in the grocery business, while potentially serving a severe blow to its primary rival, Walmart Inc. (WMT) - Get Report , said Brittain Ladd, a supply chain consultant who worked on global expansion for Amazon's grocery segment, AmazonFresh.
Other plausible retail plays could include Target Corp. (TGT) - Get Report , Ulta Beauty Inc. (ULTA) - Get Report or Wayfair Inc. (W) - Get Report . Loup Ventures analyst Gene Munster, who detailed the possibility in a blog post, believes Target could fetch as much as $41 billion if it were approached by Amazon. Munster contends that Target would give Amazon access to the highly-coveted moms market, while upping its physical store count to about 2,300 locations from 470 stores. 
Ladd added that Amazon could open Whole Foods markets inside Target stores, making it the third largest grocery retailer in terms of physical stores, behind grocers Albertsons Cos. Inc. and Kroger Co. (K) - Get Report .

Buying rather than building a health care business.
A deal with Target could also accelerate Amazon's ambitions in the health care market.   
"Due to Target's relationship with CVS Health Corp. (CVS) - Get Report , this would allow Amazon to accelerate their entry into pharmacy and healthcare," Ladd explained. 
Speculation has been building that Amazon plans to create healthcare and pharmaceuticals verticals, which would most likely require it to pursue some kind of acquisition, lest it build out the entire business from scratch. Aside from CVS, Rite Aid Corp. (RAD) - Get Report has also been floated as a possibility, alongside pharmacy benefit manager Express Scripts Holding Co. (ESRX) . 
"We still see healthcare as critical for longer-term same-day delivery efforts, hence a pharmacy benefit manager is a possibility," Cakmak said.

Wayfair could strengthen Amazon's furniture department.
Analysts have repeatedly suggested that Amazon pursue online home goods retailer Wayfair. Amazon currently sells furniture and other large home goods on its website, but it doesn't match the market share that Wayfair commands in the space. That's partly why Wayfair might be on the block very soon, Citi analyst Mark May wrote in a note to clients on Friday, citing conversations with investors. 
It could take Amazon several years to close the gap with Wayfair, so pursuing an acquisition could be more efficient, Ladd noted. Other possibilities could involve Amazon acquiring Sears Holding Corp.'s (SHLD) appliance division, in addition to Wayfair, he added.
If Amazon does decide to pursue Wayfair, it would make a deal with logistics and trucking company XPO Logistics Inc. (XPO) much more plausible. Amazon would require a dedicated logistics provider in order to deliver oversize products like furniture and large appliances, Ladd said.
Outside of retail, Amazon could be eyeing more tech-focused M&A, particularly in the autonomous driving and video gaming markets.
Lyft helps Amazon pave a path in autonomous vehicles.
Cakmak suggested that Amazon pursue an acquisition of ride-hailing unicorn Lyft Inc. -- a theory that
in the past. Lyft could command a $15 billion price tag if it entertained an acquisition by Amazon, Loup Ventures' Munster said. It would be somewhat surprising if Lyft, which is currently valued at $11.5 billion, sold to Amazon, especially as it looks to pursue an initial public offering in the near future.
"We would put the odds of this happening in the next three years at 10%," Munster said. "The reason why the odds are low is because while last-mile autonomy is something Amazon is likely working on, Lyft is not the optimal approach, given Lyft's business and brand is around moving people." 
"What makes more sense is for them simply to wait for a winner in autonomy to emerge and then license their solution," Munster adds.
Still, Cakmak contends that it could give a much-needed lift to Amazon's self-driving car capabilities, which are currently limited to a proposed network of autonomous delivery vehicles. 
"Not only would it build on last mile logistics, but it also brings self-driving technology that can be leveraged to transportation on a broader scale," Cakmak explained. 
Amazon uses M&A to become the content king.
On the gaming front, several analysts think it's likely that Amazon might consider buying a video game publisher. Pursuing a video game publisher would help boost what is perhaps one of Amazon's most undervalued assets, Twitch Interactive Corp., the social gaming platform it acquired for $790 million in 2014. 
Twitch's strong brand and consumer loyalty in the core gaming community shouldn't be ignored, said GBH Insights analyst Daniel Ives. Amazon could further leverage that platform by acquiring a video game or entertainment media publisher. 
That said, analysts and investors shouldn't ignore the fact that Amazon may need some time to digest its monster Whole Foods deal before pursuing another megadeal anytime soon. Not only will integration take time, but Ladd also said he believes Amazon won't have a major impact on grocery retailers until 2021 at the earliest. That pretty much throws cold water on market watchers' foreboding commentary about Amazon immediately killing the grocery industry. 
"Amazon will require 12 to 18 months of solid effort to transition Whole Foods to Amazon's technology platform," Ladd explained. "Amazon has a 10-year strategy for groceries and once the five-year mark has been reached, Amazon will greatly accelerate their focus on groceries by leveraging the ecosystem they just spend five years implementing."
Editor's note: This article was originally published by The Deal, a sister publication of TheStreet that offers sophisticated insight and analysis on all types of deals, from inception to integration. Click here for a free trial.
More of What's Trending on TheStreet: