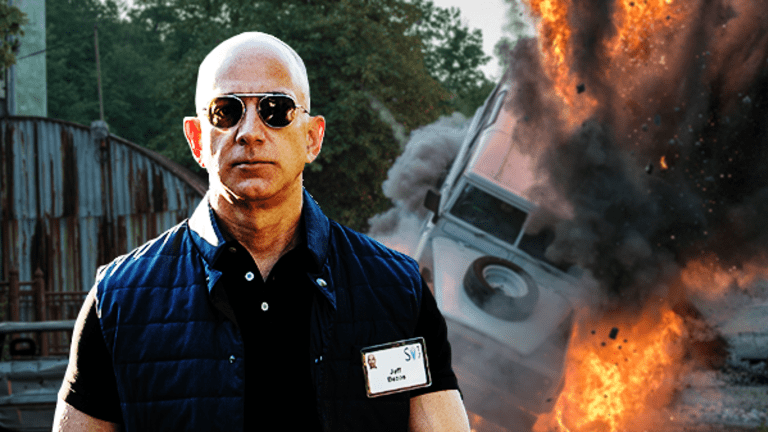 Toys 'R' Us Bankruptcy Filing a Reminder That Amazon Is Crushing Everyone
The Toys 'R' Us bankruptcy filing is a sad one indeed. But, for long-time followers of retail it's not a surprise given Amazon's increasingly important role in consumption.
If you'd like to receive the daily "Morning Jolt" newsletter, please register here.
Despite the phone efforts by the flacks over at Amazon (AMZN) , the reality is that the digital beast is increasingly wrecking bricks-and-mortar retailing.
In fact, Amazon is probably licking its chops at the real estate it will be able to digest over the next 25 years from failed retailers. What was once a distribution center for Sears (SHLD)  will probably be a flagship Whole Foods that is testing mind-blowing new shopping technology. What was once a Kmart store will be nothing more than a place for Amazon to hawk exclusive, limited-time only Nike (NKE) sneakers that self-tie. How else could one at least partially explain the fresh bankruptcy filing by the iconic Toys 'R' Us? The toy retailer has done about all it could over the last five years to get people through the door. But the fundamental truth is that visiting Toys 'R' Us is a waste of time in the internet age where finding the lowest possible price, and a broader selection of goods, is only a swipe or click away. Heck, this was reaffirmed to me this past weekend -- I went to pick up my two-year old niece a doll and couldn't find the exact model at two Toys 'R' Us locations. Talk about moments of rage.
The sad situation at Toys 'R' Us sheds light on some seriously scary data on retail right now. More than 5,300 store closing announcements have been issued so far this year, according to Fung Global Retail & Technology. That's TRIPLE the number of store closings on a year-over-year basis. Fung Global Retail & Technology estimates about 10,000 stores will be closed by year end, up 361% from the prior year. 
It's Amazon's world...we just happen to live in it. 
What's Smoking Hot
The future of artificial intelligence continues to be a polarizing topic.
The latest to weigh on the subject is billionaire investor Ray Dalio of Bridgewater Associates. "Algorithmic decision making are going to produce better decision making and replace a lot of people," Dalio told TheStreet's Scott Gamm in an interview. "It has implications in terms of employment and so on, but it is also dangerous. Two red flags: do you understand the criteria that are in those algorithms so you can say "ah that's logical" and I buy into it or are you blindly following [them]?"
Tesla (TSLA) CEO Elon Musk is with Dalio on sounding concern on a future run by robots.
What has become the new normal for Musk, the prolific inventor tweeted recently about a future of world war fueled by the rise of artificial intelligence. "China, Russia, soon all countries with strong computer science. Competition for AI superiority at national level most likely cause of WW3 imo," Musk wrote recently.
The latest comments come on the heels ones made by Musk last month.
"If you're not concerned about AI safety, you should be. Vastly more risk than North Korea," Musk tweeted on Aug. 11.
While Musk's comments seem somewhat bombastic, they do shed light on the growing influence of artificial intelligence on humanity.
From Starbucks (SBUX) to IBM (IBM) , the use of artificial intelligence by big companies to alter your behavior is becoming a major thing.
The most recent example is coffee giant Starbucks, as TheStreet recently reported and showcases below.
Starbucks is a holding in Jim Cramer'sAction Alerts PLUS Charitable Trust Portfolio.Want to be alerted before Cramer buys or sells SBUX? Learn more now.
Don't miss these top stories on TheStreet: