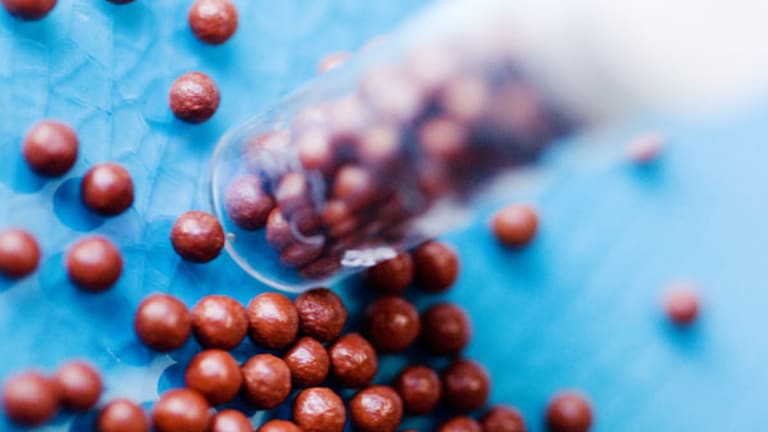 Amarin Shocker: There's a Reason to be Bullish Right Now
If an FDA appeal decision goes in Amarin's favor, the stock is moving much higher.
BOSTON (TheStreet) -- It might be time to get bullish on Amarin (AMRN) - Get Free Report.
You're not hallucinating. This longtime Amarin bear believes there's now a compelling argument for going long the stock or its options -- if only for a speculative trade. The idea of being long Amarin seemed nutty when the idea was pitched to me by a source at a healthcare investment bank. But then I thought more about the Amarin bull thesis and it made sense. Let me explain. 
Amarin is expected to hear soon on an appeal to a top official at the FDA requesting a reversal of the agency's revocation of the Special Protocol Assessment (SPA) covering the phase III "ANCHOR" study of its prescription fish-oil pill Vascepa. Amarin's two previous Vascepa ANCHOR SPA appeals directed at the review division level of the FDA were denied. This current appeal goes pretty much straight to the top of agency and will be decided by John Jenkins, head of the FDA's Office of New Drugs. 
Jenkins has two options. He can affirm the prior decision, telling Amarin, "Nope, you don't get your ANCHOR SPA back." Or, Jenkins can say, "Amarin, we were too harsh previously, your ANCHOR SPA is re-instated." [Jenkins might also chicken out and kick the appeal decision up even higher into the FDA's top ranks, but let's hope not.]
Right now, investors have zero expectation Jenkins will rule in Amarin's favor. Amarin is a forgotten stock to Wall Street, which is worse than being hated because at least when you're hated, investors are talking and thinking about you. No one is talking or thinking about Amarin today.
To be long Amarin today, owning the stock or through options, is a contrarian bet on Jenkins deciding, indeed, the FDA erred in taking away the Vascepa ANCHOR SPA, and giving it back to the company.
If Jenkins reverses the SPA revocation, Amarin shares are going a lot higher just on the surprise reversal of sentiment alone. Amarin will no longer be a forgotten stock because Vascepa will once again have a pulse. 
If Jenkins squashes Amarin's SPA hopes again, it will sting but the damage has already been done with the prior appeal rejections. I suspect the downtick in Amarin's stock price would be minimal. Vascepa is still approved, efforts to boost sales might be working, and the company's Irish domicile makes it an interesting inversion bet.
To answer your next question: I don't know the odds this bullish scenario plays out. The likelihood of Jenkins re-instating the ANCHOR SPA is not high, but it's not zero either. FDA could give Amarin back the ANCHOR SPA as a goodwill gesture to encourage the company to see the very important REDUCE-IT study through to completion. Everyone -- doctors, patients, the FDA and investors -- want to know if triglyceride-lowering, prescription-grade fish oil reduces the risk of heart attacks and other cardiovascular events. The REDUCE-IT study will give us an answer, if Amarin finishes the study. Re-instating the ANCHOR SPA doesn't have to mean FDA grants full approval to an expansion of the Vascepa label covering high-triglyceride patients, but it could lead to some compromise agreement which gives Amarin a little bit of what it wants while still addressing the FDA concerns raised at the October 2013 advisory panel meeting. 
When will Amarin hear back from FDA's Jenkins? It's not entirely clear, but in June, Amarin CEO John Thero told investors attending a conference to expect a decision in the "early August timeframe but potentially in late July."
That's right now!
Adam Feuerstein writes regularly for TheStreet. In keeping with company editorial policy, he doesn't own or short individual stocks, although he owns stock in TheStreet. He also doesn't invest in hedge funds or other private investment partnerships. Feuerstein appreciates your feedback;
to send him an email.