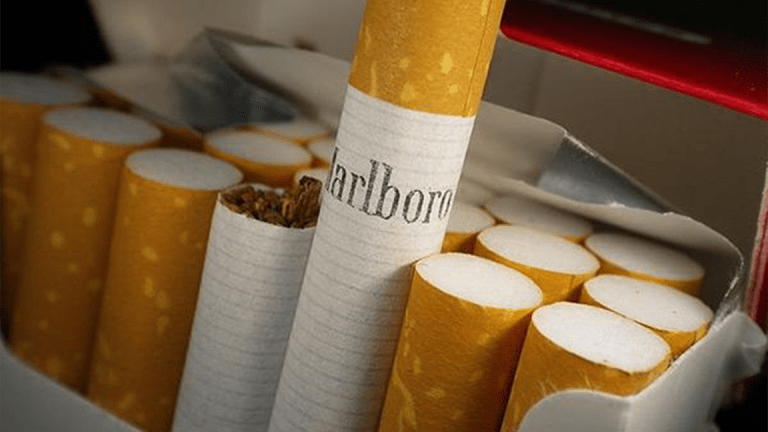 Altria Upgraded to Buy at Goldman, Philip Morris International Affirmed at Buy
Goldman analyst Judy Hong expects the current discount on tobacco stocks to narrow.
Goldman Sachs, seeing value in the tobacco stocks, upgraded Altria (MO) to a buy rating from neutral and affirmed Philip Morris International (PM) at buy.
Altria shares were trading up 1.4% at $49.96, while PMI shares added 0.8% to $81.92.
Tobacco valuations are "at a 10-year trough despite a more accommodating market backdrop," analyst Judy Hong wrote in a report.
The firm expects the current discount on tobacco stocks "to narrow as cigarette fundamentals hold up better than feared, contribution from next generation tobacco products builds, and regulatory concerns subside over time," she said.
Hong's 12-month price target on Altria, based in Richmond, Va., is $59, indicating a total potential return of 27% including the 6% dividend yield.
Her target on New York-based Philip Morris International is $100, which indicates a 29% potential return.
The bearishness on the tobacco companies reflects factors including lower cigarette volumes and caution about Altria's purchase of 35% of e-cigarette producer Juul for $12.6 billion, Hong wrote.
The analyst expects the decline in cigarette consumption to abate and the shift to e-cigarettes to moderate. And international cigarette volume trends have been mostly stable, Hong wrote.
Save 45% with our Prime Time Sale. Join Jim Cramer's Investment Club, Action Alerts PLUS, to become a smarter investor! Click here to sign up!