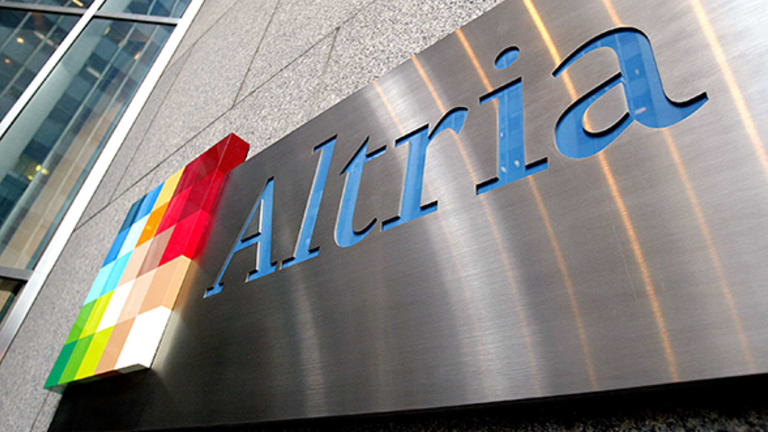 Altria Offers a Strong Dividend and Should Benefit From the Changing Political Climate
This manufacturer features some of the most iconic brands in its industry, and could offer growth and income.
There's no shortage of information about the financial world these days, from your television to the apps on your phone. What's difficult but important is to separate the important information that will allow you to identify those investments that can guarantee your profits for years to come.
Altria Group (MO) - Get Report , one of the world's largest makers of cigarettes and other tobacco products, has had an up-and-down year so far, but is poised for another upswing.
Altria shares were roughly flat in Friday trading. 
The stock price rose steadily for most of 2016 due to strong earnings, then dipped after California approved an increase in its cigarette tax. But this seems more likely to be a temporary setback than a fundamental change in the company's strong position in the marketplace.
Altria and Philip Morris share much of the world's tobacco market. Altria focuses on the United States, while Philip Morris is the dominant seller in dozens of foreign countries. Altria's price-earnings ratio is more than 23, reasonable for a company with so many committed customers.
The Virginia-based company also offers a dividend yield of almost 4%. In late August, Altria rewarded investors with an 8% dividend increase, sending its quarterly payout up to 61 cents a share. Altria returns about 80% of its adjusted diluted EPS to investors.  
Altria's 2016 third-quarter earnings, after adjusting for one-time costs, increased 9.3% year-over-year to 82 cents per share. The core tobacco businesses delivered solid growth on the strength of their iconic brands, including Marlboro, Virginia Slims and Skoal chewing tobacco.
Altria is also likely to see continued contributions to its earnings from its nearly 10% stake in Anheuser-Busch. The alcoholic beverage industry is another business where the customers can be relied on to come back for more.
The stock slumped right after Election Day, although a rebound has already begun. The decline followed the approval of a ballot initiative in California that will increase tobacco taxes in the Golden State.
However, three other states voted down ballot measures that would have had similar negative impacts on the tobacco companies. In Colorado, voters rejected Amendment 72 by 54% to 46%. The amendment which would have boosted cigarette taxes by $1.75 per pack. Missouri and North Dakota blocked similar initiatives.
Additionally, the Republican Party -- the party that has been less hostile to smoking, at least in recent decades -- is now stronger in state government than it has been at any point since the 1920s. At the federal level, an administration headed by a former casino operator seems unlikely to lead a moralistic charge against vice industries like cigarettes.
---
Like every American, you want to be in control of your own destiny. That means being able to predict in advance how much money your investment portfolio will generate. Think it can't be done? Our top analyst has a system that can ensure you will make a profit on more than 80% of your trades. To find out the secret, just click here!
Tom Scarlett is an independent contributor who at the time of publication owned none of the stocks mentioned.