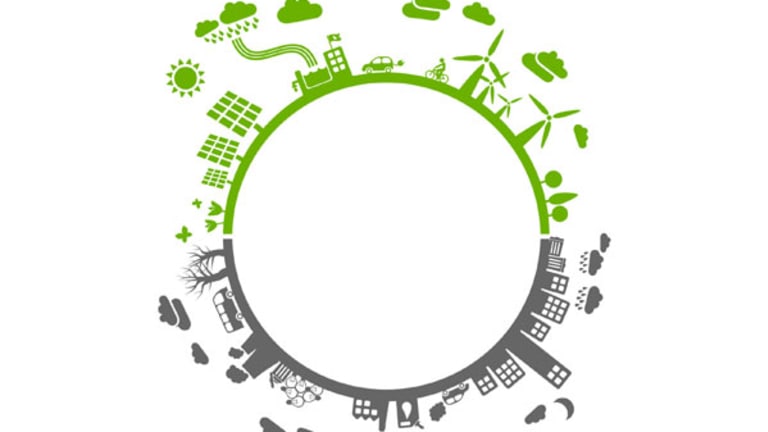 Publish date:
Alt Energy Wild Ride of the Day: A-Power
A-Power Energy hit a 52-week high today on news that it had signed a definitive agreement for a Texas wind farm -- but is the tailwind for the Chinese alternative energy stock a little too brisk today?
A-Power Energy hit a 52-week high today on news that it had signed a definitive agreement for a Texas wind farm -- but is the tailwind for the Chinese alternative energy stock a little too brisk today?
LIAONING, China (
) --
A-Power Energy Generation Systems
( APWR) is up 5% on Thursday, and trading at twice its average daily volume, after it announced another step in its plans to operate one of the biggest wind farms in the U.S.
In fact, A-Power reached a 52-week high earlier today -- though it wouldn't end the day close to that record level.
A definitive agreement between A-Power,
Shenyang Power Group
,
Cielo Wind Power
and the
U.S. Renewable Energy Group
was signed yesterday for the 600 MW wind farm in west Texas.
Last week,
General Electric
(GE) - Get Report
announced that it had signed a deal for the biggest wind farm in the U.S., one that already had gained regulatory approvals -- a step ahead of A-Power's move.
The recent
GE and A-Power news within the wind sector has raised the question of where the better short-term bet may be for investors in 2010: wind or solar.
Indeed, almost the entire solar sector was down on Thursday, led by
LDK Solar's
(LDK)
loss of more than 15% on news that it was headed back to the capital markets for an offering of 18.9 million shares to help manage its huge debt plate.
It did, however, also look like a broader sell-off in alternative energy, as many of A-Power's competitors in the wind turbine business were also having tough trading sessions on Thursday.
So does A-Power's announcement merit the big push in share price?
A recent look at A-Power share performance shows that the climb has actually been a steady improvement since mid-November. On Nov. 19, A-Power shares were at $13.18. Today's 52-week high was $20.60, reached earlier on Thursday. A-Power started Thursday's trading at $18.67.
The news today as a trigger for a further climb in A-Power's share price is debatable. For one, a definitive agreement being signed for the West Texas wind farm is a step, but not nearly as big a step as gaining regulatory approvals and financing for the deal, and completing a feasibility study. The deal was more akin to a memorandum of understanding previously, so a definitive agreement allows the companies involved to chase the big hurdles. Still, it might not justify the bid up in A-Power today in contrast to the pullback in alternative energy.
The extent to which it is the retail dollar and not the institutional investor playing in alternative energy stocks may be in evidence again today in the A-Power run-up.
What's more, it could still be a year until A-Power ships turbines for the West Texas project. While the agreement states that deliveries could begin by March 2010, one alternative energy expert said that deals of this type are often beset by delays, and that extending the delivery time horizon for A-Power out to summer/fall 2010 is more advisable.
Until that time, investors who are modeling revenue from the deliveries into their A-Power outlook, with the expectation of A-Power making the March time frame, may be taking an overly optimistic outlook based on the sector's project history.
So was Thursday's run overdone in A-Power? Later action in afternoon trading suggested that the answer to that question was the affirmative: between 2 p.m. and 3 p.m., A-Power shares fell almost a full dollar from the 52-week high. By the close of trading, what had been an 8% climb in share price in the morning was whittled away to a 2.6% gain, or 46 cents on the day, to a closing price of $19.15.
The gain by A-Power still was in stark contrast to most alternative-energy stocks on Thursday, but A-Power closed the day looking up -- by $1.35 -- at its quickly snatched back 52-week high price.
-- Reported by Eric Rosenbaum in New York.
RELATED STORIES:
>>Will Wind Blow by Solar in 2010
>>Wind Versus Solar: which is the Better Wager?
>>LDK Raising Cash, Shares Dropping
>>See our new stock quote page.
Follow TheStreet.com on
and become a fan on
Copyright 2009 TheStreet.com Inc. All rights reserved. This material may not be published, broadcast, rewritten, or redistributed.