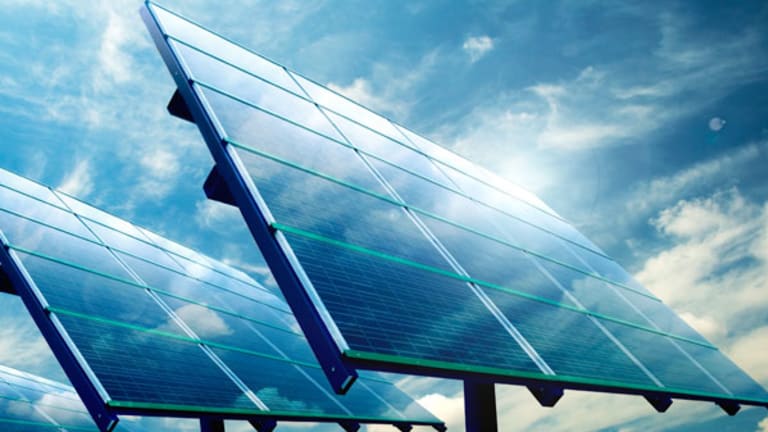 Publish date:
Alt-Energy Stocks to Buy Now
These names are a bit speculative, but their charts suggest they're at or near good buy points.
These names are a bit speculative, but their charts suggest they're at or near good buy points.
Today we continue our survey of the energy sector. As a quick summary, our
at the sector level indicated to us that the weakest subsector within the energy space was the production and exploration companies (as proxied by the
Oil Services HOLDRS
(OIH) - Get Report
) followed by the integrated oils (as tracked by the
Energy Select Sector SPDR
(XLE) - Get Report
). Both are currently under pressure, and although longer-term prospects remain bright, there is a lot of backing and filling that remains to be done.
We discovered that the alternative-energy space, from a sector view,
. Within that sector, the energy-efficiency subsector was quite promising in the near term, and yesterday we highlighted several names in that space. Many of those stocks require investors to scale into them, as the stocks have already experienced tremendous gains off the March lows.
Today we turn our attention to the rest of the alternative-energy sector. Again, the goal is to pick the best of the best from a technical perspective. We necessarily have focused on charts that promise either immediate or near-future purchase possibilities.
Starting with the more conservative picks first and then proceeding to the more risky, we begin with
Avista Corporation
(AVA) - Get Report
, a company that generates, transmits and distributes energy. The company's energy sources are primarily hydroelectric and thermal, and it's more or less what you would think of as a utility company. Avista pays a 4% dividend and has a high level of institutional participation.
On the long-term time frame, AVA has a bit of an issue. We've seen this before in a number of charts, where prices basically get ahead of themselves. The swing point from late 2008 was removed on lighter volume. It signifies a trend change, but that change remains
suspect, as volume does not confirm.
Note that the price area where suspicion develops is just under $19. Now here's the intermediate-term time frame. On this time frame, we can see a test of that area that took place in late October.
Prices retreated and traded lower than the swing point from late August, but they could not close under it. Successful test, right? Wrong!
On the surface, the test was successful, but it will actually need to be retested again because volume expanded on the test. That tells you that more than likely you will see prices turn and come right back to test that price area again. In fact, if you look back up on the monthly chart, the October low tested and closed under the highs of the January 2009 swing. That also tells you that prices are most likely going to come back in again.
Successful retests are not to be lamented, as they provide the opportunity for entry or to add to existing positions. Look at the huge volume anchor at the $17.50 area in late June. What you would love to see is for prices to come back in and make the retest on lighter volume. That would tell you that the sellers are weak, and thus prices likely will hold.
Another quasi utility name is
Ormat Technologies
(ORA) - Get Report
, a mid-cap firm that develops, builds, owns and operates geothermal and recovered-energy-based power plants while also selling electricity. The company pays a small dividend, and oddly enough, a large percentage of the float is short (roughly 8%). It's odd because the chart formation doesn't invite short-selling, from what I can see. Here's the long-term time frame:
There is nothing remarkable in this chart, just a nice expansion in volume as prices moved higher that now serves as a floor to the current price range. The weekly chart is a bit more interesting, only in that it is probably being misinterpreted by many chart readers. With today's candle charting software, each time a candle's close is lower than the opening price, the entire bar is colored red. Since we humans are trained to view red as down/bad, we automatically jump to that conclusion when glancing at the chart.
That is not always a correct analysis, though. Examine the chart below closely -- prices were pushing the highs with volume, which is a positive, not a negative. It's a subtle chart reading difference but a huge difference in interpretation. This is a stock to buy on retraces into that buy zone unless volume escalates and the zone fails to act as a safety net for price.
Another company worthy of your consideration is
American Superconductor
(AMSC) - Get Report
, a mid-cap provider of megawatt-scale wind turbine designs and electrical control systems. As such, it offers a host of smart-grid technologies, including superconductor power cable systems, grid-level surge protectors and power electronics-based voltage stabilization systems for power grid operators.
Don Dion on AMSC
ETFs for Copenhagen
The most notable feature on a long-term time frame is a high volume high. When prices push highs with volume, they almost always get revisited somewhere down the road. That price point becomes the magnet. Once the bar is set, it is almost as if somewhere down the road it has to be exceeded. Why? I honestly do not know. What I
do
know is that it happens over and over again.
On a weekly basis, the high-volume bar from late July serves as both the support and resistance zone on an intermediate-term time frame. An additional support zone was created in the October time frame as well.
Think of this area as a resting place. AMSC's stock price raced higher from under $10 to $25 nonstop. It found a second wind after a two-month lull and pushed to $37.50. Now it is exhausted and needs a rest. It has to build strength to get higher, and that's exactly what it is doing. As an investor, you add shares as prices dip into the support zones.
For the more speculative at heart, take a look at the solar trifecta from China. A word of caution first, however -- these stocks are highly speculative and their beta is quite large (their share price jumps around a tremendous amount, daily). These stocks are not for the faint of heart, and they require careful monitoring for directional tells going forward. We all know that stocks are not static; these are anything but.
JA Solar
(JASO)
is a small-cap that makes high-performance solar cells. The monthly chart exhibits a high-volume spike that likely will be retested soon.
The weekly chart shows continuing buying interest throughout the nine-month time frame. A downtrend resistance line was recently crossed and may lead to the retest of the $6.29 June highs sooner than you think.
Suntech Power
(STP)
is a solar energy company that makes photovoltaic (PV) cells. The long-term time frame has a confirmed trend change from bearish to sideways.
On the intermediate-term time frame, a confirmed uptrend is in place. It's a buy at the current price point for an entry position, and a definite buy at the lower price point ($10-$12) if it retraces once more. You have to expect this stock to at least test the top end of the chart once more on this time frame at $21.
To round out the China trio, we look at
Trina Solar
(TSL)
, another maker of solar modules. The long-term time frame is a series of stair-stepped higher volume price rises -- just what you want to see. There are a series of target swing points that lay overhead.
Although the chart appears compelling at first glance, you need to exhibit patience here. As you can see on the intermediate-term time frame chart below, the uptrend has turned suspect, which raises the red flag. What you want to see is for prices to drift back into the $35 area on light volume. That would correct the suspicion and allow a good entry point. The $40 low is likely to become a bit of a barrier, though, so this may take some time to play out. But it is a strong setup and definitely one for the watch list until ready.
In closing, our examination of the energy-efficiency and alternative-energy names have yielded a number of positive charts, all exhibiting technical positives that make them standouts.
Tomorrow we wrap up our look at the broad energy sector with the currently weaker integrated oils and exploration and production firms. We'll see if there is anything worth picking up as they pull back.
So until next time, keep trading the charts!
By L.A. Little of tatoday.com, author of
.
At the time of publication, Little was long all the stocks mentioned.
L.A. Little is an author, professional trader and money manager who writes daily on
, a free educational site for traders and investors. He has been featured in Stocks & Commodities magazine and is the author of
.