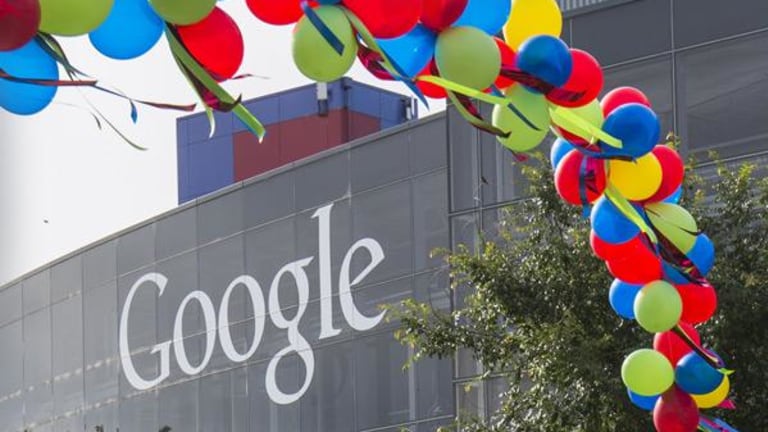 Alphabet's Strong Results Show It's 'Firing on All Cylinders': What Wall Street's Saying
The internet giant soared past analysts' expectations as it continues to benefit from the growth in mobile activity.
If there was any question that Alphabet (GOOGL) - Get Alphabet Inc. Class A Report intends to own the mobile advertising market, the internet giant silenced any doubters in its fiscal first-quarter results reported after Thursday's closing bell. 
Paid clicks surged 44% during the quarter, while paid ad clicks on Google-owned sites rose an impressive 53%. The Google parent company also beat on its top and bottom line for the period, posting adjusted earnings of $7.73 per share on revenue of $24.75 billion. That eclipsed analysts' expectations of $7.38 per share and $24.22 billion in revenue. 
Shares of Alphabet closed Friday at $924.52, up from its open of $929 per share. Shares were higher premarket Monday.
Alphabet is a holding in Jim Cramer's Action Alerts PLUS Charitable Trust Portfolio. Want to be alerted before Cramer buys or sells GOOGL? Learn more now.
Other highlights included a surge in Google's "Other" segment, which saw its revenue jump 49% year-over-year during the quarter to $3.1 billion. The company doesn't break out its cloud revenues, instead lumping them in with hardware and Google Play in the "Other" segment. Executives have said that Google's cloud business could become so large that it soon eclipses the company's behemoth of an advertising business. 
Ahead of earnings, Wall Street had been wary of any potential fallout from the YouTube advertising controversy that erupted late last month. Several analysts estimated that the brand safety issues could result in a $750 million dent to Alphabet's revenues in early 2017.  But that didn't seem to be the case this quarter, as Alphabet said YouTube revenues continued to grow at a "significant" rate with video advertising being a strong catalyst.
When asked by an analyst if YouTube has found a permanent solution to mitigating last month's controversy, Pichai said the company is taking it "pretty seriously" and has taken significant steps to reduce the issue, such as deploying new machine learning technologies to flag offensive content. 
"It is super important to us that this ecosystem works well," Pichai said on the call. "...I would say advertisers have clearly noticed all the improvements we have made. Our conversations with them are very, very positive, and so I'm pretty optimistic about how we'll continue to make progress here."
These and other comments seemed to reassure investors, too, as Wall Street remained bullish on Alphabet shares following the results. Here's what they had to say about the quarter: 
James Cakmak, Monness Crespi Hardt (Buy, PT raised to $1,050 from $900)
"For awhile there, Alphabet was facing a lot of heat given issues advertisers and agencies had around YouTube...In any case, we believe those concerns are alleviated at this point, with clear focus and interest evident that addressing content issues is a top priority."
Jason Helfstein, Oppenheimer (Outperform, PT raised to $1,050 from $1,000)
"GOOG appears to be firing on all cylinders: 1) Websites gross revenue growth accelerated from 4Q16 to 1Q17; 2) YouTube brand safety issue taken care of; 3) YouTube user engagement increasing (1B hours of video watched/day as of 1Q17); 4) YouTube TV now launched in five cities; and 5) Other bets thriving, with stable to declining losses."
Brian Wieser, Pivotal Research (Hold, Price Target raised to $990 from $950) 
"Alphabet reported another quarter featuring better-than-expected metrics on revenue growth, expense management and capital expenditures. In total, profit margins rose for the seventh consecutive quarter on both gross revenues (to 26.5%) and against revenue ex-traffic-acquisition costs (to 32.6%)."
Scott Devitt, Stifel (Buy, PT raised to $1,075 from $1,050)
"Despite approaching a $100 billion revenue run-rate, the company shows no signs of slowing down and the Alphabet's advertising profits are funding a number of compelling short, medium and longer-term investments that could develop into multi-billion dollar businesses themselves someday."
Anthony DiClemente, Nomura (Buy, PT raised to $985 from $925)
"GOOGL results delivered a clean beat across the board in 1Q17. While our earnings preview highlighted multiple robust checks pointing to strong growth , even these proved conservative, as Properties growth accelerated, driven once again by robust trends in mobile search, YouTube, and Google Play."

Lloyd Walmsley, Deutsche Bank (Buy, $1,250 PT) 
"Again, the commentary around YouTube was strong and the company continues to invest aggressively in content. Google also called out hardware as a "substantial growth" driver of other revenue this quarter and 4q16, which suggests that products are selling well."
Stephen Ju, Credit Suisse (Outperform, PT raised to $1,150 from $1,100)
"GOOGL shares despite the run so far this year still exhibit in our view the best risk/return among the large cap Internet stocks as set up by our grey sky blue sky analysis, and we maintain our Outperform rating."
Kip Paulson, Cantor Fitzgerald (Overweight, PT raised to $1,070 from $1,040)
"Similar to the last few quarters, mobile search was the primary driver, assisted by ongoing strength from YouTube and programmatic. Substantial growth was also noted in Play, hardware and Google Cloud Platform."
Daniel Salmon, BMO Capital Markets (Market Perform, PT raised to $970 from $900) 
"We continue to believe YouTube protests will have limited near-term financial impact, though we believe it will slightly weaken negotiating leverage for upfront commitments. YouTube TV is now available in five major U.S. markets and we think its strong technical backbone and user experience will help it differentiate."
Ross Sandler, Barclays (Overweight, $1,065 PT) 
"Stepping back from the results, Google is in a really good spot right now given its shareholder friendly buybacks, strong pace of innovation, and a lower multiple than its large cap peers."
John Blackledge, Cowen (Outperform, PT raised to $1,075 from $1,050) 
"While mgmt. provided little add'l context on [paid click] pricing / volume trends, we can assume from the comments on Mobile strength that it was a driving factor. Mgmt. highlighted YouTube, which has seen tremendous growth and the Ad tech biz also driving growth."
Trending Stories on TheStreet:
This Is Why Amazon Is an Unstoppable Beast
Stocks Mostly Lower After Anemic Consumer Spending Drags Down U.S. Growth