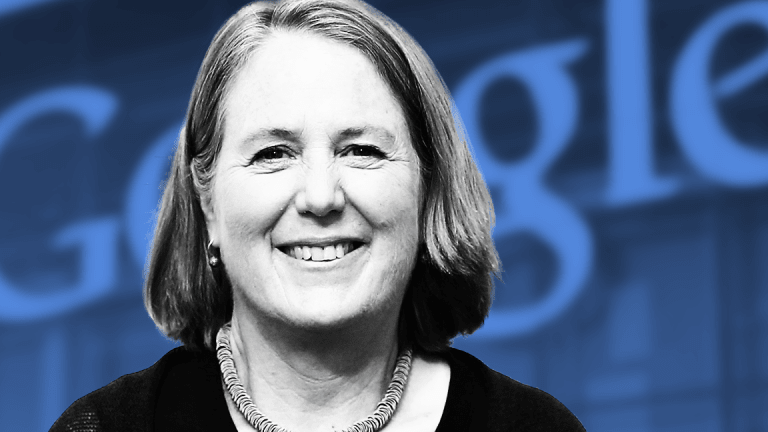 Google Cloud CEO Talks at Goldman Sachs Tech Conference: 8 Top Takeaways
The CEO of Google's cloud business talked made the case for her company's services over those of its formidable rivals at the annual tech conference in San Francisco.
The CEO of Google's cloud business talked made the case for her company's services over those of its formidable rivals at the annual tech conference in San Francisco.
Fresh off a quarter in which its entire cloud business hit the billion-dollar revenue mark, the CEO of Alphabet's (GOOGL) - Get Report Google Cloud business Diane Greene gave a keynote address discussing the industry at Goldman Sachs's (GS) - Get Report annual technology and internet conference in San Francisco. 
Here are the top takeaways from the presentation by Greene, the former CEO and founder of VMWare (VMW) - Get Report and a current Alphabet board member. 
Greene was eager to tout how much more enterprise-friendly the Google Cloud Platform (GCP - Google's cloud infrastructure business) has become over the last couple of years. She noted Google's efforts to address enterprise regulatory/compliance needs, simplify enterprise cloud app migrations and -- with the help of partnerships with the likes of Cisco and Nutanix -- develop hybrid cloud solutions that integrate on-premise and public cloud infrastructures.
To back up her assertion, Greene showed a slide highlighting some of GCP's major enterprise wins. The list included HSBC, PayPal, Colgate, Roche, Disney (which  also recently announced a major deal with Amazon) and Airbus. Some other big GCP clients include Snap, Best Buy, Spotify and Apple.
Greene mentioned that Google's broader cloud business, which also covers the G Suite app business, was the biggest driver of headcount growth at Alphabet in 2016 and 2017. She also reiterated GCP is aggressively building out its data center footprint, while claiming Google can now "build out a full data center in eight weeks." Shortly before Greene's talk, the news came out that Injong Rhee, formerly Samsung's CTO, had joined Google's cloud unit as the head of the company's IoT business.
Like others in the industry, Greene insists it's still early days for public cloud adoption. She brought up a Gartner estimate indicating that annual public cloud spending (not counting cloud app/SaaS subscriptions) is still only equal to $56 billion out of the $1 trillion in global IT spend. She also suggested enterprise conversations about cloud adoption have changed: Companies aren't just looking to adopt cloud services to lower their infrastructure and operational costs, but to gain access to cutting-edge technology. Google's popular BigQuery analytics/data warehousing service was cited as an example. 
When asked what she considers GCP's top three advantages relative to its rivals, Greene started by citing security. In addition to the launch of enterprise-friendly security services, she noted Google's success at discovering major security threats such as the Meltdown and Spectre vulnerabilities, and how running giant consumer services at scale aids its security expertise. "With 1.4 billion Gmail accounts, we see everything," she said.
Greene also mentioned as an advantage Google's top-notch analytics and machine learning services, as well as its "open approach" to cloud solutions that makes it easy for developers to migrate apps and services to and from Google. Regarding machine learning, Greene said Google has seen a "huge reception" for its AutoML service, which lets AI researchers build machine learning models without having to code.
Though GCP has been growing quickly, it's still only the No. 3 public cloud player, behind Amazon Web Services (AWS) and Microsoft's Azure. With Google CEO Sundar Pichai having said Google's broader cloud business is on a $1 billion quarterly revenue rate, GCP is still much smaller than AWS, whose quarterly revenue has reached $5 billion.
However, with the help of its unique services in fields such as AI and analytics, as well as its data center buildout and big enterprise push, GCP has been gaining share. Greene said Google's long-term goal is for using GCP to be "a no-brainer" for enterprises, given the cutting-edge services its can deliver. "We're clearly an important player at this point," she declared.
Alphabet and Microsoft are holdings in Jim Cramer'sAction Alerts PLUS Charitable Trust Portfolio. Want to be alerted before Cramer buys or sells GOOGL or MSFT? Learn more now.