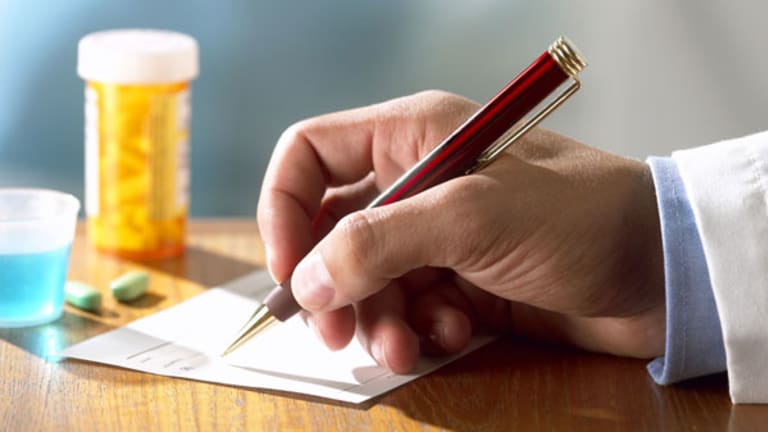 Allscripts' Q3 Earnings: A Winter's Tale?
Allscripts-Misys will be the first health care information company to report earnings on Wednesday. Will its results push health IT shares back to 52-week highs or end a recent rally?
(Allscripts-Misys story updated for client wins)
CHICAGO, Ill. (
) -- The health care information technology earnings season gets underway on Wednesday with a market close report from health care IT
Allscripts-Misys Healthcare Solutions
(MDRX) - Get Allscripts Healthcare Solutions, Inc. Report
, which served as last season's earnings bellwether for the sector.
Allscripts-Misys shares ended Tuesday up 3.4% on close to twice the average daily volume of trading.
In the past two days, there have been new client wins announced by Allscripts-Misys. On Tuesday, the company announced that AnMed Health, a South Carolina hospital, had selected Allscripts-Misys' electronic records product.
On Wednesday morning before the market open, Allscripts-Misys announced a larger deal. A Northeastern Indiana health care provider, Parkview Health System, had also selected the Allscripts-Misys electronic records solution. Parkview owns six hospitals and 170 physical groups serving a total patient population of 875,000.
Is Allscript-Misys' up day on Tuesday ahead of earnings of its fiscal third quarter 2010 earnings the sign of market confidence that the news from the world of health care information technology will be positive?
If the last time around in Allscripts earnings is any indication, investors may be in for a surprise. In fact, during the last health care IT earnings season that began with Allscript-Misys' fiscal second quarter report in mid-January
all the health care IT stocks were taken down a notch from 2009 highs in share price.
It wasn't just Allscripts-Misys which slipped in January, but
Cerner
(CERN) - Get Cerner Corporation Report
,
Quality Systems
(QSII)
and
Eclipsys
( ECLP)
Shares of Allscripts-Misys, which had been above $20 going into its last earnings on Jan. 11 -- and which have a 52-week high of $22.21 -- slipped to a low of $16.46 by the end of January, leading the health care information sector down. Allscripts-Misys shares have since rebounded -- though still off 52-week highs -- to a price of $19.74 on Tuesday afternoon.
All the health care IT stocks have recovered from the January three-month trough points. Cerner shares closed at $86.05 on Tuesday afternoon, versus a late January low of $75.66.
Quality Systems ended Tuesday at $61.37, versus its late January low of $51.54.
Eclipsys, which hit a low of three-month low of $15.87 in early February, finished Tuesday trading at $20.20.
The question that may be answered tomorrow with the Allscripts-Misys earnings is whether the recent performance will be enough to push the health care IT stocks back to 52-week high levels, or will the recent rebound be stopped by another Allscripts-Misys' surprise?
The bone of contention between the Street and Allscript-Misys in the last earnings season was its level of bookings. The market was looking for at least $100 million in bookings in the fiscal second quarter from Allscripts-Misys, and the health care IT company came in short of that benchmark, with $92 million bookings.
The $8 million difference might seem relatively small, however, the real bone of contention between the Street and these health care IT stocks has been over the extent to which President Obama's federal stimulus for health care IT spending among hospitals and physicians is leading to business wins for companies like Allscripts-Misys.
Remember, the stimulus money for hospitals and doctors to make the move to electronic records was not tied up in the health-care reform effort, therefore, these health care IT stocks were bid up in 2009 partially based on their immunity to the then-uncertain fate of health care reform.
When Allscripts-Misys didn't deliver on the $100 million in bookings in the previous quarter, investors began to express their uncertainty about the payback from the Obama electronic records stimulus by driving stocks like Allscripts-Misys down from their 52-week highs. These stocks went from short-term market darlings to "what have you done for me lately?" stocks.
The new benchmark in Allscripts-Misys bookings for the fiscal third quarter is the same as it was last time around, according to Caris & Company analyst Leo Carpio: $100 million in bookings. "People are looking for the bookings number to start breaking out above the $100 million mark as the sign of Obama health care IT demand gaining traction and stronger top line growth at the end of 2010," the analyst said.
The health-care analyst said that the Street consensus is at $99 million, while Caris is estimating $95 million in fiscal third quarter bookings for Allscripts-Misys.
"They need to show the $100 million level of bookings for investors to be excited and push the stock back to its former high," Carpio said. If the bookings number comes in at the Caris estimate of $95 million, shares will probably stay in the $19 range, the analyst said. However, anything less than $95 million, and the Caris analyst said Allscripts-Misys shares may be headed back to a range between $17 and $18.
The wildcard in Allscripts-Misys performance and the market reaction, however, may not be the bookings number itself, but the influence of winter weather on the health care IT quarter, the Caris analyst said.
In fact, Carpio said that if Allscript-Misys' does disappoint on bookings, it will be important to note if the health care IT company attempts to use the severe winter weather as a saving grace. On the installation and bookings side of the Allscripts-Misys business, revenue cannot be recognized for past bookings and new deals can't be closed when your installation and sales teams are grounded and doctors' offices are closed as they were in the past three months across entire regions of the U.S., primarily in the northeast.
There is a legitimate argument to be made that winter weather could have affected bookings activity in the most recent quarter, however, that doesn't mean the market will forgive Allscripts-Misys if that is the case. "The winter season is one thing being overlooked here," the Caris analyst said.
Whether the weather will be a factor, and whether Allscripts-Misys is the first health care IT company to raise the winter issue in its earnings, will be questions answered after the market close on Wednesday.
Ultimately, the answer to these questions may give us the single-best indicator of the short-term direction in health care IT stocks, just as Allscript-Misys' bookings disappointment did in the previous quarter.
-- Reported by Eric Rosenbaum in New York.
RELATED STORIES:
>>Six Best and Worst Health Care Information Stocks
>>Health Care Gainer: Athenahealth
>>Deutsche Ups Allscripts; Shares Rebound
Follow TheStreet.com on
and become a fan on
Copyright 2009 TheStreet.com Inc. All rights reserved. This material may not be published, broadcast, rewritten, or redistributed.