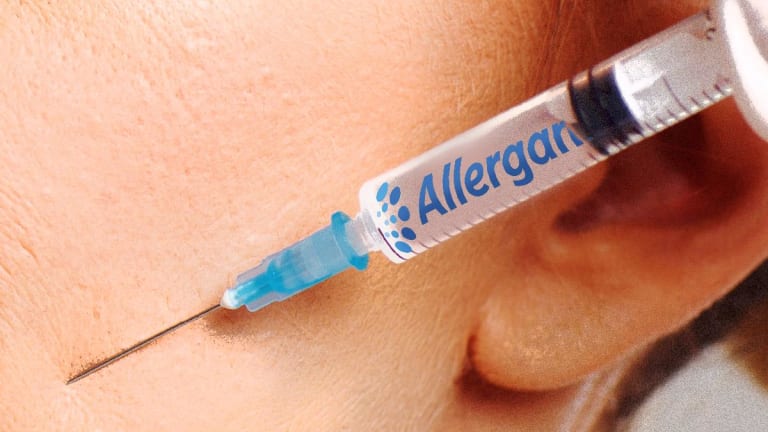 Allergan CEO: Botox Is in a Very Strong Position, Despite Growing Competition
The entrance of more competition for Botox Cosmetic could expand the market, the drugmaker's top executive says at the Wells Fargo Healthcare Conference in Boston.
Additional competition may loom for Botox, but Allergan plc (AGN) - Get Allergan plc Report management isn't worried.
"We are in a very highly competitive marketplace already, and the fact that one or two additional toxins are coming to the United States is certainly important for us," Allergan chairman, president and CEO Brent Saunders said Wednesday, Sept. 5, at the Wells Fargo Healthcare Conference in Boston. "We take it very seriously, but it's not new."
In the U.S, Botox Cosmetic competes with Galderma SA's Dysport and Merz Pharma GmbH & Co. KGaA's Xeomin. Galderma is a unit of Nestlé SA. The product also has several competitors outside the U.S.
Upcoming domestic competition includes Revance Therapeutics Inc.'s (RVNC) - Get Revance Therapeutics, Inc. Report RT002 and Evolus Inc.'s (EOLS) - Get Evolus, Inc. Report DWP-450.
A day before Saunders' conference appearance, Goldman, Sachs & Co. analysts wrote in a note that Botox's 70% market share "could come under pressure in an increasingly competitive environment."
And even if Dublin-based Allergan maintained its market share, "we believe they could lose pricing power (greater discounts potentially), impacting margins as they compete with several lower cost alternatives," Goldman analysts wrote.
Saunders at the conference, however, said the entrance of more competition could enlarge the market.
"I think the fact that there will be four or five potential neuromodulators on the market in the U.S. is probably a good thing for the overall market because our penetration in this market is in the single-digits. This market should expand significantly," he said.
Saunders added physicians, healthcare providers and practitioners will continue to have Botox among the neurotoxins in their offices.
"They are not going to stock five or six toxins," Saunders said. "We don't see that phenomena anywhere in the world. They're going to continue to stock two or three, which is what they do today all over the world, and Botox, it will always be will amongst those two or three, and so the competition will be for that second and third or fourth slot in any office."
In the second quarter, Botox Cosmetic had net revenue of $236.5 million in the U.S., up 12.5% from 2017. It had international net revenue of $171.4 million, representing a 14.1% rise year over year, excluding the impact of foreign exchange.
Allergan shares on Wednesday afternoon were up 0.1% to $190.24. The stock is up 16.3% in 2018 but down 15% over the past 12 months.
Start, and end, your trading day right with TheStreet's 'Daily Snapshot' on your favorite smart speaker. Learn more about TheStreet's market coverage for your trusted smart speaker.