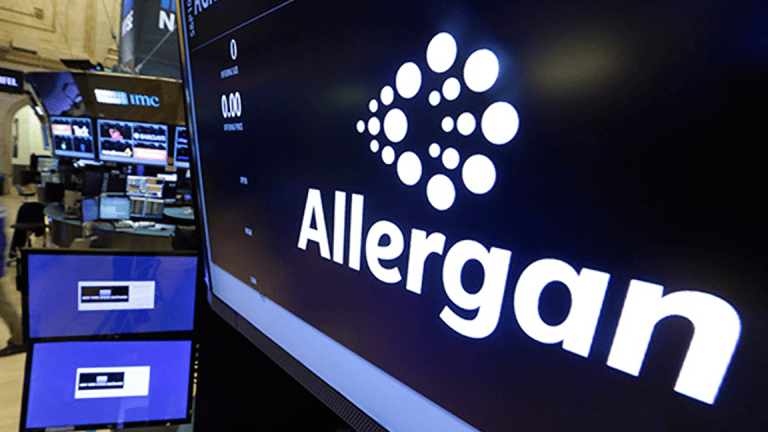 Allergan Announces $2 Billion Share Buyback Program, Raises Guidance
The drug giant beat analyst expectations for Q2 and issued positive guidance for the rest of the year.
Allergan Plc (AGN) may finally be starting to get the face lift it needs.
The Botox maker was down slightly to $176.49 a share in early afternoon trading Thursday after the company reported adjusted performance net income per share of $4.42 (up 9% from a year ago), beating analyst estimates of $4.13. Allergan shares are up about 8% so far this year, although they are still down roughly 30% over the last year. 
Growth was driven by increased revenue from the company's medical aesthetics, neuroscience and urology segments, with its Botox treatment leading the way with a 16.7% boost in sales to $404.7 million from $346.9 million a year ago.
Allergan CEO Brent Saunders told investors in a conference call that the company would be issuing a $2 billion share repurchase program over the next year in order to maintain its investment grade credit ratings. It's the second buy-back program Allergan has completed in as many years, having wrapped up its last round in September of 2017.
Allergan raised its full-year guidance for adjusted EPS to a range of $16 to $16.50 from $15.65 to $16.25 based on its strong second-quarter performance and the lack of any generic entry for its Restasis severe dry eye disease treatment. That compares to analysts' consensus estimate of $16.10, according to FactSet. The company also raised its revenue and cash flow guidance for the rest of 2018.
Saunders expressed optimism about the products coming through the pipeline right now. Allergan plans to launch five new products over the next two years with its ESMYA and Cariprazine treatments hitting the market in 2019.
The company continues to face pressure, however, from activist investors to change its structure. There is also the expected loss of revenue for certain products, like Restasis, that will go off-patent in 2018 and 2019.
When asked about an activist proposal to split the Chairman and CEO positions, Saunders, who holds both titles, said the board had decided that the current structure of having the combined position along with an independent director "provides the right independence, oversight and leadership."
The company also plans on selling its women's health and infectious disease units, but is waiting on the right price before committing to any deal, Saunders said.
"There's no fire sale," he said. "We're not looking to dump these businesses."
The infectious disease operation has generated more interest than the women's health unit, but Saunders attributed that to what he thinks is a "larger universe" of buyers. He said both are strong businesses and that the right price is critical for them.
"Getting a deal that is not dilutive would be difficult but not necessarily an impossible hurdle for us," he said.