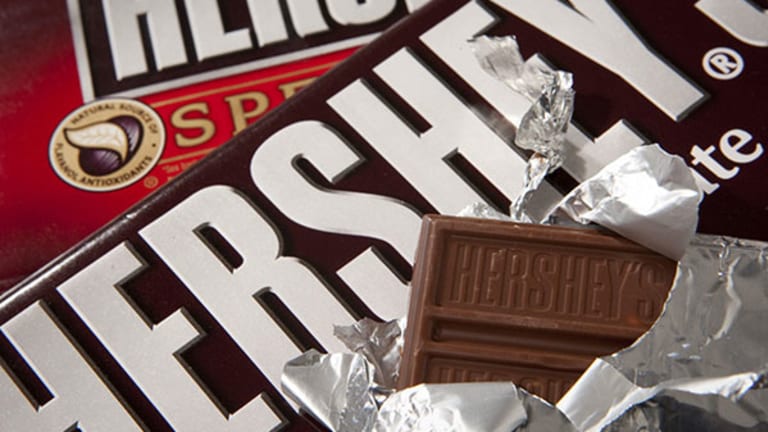 Publish date:
All Treats, No Tricks From Hershey?
The leading U.S. chocolate maker has announced expectation-beating third-quarter results.
The leading U.S. chocolate maker has announced expectation-beating third-quarter results.
Friday is National Chocolate Day, and no holiday could be more appropriate than that for Hershey's (HSY) - Get Report sweet third-quarter earnings announcement. Results for the quarter trounced Wall Street expectations, giving investors in the candymaker a sugar rush and sending the company's stock up by more than 7%.
Third-quarter revenue increased by 2.2% year over year, to $2 billion from $1.96 billion in the year-ago quarter. And that number also beat the analyst consensus forecast of $1.99 billion. Net income leapt by nearly 50% year over year, registering at $227.4 million, with earnings per share of $1.06.
The boost is surprising because sales of chocolates have been sluggish to flat in the U.S. Consumer tastes are largely turning away from sugar and things that are perceived to be "unhealthy." In addition, there is increasing competition among chocolate bars, with upstart companies offering rival products -- many of which are marketed as gourmet or even healthy.
However, Hershey still sees pockets of growth for its business. And that's good news for investors.
In Friday's report, CEO John Bilbrey remarked that Hershey's candy, mint and gum segment remains "an attractive category capable of solid growth over the long term when supported with the right mix of customer and consumer marketing."
The company's sales for the quarter were also helped out by consumers stocking up early for trick-or-treaters: "Our U.S. business benefited from performance within key retail channels and Halloween programming and merchandising in the marketplace," Bilbrey said.
For the rest of fiscal 2016, the company is projecting a full-year net sales increase of 1%, as well an upward revision on earnings per share to between $4.28 and $4.32, vs. a previous forecast of between $4.24 and $4.28 per share.
It's been a good year for Hershey. Since January, the company's stock has ticked upward by 13%. That outperforms rival Nestle (NSRGY) - Get Report , whose stock has fallen by more than 1.5% year to date, and Cadbury owner Mondelez (MDLZ) - Get Report , which has increased by just 0.32% in the same time period.
Earlier this year, in fact, Hershey resisted a $23 billion takeover offer from Mondelez, leading investors to punish the stock and send shares down by more than 11% on the news.
However, it would appear that Hershey is capable of continuing to forge its own path.
Hershey is a strong brand and a decent stock for investors with a sweet tooth. Pick up a few shares on any dips and hold for the long term.
Hershey is a classic American company that still has room for growth.
---
85% Accurate Trader gives his Personal Guarantee: "Give Me 9 Minutes a Week and I Guarantee You $67,548 a Year." As you can see, Apple remains a great play for investors. But what if I told you I know a way you can see a $67,548 per year - or more - in profitable trades just by following this simple step-by-step process? The trader who is sharing this secret has been right more than 8 out of 10 times, turning $5,000 into more than $5 million for himself. Click here to see how easy it is to follow his lead and collect thousands of dollars in "Free Money" every month.
This article is commentary by an independent contributor. At the time of publication, the author held no positions in the stocks mentioned.