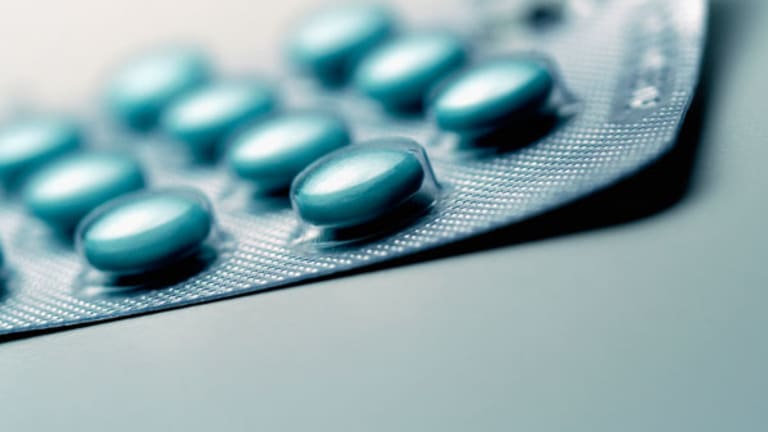 NEW YORK (
) -- Founded in 1987,
Alkermes
(ALKS) - Get Alkermes Plc Report
belongs to a subcategory of the biotechnology industry focused on drug delivery. This group of companies seeks to improve existing drugs rather than discovering, developing, or in-licensing new chemical entities. Over the years, Alkermes has been an indisputable regulatory success; the company receives royalties or manufacturing revenues for nearly 20 approved drugs in several therapeutic categories and independently markets Vivitrol, a once-monthly injectable version of naltrexone for the treatment of alcohol and opioid dependence.
Despite this rich history, investors are unimpressed. Alkermes shares have remained essentially flat since going public in 1991 -- except during a brief period of biotech mania at the turn of the century -- and have underperformed both the broader markets and many of the company's peers. (Compare the company's lifetime stock performance with that of
Amgen
(AMGN) - Get Amgen Inc. Report
,
Gilead Sciences
(GILD) - Get Gilead Sciences, Inc. (GILD) Report
,
Celgene
(CELG) - Get Celgene Corporation Report
and
Biogen Idec
(BIIB) - Get Biogen Inc. Report
.
Amylin Pharmaceuticals
( AMLN) has fared worse, but that's not saying much.)
I've been both bullish and bearish on Alkermes over the years. At current prices, the company seems undervalued. Even without an obvious "home run" asset, I think Alkermes' phalanx of products will drive meaningful revenue growth over the next 18 months. More intriguingly, I think the company's structure and revenue growth potential gives management an opportunity to transform the business and break out of the drug delivery doldrums.
Let's take a closer look.
Even though it breaks even operationally, Vivitrol will likely remain more-or-less a commercial disappointment. The drug has annualized sales of roughly $40 million but competes in a challenging market dominated by generics and intractable patients. I'm similarly lukewarm about the growth potential for
Acorda Pharmaceuticals
(ACOR) - Get Acorda Therapeutics, Inc. Report
and Biogen Idec's Ampyra, which enhances walking ability in patients with multiple sclerosis (Alkermes receives roughly 18% of the drug's economics globally). As I see it, these are Alkermes' two laggards.
The once-weekly injectable anti-diabetic drug Bydureon has somewhat brighter prospects, at least from Alkermes' perspective. Regardless of how Amylin's ongoing acquisition drama ends, I expect Bydureon sales will continue to underwhelm expectations. Nonetheless, the drug will likely peak at $1 billion or more in revenues; Alkermes receives an 8% royalty and has no associated expenses. That's the advantage of the model: Amylin's failure still nets Alkermes a reasonable profit. (If large pharma can improve Bydureon's trajectory, so much the better.)
A more promising revenue source is
Johnson & Johnson's
(JNJ) - Get Johnson & Johnson (JNJ) Report
Risperdal Consta, a long-acting antipsychotic for which Alkermes receives manufacturing revenues and a 2.5% royalty on sales; the drug has annualized sales of nearly $1.5 billion, should gain additional market share, and has roughly a decade of patent life remaining.
Alkermes' has also partnered with Johnson & Johnson to develop Invega Sustenna, a next generation long-acting antipsychotic, which will be a solid revenue contributor over time (Alkermes receives a mid-single digit royalty). There is an analogy, albeit imperfect, between the underperformance of long-acting injectable antipsychotics in the U.S. relative to European markets and Americans' longstanding reluctance to use insulin pens over vial-and-syringe formulations. The market share gap for insulin pens eventually narrowed. I expect a similar trend for long-acting antipsychotics -- the gap stands at 5% share in the U.S. to 15-20% in Europe. Risperdal Consta and Invega Sustenna will likely be major beneficiaries as the U.S. market share for long-acting drugs increases.
Finally, Alkermes' recent $960 million acquisition of
Elan's
(ELN)
Drug Technologies (EDT) subsidiary and reincorporation in Ireland diversifies the revenue base and reduces the long-term tax burden as the company shifts to meaningful profitability this fiscal year (ending in March 2013).
Alkermes has multiple potential revenue opportunities and management is seeking creative ways to maximize operational leverage. Some of the company's "shots on goal" will outperform expectations and others will underperform. On balance, I think the revenue trajectory will be positive. Yet the question remains: will investors reward this growth?
The Long Term
Over the last 15 years, acquisitions have nearly erased the drug delivery group: even veteran investors may struggle to remember TheraTech (acquired by
Watson Pharmaceuticals
(WPI)
in 1999), Dura Pharmaceuticals (acquired by Elan in 2000), Alza (acquired by Johnson & Johnson in 2001), and Cima Labs (acquired by Cephalon in 2003). Alkermes now has only
Nektar Therapeutics
(NKTR) - Get Nektar Therapeutics Report
-- formerly known as Inhale Therapeutics and best known for the colossal inhaled insulin flop Exubera -- as a peer comparison (I'm ignoring a few businesses with very small market capitalizations, such as Alza's spinout
Durect
(DRRX) - Get DURECT Corporation Report
.)
The drug delivery business reminds me of the oft-cited Latin proverb "fortes fortuna adiuuat" -- roughly translated as "fortune favors the brave" -- from Terence's 161 B.C. play "Phormio" (I had to look up the citation; I'm not that big of a nerd.) Alkermes has pragmatically parlayed it's expertise into a revenue base that will likely reach $500 million this year, but has not yet made the bold leap that commands investors' attention and creates a biotech powerhouse.
Alkermes' Chairman and CEO Richard Pops, a savvy executive with a salesman's affable demeanor, has been at the helm for roughly two decades. (Fun fact: Pops was appointed CEO at 28 years old.) He is one of those rare CEOs who believe an executive's job is to "focus on the business, not the stock." I wholeheartedly support this view. Having said that, investors will start to get fussy as patent expiries draw closer if Alkermes can't break out. Pops must make bold moves to transform the company if he wants to build a business that outlasts his charisma.
I like the stock here, but am not convinced Alkermes' current assets will achieve this transformation. The company's wholly owned drug candidates -- a once-monthly formulation of the antipsychotic drug Abilify and ALKS-5461, which combines the antidepressant buprenorphine with a proprietary opioid modulator -- seem to me like singles or doubles, with the former having more potential than the latter. Neither of these drugs will take the company to the next level.
So what should Alkermes do?
One option would be to follow the well-trodden path of many drug delivery predecessors and sell the business. Although this might generate near-term profits, I'm not convinced it would be the best long-term strategy unless management intends to continue pursuing modest royalty and manufacturing opportunities and remain largely a drug delivery enterprise. If that's the case, then sell. I don't think the drug delivery model alone can generate sustained investor excitement. (One alternative would be to pay a dividend upon reaching sustainable profitability with the drug delivery model, although Alkermes isn't at that point yet.)
The second, more interesting option would be to meaningfully reposition through additional acquisitions or a merger. There are some hints that management has started such a shift (the company's EDT acquisition is a smart move that expands the company's expertise and revenue base), but I think Alkermes needs to do more. I would highlight the successful repositioning-via-merger of Biovail and
Valeant Pharmaceuticals
(VRX)
as one example of this type of maneuver. Alkermes needs to bolster its outlicensed product candidates with a more robust group of wholly owned assets.
Investors rarely seem to reward stubborn pragmatism over the long-term; it takes a gamble to break out. Alkermes has an established platform, intelligent management, and reliable revenue stream. It's time the company looked for something more.
Disclosure: Sadeghi has no in any of the other stocks mentioned in this article.
Follow Nathan Sadeghi-Nejad on
.
Nathan Sadeghi-Nejad has 15 years experience as a professional health-care investor, most recently as a sector head for Highside Capital. He has worked on the sell side (with independent research boutiques Sturza's Medical Research and Avalon Research) and the buyside (at Kilkenny Capital prior to Highside). Sadeghi-Nejad is a graduate of Columbia University and lives in New York. You can follow him on Twitter @natesadeghi.