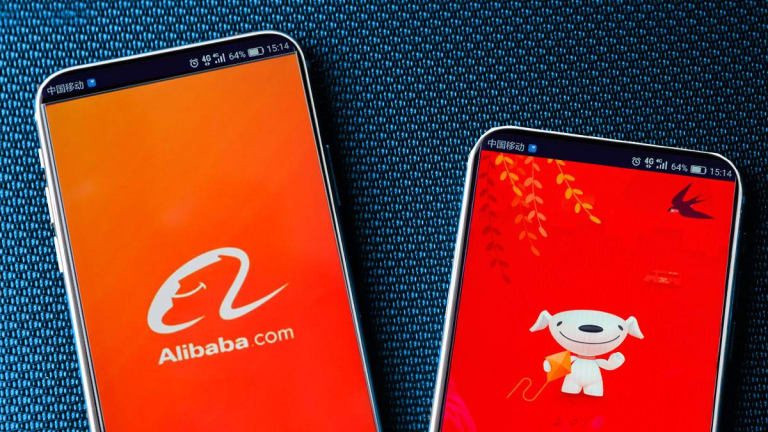 Alibaba's Stock Is a Significantly Better Deal Than JD.com's
The two Chinese tech companies might look similar on first glance. But delving deeper reveals Alibaba is the much stronger and safer investment.
Chinese tech giants Alibaba (BABA) - Get Report and JD.com (JD) - Get Report  both had very challenging years last year.
And both have now seen their share prices meaningfully improve, with Alibaba up 37% year to date and JD.com up almost 42%, significantly outperforming the S&P500 (SPY) - Get Report and the Nasdaq I:IXIC .
However, despite similar short term performances, I argue that Alibaba makes for a far superior investment. Here's why:
Revenue Growth Rate
Over the past few years, JD.com's growth rate has attracted many fans to the stock, from investors who were seeking exposure to a rapidly growing Chinese company. However, 2018 became challenging for both companies with the U.S.-China trade tensions, which have affected many other companies with Chinese exposure. Apart from this temporary backdrop, investors had largely been noticing Alibaba's success and had come to largely expect the same performance from JD.com.
Given that JD.com is a smaller company than Alibaba, its staggering growth rates were easier to come by. However, the similarity between these two Chinese companies stops there. JD.com has had plenty of governance issues with news hitting the wire on what has seemed like a daily basis in 2018, driven by allegations of rape against the CEO. For now, these contentious issues appear to have abated for JD.com.
Strikingly Different Business Models
Alibaba's principal business model is far superior to that of JD.com. Alibaba is primarily structured to take a fee from sellers via its online platform and as such has minimal need for tangible assets.
JD.com is significantly more capital intensive. JD.com's business model revolves around JD.com attempting to control the whole vertical of its operations. This means purchasing, storing within warehouses, handling transportation of merchandise and then delivery. The different business models are exemplified in the fact that Alibaba's latest quarter's figures showed an adjusted EBITDA margin of 35%, while JD.com's adjusted EBITDA margin stood at just 1.2%.
On a cash conversion basis, a similar story can be seen. JD.com's latest quarter saw a free cash flow burn figure of $1.1 billion, while Alibaba generated free cash flow of $7.4 billion over the same period.
Conglomerate vs. Pure Play
Furthermore, Alibaba's operations are meaningfully more diversified than those of JD.com. For example, even though Alibaba is still largely focused on its retail operations, with approximately 70% of its total revenue coming from Core Commerce, Alibaba also has a very strong presence in the cloud sector (however, it must be said, that unlike some of its large U.S. peers, Alibaba struggles to make these operations profitable, with the latest quarter showing its cloud operations carried a negative adjusted EBITDA figure of $40 million).
On the other hand, JD.com's core retail operations are responsible for 97% of its total revenue. And the remainder, which JD.com names New Businesses, still managed to cause a loss of operating income of approximating $750 million.
Valuations - The Safer Investment Is Alibaba
Many investors look towards JD.com's low P/Sales multiple of less than one as evidence that JD.com must be meaningfully undervalued. However, as described throughout this piece, there are very good reasons for this -- primarily because JD.com's business model prevents its revenue from translating into high profits.
For its part, Alibaba carries what superficially appears to be a large multiple to sales at close to 10x. But upon deeper analysis, we can see that these revenues are translating into high profit margins and strong free cash flows, thus making Alibaba the safer investment of the two.
The Bottom Line
With trade talks in the background, both companies' stock prices to have endured a volatile 18 months. But investors looking to put their savings into a long-term rewarding investment are likely to be better served with investing in Alibaba, which sports $486-billion market cap.
With both companies expected to announce their most recent quarterly earnings on May 15, we'll soon get a good chance to see how they're faring.
I have no positions in any stocks mentioned.