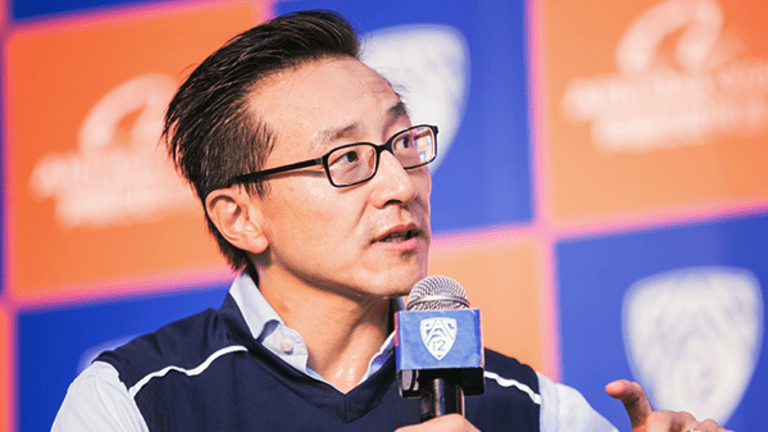 Publish date:
Alibaba Vice Chairman Joe Tsai on the 'New Retail' Strategy That's Critical to the Company's Future
Speaking with TheStreet following the company's big Investor Day event, Tsai also discussed Alibaba's global expansion plans.
Speaking with TheStreet following the company's big Investor Day event, Tsai also discussed Alibaba's global expansion plans.
Last week, Chinese e-commerce giant Alibaba (BABA) - Get Alibaba Group Holding Ltd. Sponsored ADR Reportdelighted investors with much stronger than expected revenue guidance for 2018 and reiterated its goal of hitting a whopping $1 trillion in gross merchandise value by 2020. That's quite a goal for a company that launched just 18 years ago from Jack Ma's small apartment in Hangzhou, China. 
Alibaba Vice Chairman Joe Tsai has been with the company for all 18 years of that supercharged growth, having left his job as an executive at Swedish investment company Investor AB in 1999 to help Ma build his vision for China's largest online marketplace. 
"It's for sure the most thrilling journey that I've had in my life," Tsai told TheStreet about working for Alibaba. "And the good thing is I'm learning new things every day." 
Tsai said he's amazed at the acceleration in the pace of technology development, user growth, and product trends over the last few years. Unlike the late 1990s, most users in China are accessing the Internet on mobile devices, which opens up a new range of possibilities for the company, he said. "Our retail strategy is all enabled because people are accessing information and doing transactions on mobile phones," Tsai noted. 
Alibaba's strategy is also being helped by the cheaper and more easily accessible computing power available to companies in 2017, Tsai said. "The massive amount of data that we have on our users and customers; we're now able to use that to train our machines in machine learning," he said. 
Alibaba's latest positive milestones -- on the first day of its two-day annual investor meeting, the company projected revenue growth of 45% to 49% in 2018, vs the FactSet consensus estimate of 37% -- are reflected in Alibaba's stock, which is trading up almost 57% year-to-date to $137.68. 
Alibaba's shares rose 1.8% to $139.05 on Wednesday in early afternoon trading.
TheStreet talked with the 53-year-old Tsai on Tuesday about what Ma is calling the company's "New Retail" strategy, as well as its global expansion plans. What follows is a lightly edited version of our conversation. 
Editors' pick: Originally published June 14.
Tsai said he doesn't think in terms of purely online vs. offline commerce. 
TheStreet: Ma coined the term "New Retail" and is passionate about this strategy. In a letter to shareholders in October, Ma said that the e-commerce sector will soon face challenges. "This is why we are adapting, and it's why we strive to play a major role in the advancement of this new economic environment," he wrote. Can you explain what "New Retail" is and why it's so important? 
Tsai: The traditional way of thinking about retail vs. e-commerce is that they work against each other, where e-commerce is cannibalizing retail. But it doesn't have to be that way. In China today, e-commerce is about 15% of total retail. Total retail in China is about a $4.8 trillion economy. So 15% of that is online, the other 85% is offline or bricks-and-mortar.
With New Retail, we don't see online competing with offline. We see that we can bring our strengths, which is massive consumer reach and also lots of data and technology to help the 85% of the brick-and-mortar players who need help, frankly, right now because their businesses are not growing. If we're able to bring our assets to the table, we're going to be very helpful to grow their business in terms of increasing sales and also making operations more efficient like increasing inventory turnover, increasing cash flow, increasing sales-per-square-foot of the physical retail space.
TheStreet: Can you give an idea of what that looks like? 
Tsai: All of this is enabled because people are now shopping on mobile phones. In the traditional way of thinking about e-commerce, it's about you sitting at home or in the office, ordering something on your desktop computer. So there's a clear distinction between e-commerce and going out into the streets and shopping in the physical space.
But when you have a mobile device, you can be in a store and you can take out your mobile phone to do a number of things, including comparing prices or information about the product and even ordering things to your door. So you'll see something in the store, and you have that physical experience to touch and feel products, but then you end up ordering the item online because, for example, if you're shopping for apparel, it doesn't have your size so you order the item online that's fulfilled online and delivered to your home.
So there's a lot of this online, offline combination where the consumers are getting the experience of the touch and feel in the physical world, but their purchasing behavior is made more efficient because you order online, you pay online, with a mobile phone. So this merging of experience between online, offline is what we refer to as New Retail.
TheStreet: Can you give us an example of this strategy in action? 
Tsai: We recently acquired a department store company called Intime. We had been working with them on how to leverage our data to help them become more efficient and also grow their business. Intime stores have about two million members and they have this loyalty program where they issue a physical card to you and when you go there to shop and take out your loyalty card, you get a discount.
So we take Intime's membership base and then we matched that with the database that we have on Taobao [Alibaba's consumer-to-consumer shopping website]. Remember, we have 500 million consumers that are shopping on our Taobao and Tmall platforms. So all of a sudden we get a new dimension on what these two million people who normally shop offline in the Intime department stores are doing online.
For example, in the cosmetics category we discovered that when they are in the department store, they tend to buy the very well-known, big brands in cosmetics like Estée Lauder. But when they're shopping online, they tend to go for the niche brands from Korea and Japan and that's very informative. It could tell us more about how we will do our merchandising decisions in the department stores.
Jack Ma has Alibaba working towards ambitious global plans. 
TheStreet: What does this look like in the supermarket space? Alibaba recently purchased an 18% stake in the Lianhua Supermarket chain held by Shanghai-based Bailian Group. Previously, Alibaba announced a strategic partnership with Bailian in February to help the retailer increase sales with the use of big data.
Tsai: We also have pioneered a retail format in supermarkets. We now are running a number of stores in major cities in China like Shanghai and Beijing. In these stores of about 600,000 square feet, two-thirds of the space is dedicated to customer-facing shelves, or what you normally see in a supermarket, and one-third of the space is dedicated to a fulfillment operation that can also handle online orders.
So this physical space now can both handle in-store foot traffic and also online orders. It is now doing about 15,000 orders online per day, while it is accommodating all of the foot traffic. And that's really made the retail space more efficient, or increasing the sales-per-square-foot of this retail space. And it's a really cool consumer experience because someone can go into a store and say, hey I want to buy some lunch to take back to the office but at the same time I see some fresh seafood that I want to buy so that I can make dinner, but I don't want to take that back to the office so I can have that delivered to my home by 6 p.m. tonight. So in one trip, you're doing multiple things. And this kind of retail format is flexible enough to handle all of those retail needs of a consumer.
TheStreet: What's the next step for Alibaba in this New Retail strategy? Will you continue to invest in retailers? 
Tsai: What we want to do with both Intime and the supermarket format is we want to create really great prototypes so that we can replicate the prototype not by directly doing it ourselves, but by partnering with brick-and-mortar retailers that have the physical space. So what they bring to the table is they'll have retail locations that are in good spots, good locations, and we'll bring in the technology and the data and the know how. We don't necessarily have to make equity investments. Our intention is to run a capital-light strategy, but initially, you need to develop some prototypes so that people can see how they work and then they will be more inclined to work with you.
TheStreet: Let's switch topics here. Can you talk to us about Alibaba's global expansion plans? Last year, the company absorbed Southeast Asian e-commerce platform Lazada, which helped spur the 56% revenue growth for the year to $23.3 billion. The company is also partnering with Argentina to make it easier for the country to sell wine and produce on its platforms. What do you look for when deciding where to target next? 
Tsai: There are a couple of premises or pillars in terms of how I think about global expansion. Number one is we have said that we want to over the next 20 years, be able to serve two billion consumers around the world. We now have 500 million consumers in China. So obviously we're a long way from that two billion, so we need to think about expanding the business outside China. 
The second thing is as a company that is based in China, in terms of global expansion, we have to think about how we can leverage the advantages of being in China. The advantages are number one, we already have a close relationship with a very large consumer base in China. So in terms of getting other companies to sell in China on our platform in a cross-border way, that's a natural kind of step we would do in terms of global expansion. In other words, we tap into the product and merchant base of people around the globe that want to access the China market.
The other advantage of being in China is that China is the manufacturing base of the world. Today, Chinese manufacturing is still the best in terms of skill and also quality. Over the years, China has always been an export-oriented country. So manufacturing has become very well developed with a supply chain and all that in China. 
So with that being the case, China is now becoming a very big source of product. Because one of the most important things about retail or e-commerce is that you need to have a very secure source of product that's predictable and high quality. And China provides that very strong manufacturing base for people to source from.
For example, AliExpress allows consumers from around the world to buy from Chinese companies. A lot of them are factories and manufacturers that sell directly to consumers. So being in China means that both inbound and export, we have an advantage. Having one leg in China gives us the advantage to do a lot of cross-border trade.
Read More Trending Articles: