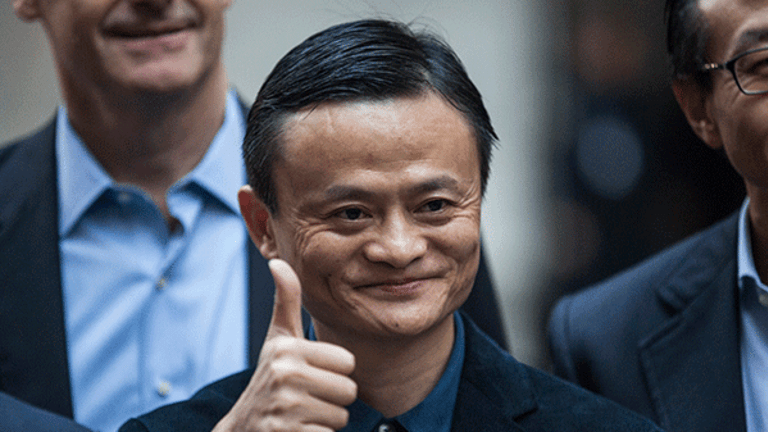 Publish date:
Alibaba, Tencent and Baidu's Earnings Show China's Internet Boom Isn't Slowing
Collectively, China's web giants are growing even faster than their U.S. counterparts.
Collectively, China's web giants are growing even faster than their U.S. counterparts.
As impressive as the growth rates being delivered by Alphabet Inc./Google (GOOGL) - Get Report , Facebook Inc. (FB) - Get Report and Amazon.com Inc. (AMZN) - Get Report  are, China's three biggest Internet companies are managing to collectively outpace them. And for a few different reasons, this trend has a good chance of continuing over the short-term.
Alibaba Group Holding Ltd.  (BABA) - Get Report and Tencent Holdings Ltd (TCEHY) , whose spectacular growth and ever-expanding reach arguably make them China's FANG stocks, have each delivered post-earnings gains on Thursday in spite of facing very high bars. Alibaba reported June quarter (fiscal first quarter) revenue of RMB50.18 billion (equal to $7.4 billion and up 56% annually) and adjusted EPS of $1.17, beating consensus analyst estimates of $7.13 billion and $0.93. Tencent reported Q2 revenue of RMB56.6 billion (equal to $8.36 billion and up 59%) and net income of RMB18.23 billion ($2.69 billion), beating consensus estimates of RMB53 billion and RMB14.2 billion.
Alibaba made new highs on the back of its release while Tencent rose 1.9% overnight in Hong Kong. Alibaba is now up 89% on the year and valued at $424 billion. Tencent is up 74% and valued at $469 billion.
Alibaba's revenue growth nearly matched the March quarter's 60% in spite of a much smaller benefit from its 2016 deals to acquire Chinese online video giant Youku Tudou and a majority stake in Southeast Asian e-commerce leader Lazada. Notably, Alibaba's "China commerce retail" revenue, which covers its giant Taobao and Tmall marketplaces and still accounts for 73% of its revenue, grew 57% to RMB36.7 billion ($5.4 billion), a big improvement from the March quarter's 41% growth.
This growth was fueled by a 65% increase in revenue for "customer management" services for merchants (ads account for much of this business), and to a lesser extent a 28% increase in commission revenue (mostly from Tmall). While the annual active customer base for Taobao/Tmall only grew 7% annually to 466 million, annual revenue per active customer grew 35% to RMB273 ($41), thanks both to higher per-customer spend and Alibaba's very successful efforts to monetize its mobile apps and sites.
Alibaba also noted Tmall saw a 49% increase in physical goods gross merchandise volume (GMV), with GMV growth accelerating for categories such as consumer electronics, fashion/apparel and "fast-moving consumer goods." That's likely a big reason why top Alibaba rival JD.com Inc. (JD) - Get Report , which has a large presence in those categories, is down 5.1% to $41.44. JD, which reported seeing 46% Q2 GMV growth and 44% revenue growth a few days ago, is still up 63% on the year.
Alibaba's China marketplaces are still seeing healthy customer growth.
Alibaba's international retail e-commerce ops (still just 6% of revenue) saw revenue grow 136% to RMB2.64 billion ($389 million). The timing of the Lazada deal -- it closed in mid-April 2016 -- provided a small boost to growth, but organic growth for Lazada and the AliExpress site were larger factors. International commerce wholesale revenue, driven by the Alibaba.com site, grew a modest 12% to RMB427 million ($64 million), and Chinese commerce wholesale revenue grew 30% to RMB1.64 billion ($242 million).
More of What's Trending on TheStreet:
And though still much smaller than Amazon Web Services, Alibaba's AliCloud unit continues cementing its place as the top player in China's cloud infrastructure market: The company's "cloud computing" revenue grew 96% to RMB2.4 billion ($359 million). Digital media and entertainment revenue -- driven by Youku and services tied to the popular UCWeb mobile browser -- grew 30% to RMB4.1 billion ($602 million).
Such top-line growth is allowing Alibaba's margins to expand even as it makes Amazon-like retail, content and cloud investments. Costs and expenses fell to 65% of revenue from 73% a year ago, and to 57% from 62% if one backs out stock compensation spend. Free cash flow grew 74% to RMB22.1 billion ($3.3 billion).
Tencent's revenue growth, meanwhile, accelerated to 59% from Q1's 55%. Online gaming revenue, driven by the runaway hit Honour of Kings and several other titles, grew 39% to RMB23.9 billion, an improvement from Q1's 34%. Social networks revenue, driven by content services and in-app purchases for smartphone games, grew 51% to RMB12.9 billion, slightly less than Q1's 57%.
Online ad revenue grew 55% to RMB10.1 billion, faster than Q1's 47%. Ad sales on Tencent's ubiquitous WeChat app were a factor, as were the growth of video and news products. And importantly, "Other" revenue, which is driven by the widely-used WeChat Pay payments services and Tencent's cloud offerings, soared 177% to RMB9.7 billion.
WeChat monthly active users (MAUs) grew 3% sequentially and 20% annually to 963 million. That's taking precedence over the gradual decline of Tencent's older QQ and Qzone social platforms, which respectively saw MAUs drop 5% and 7% annually to 850 million and 606 million.
Financially, heavy spending and a sales mix shift towards relatively low-margin payment and content-subscription services are stinging Tencent's margins some: Gross margin slipped to 50% from 57% a year ago. But strong sales growth still allowed operating margin to remain at 40% and free cash flow to grow 80% to RMB17.5 billion.
Baidu Inc. (BIDU) - Get Report , the Chinese web giant that had fallen out of the spotlight as it dealt with regulatory pressures that stung its search ad sales, also turned in a solid, if slightly less impressive, Q2 report. While revenue of $3.08 billion (up 14%) was only in-line with estimates, EPS of $1.67 beat a $1.54 consensus. And more importantly, Baidu guided for Q3 revenue of $3.41 billion to $3.5 billion. In addition to being a little above consensus at the midpoint, the outlook implies 27% to 30% annual RMB-based growth, and 29% to 33% growth if one backs out Baidu's recently-divested mobile gaming business.
Don't miss these top stories on TheStreet:
Cocoa Prices Are Plunging. Here's What It Means to Hershey
These 10 Office Catch-Phrases Will Drive Your Coworkers Absolutely Insane
Shares shot higher following the report. Of note: While Baidu's online ad customers fell 20.9% annually in Q2 thanks to the aforementioned regulatory issues, revenue per ad customer grew 32%. On its earnings call, Baidu mentioned it saw double-digit search ad click growth after witnessing a 6% Q1 decline, and that growing usage of its mobile news feed, which now claims over 100 million daily active users (DAUs), is increasing total ad inventory.
The company also reported its core mobile app had (per third-party research) the fastest Q2 DAU growth of China's ten most popular apps, following a major revamp that gave the news feed greater priority. On the video side, Baidu's iQiyi platform was reported to have 75 million PC DAUs and 146 million mobile DAUs.
On a macro level, a few trends position China's web giants to collectively grow faster than their U.S. rivals in the short-term. Perhaps the largest of them: China is still seeing near-7% GDP growth, and -- in what's also good news for Apple Inc. (AAPL) - Get Report -- the total spending power of its burgeoning middle class is growing faster still. Last year, McKinsey estimated 63% of urban Chinese households will earn $16,000 or more by 2022, up from just 17% in 2012.
Jim Cramer and the AAP team hold positions in Apple, Facebook and Alphabet for their Action Alerts PLUS Charitable Trust Portfolio. Want to be alerted before Cramer buys or sells AAPL, FB or GOOGL? Learn more now.
The fact that China's mobile app and service ecosystem is arguably even more advanced than the United States' also doesn't hurt. The widespread use of WeChat Pay and Alibaba-affiliated Alipay to handle offline transactions in Chinese cities is just one case in point here. Also helping: China's physical retail infrastructure is relatively weak. That aids not only e-commerce volumes, but also things like Baidu and Tencent's ability to drive local commerce via digital ads and Alibaba's various efforts to extend its empire into offline retail.
On the other hand, compared with Google, Facebook and Amazon, the Chinese web giants have less exposure to major non-domestic markets. To be fair, Alibaba has a growing presence in Southeast Asia and India and WeChat has a meaningful non-Chinese user base. But compared with how Google and Facebook get over half their ad sales from non-U.S. markets, and the presence that Amazon has built up in Europe, Japan and India, the reach of the Chinese giants is relatively limited.
For now, though, China's booming online/mobile commerce, payments, ad and gaming industries, together with the offline inroads some of these industries are enabling, are enough to keep the country's Internet giants well-occupied. And their investors happy even after -- in the cases of Alibaba and Tencent -- seeing big 2017 gains.
Don't miss these top stories on TheStreet:
Cocoa Prices Are Plunging. Here's What It Means to Hershey
These 10 Office Catch-Phrases Will Drive Your Coworkers Absolutely Insane
Editors' pick: Originally published Aug. 17.