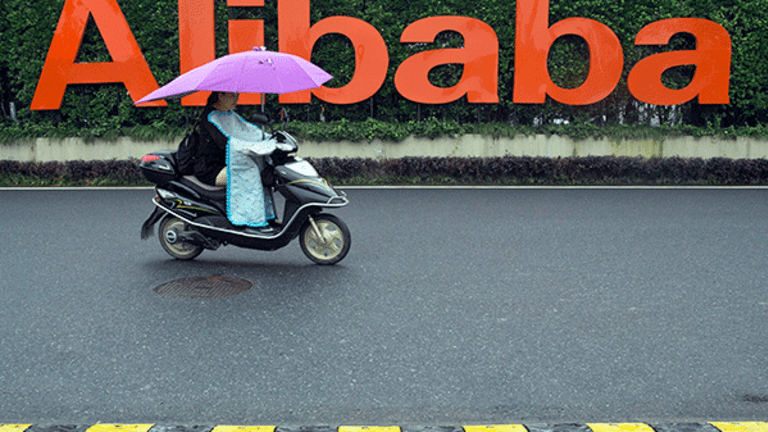 Alibaba Stock Slumps on Quarterly Earnings Despite Big Jump in Revenue
The internet giant missed earnings estimates despite a 60% increase in revenue.
Updated from 9:52 a.m. with additional information.
Shares of Alibaba (BABA) were down about 1.7% to $118.71 in morning trading on Thursday as investors focused more on the Chinese internet giant's lower-than-expected earnings for the 2016 fourth quarter, rather than its significant top-line growth. 
The company posted earnings of 63 cents per share, missing consensus estimates for 66 cents per share. Revenue beat expectations at $5.6 billion, vs. expectations for $5.2 billion and represented a 60% year-over-year growth, the largest increase since its IPO in September 2014. In addition, the company announced that it would buy back shares worth up to $6 billion over two years. Shares fell about 3% after the report came out but have been slowly recovering in the morning trading session. 
The stock has had an impressive run-up of over 32% year-to-date and hit a 52-week high of $124.34 on Monday. Tigress Financial Partners chief investment officer Ivan Feinseth said he thought Thursday's sell-off could be a good buying opportunity. "I thought it was a good quarter because I focus on economic profit and revenue," he added. 
The earnings miss comes as a surprise as Alibaba has a history of beating on earnings, but the profit growth of 85% year-over-year to $1.4 billion was in line with the positive results e-commerce rival JD.com (JD) reported earlier this month, including its first profitable quarter, as well as rival Tencent's (TCEHY) rise in profit reported this week. The results also match a recent report from the Chinese government that the world's second largest economy grew 6.9% in the first quarter and a report from The National Bureau of Statistic that said Chinese retail sales increased by 10.9% year-over-year in March. 
But Alibaba increased its spending as it looks to diversify its business and build out its cloud and media and entertainment businesses. The company is still heavily dependent on its e-commerce platform, which reported a 47% increase in revenue to $4.95 billion.
"Our core commerce segment continued its significant growth and strong cash flow at large scale, enabling our aggressive investment in cloud computing, digital media and entertainment to drive the digital transformation of the economy and high-quality consumption across China," Alibaba CEO Daniel Zhang said in the announcement.
Feinseth said Alibabai has to spend money on its future if it wants to keep growing. That includes spending on marketing, hiring and infrastructure.
He noted that Facebook has seen significant growth after spending signficantly to buy WhatsApp and Instagram, while Alphabet's (GOOGL) Google is patting itself on the back for buying YouTube. But both internet giants were initially criticized for the purchases. "[It] went from 'those are the dumbest moves ever' to 'those are the most incredible moves ever,'" Feinseth said. "In the same way, Alibaba has to invest to create a more efficient business."
Alibaba's cloud-computing platform, known as Alicloud, represents 6% of total revenue and was able to double its revenue for the quarter ended March 31 to $314 million. Paying customers of Alicloud grew by 70% year-over-year to 874,000. However, Alibaba is still well behind Amazon (AMZN) and Google in the cloud sector. 
The company's media and entertainment division includes Youku Tudou and Alibaba Picture Group. The group represents 10% of the company's total revenue, reported a 234% year-over-year increase in revenue to $571 million. The company said its sees "tremendous opportunities" to link its e-commerce platform to this newer business, using its large e-commerce user base to drive subscriber growth for Youku Tudou's premium online video content. 
On the company's earnings call, Alibaba noted that the entertainment business isn't a "winner-take-all market," indicating that Alibaba has room to grow. While the competition for licensed content is fierce, Alibaba is also talking with directors and talent about producing proprietary content.
While revenue growth has been strong in both its cloud and media and entertainment arms, both still have yet to make money for Alibaba as the company continues to invest heavily in their growth. In December, Alibaba said it planned to spend $7.2 billion on its media and entertainment business over the next three years. 
Investors were also eager to hear about Alibaba's ongoing international growth plans as it looks to build on the dominance it has maintained in the Chinese online retail market. The company is still in the early stages of expanding outside the Chinese market and has a long ways to go, Zhang said in the earnings call.
The company is starting its expansion efforts in Southeast Asia through its acquisition of Lazada Group SA, which it purchased for $1 billion in April 2016, because of the large population and because Chinese products are popular in that market. However, it's also using a brand called AliExpress to expand in Brazil, Russia and Eastern Europe so far. The goal is to start selling local Chinese brands across the world and those brands are "eager" to make it happen, Zhang said. "We want to leverage the China engine to power growth in other markets," Zhang explained. 
In addition, Alibaba wants to help farmers from rural villages across China sell their produce in cities. While this type of business can't expand too far since the goods are perishable, the company appears smart to build on the farm-to-table trend. "In the end, I like anything on the platform that increases usability," Zhang said. For the latest quarter, mobile monthly active users (MAUs) on the platform grew 24% year-over-year to 507 million.
Next up for Alibaba is a conference that founder Jack Ma will host in Detroit to teach an expected 1,000 small businesses about Alibaba's services as it looks toward expanding to the U.S., which is already dominated by Amazon. This meeting is coming a few months after Ma met with President Donal Trump and promised to create one million jobs in the U.S.