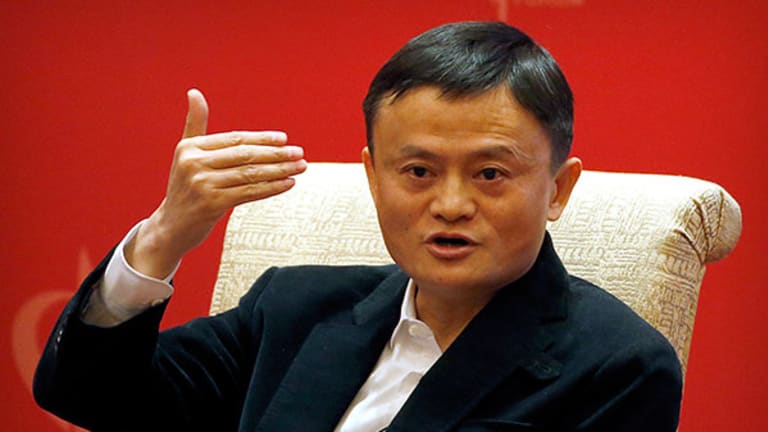 Alibaba Still Cooperating With SEC Probe as It Forecasts 45% to 49% Sales Growth
Alibaba has taken criticism for being opaque, but the company maintains that it is accurately reporting all the figures required by the SEC.
Alibaba (BABA) - Get Alibaba Group Holding Ltd. Sponsored ADR Report  has been on an incredible run with revenue growing between 44% and 56% year-over-year for the past five quarters -- so incredible that some say it might be too good. 
The dominant Chinese e-commerce player first announced an ongoing investigation by the Securities and Exchange Commission into its accounting practices in May 2016. While Alibaba reported 56% year-over-year growth to $7.4 billion for its latest quarter, U.S. e-commerce giant Amazon.com (AMZN) - Get Amazon.com, Inc. Report reported 25% revenue growth to $38 billion for its past quarter. The two companies are catering to different-sized populations and have different overall business models, but the contrast is still striking. 
Georgia Tech accounting professor Charles Mulford said that an SEC investigation can be limited or far reaching, but the fact that it's still ongoing suggests that the SEC is looking at Alibaba's accounting very closely. He noted that it's probably a complicated investigation since the SEC has to get access to data on a company that's based in China but trades on the NYSE. "The bottom line is you'd rather not have an SEC investigation," he said. "It's definitely a negative." 
If the SEC finds something wrong with Alibaba's accounting practices, the company probably won't have to pay a heavy fine, but it will have to issue a restatement of its numbers and its stock might take a hit. "Revising numbers makes investors less confident and secure with a company," Mulford said.
The last update to the investigation came in November 2016 when Alibaba denied reports that a top executive at the company was working with federal regulators on it, as the New York Post first reported. "We don't think there is any factual basis to the New York Post story," Alibaba executive vice chairman Joe Tsai said during an earnings call. "So on that score, when we have real news, we will update everyone."
Tigress Financial Partners CIO Ivan Feinseth said he wasn't overly concerned about the investigation, believing it to be mostly due to the SEC's unfamiliarity with Alibaba's business model since it's a Chinese company. Deutsche Bank and other firms had similar viewpoints after the investigation was first announced in 2016. "While we would never be dismissive of an SEC inquiry, we believe that investigations are sometimes launched because the SEC is unfamiliar with various constructs (e.g.,- Cainiao's unique business model, the unprecedented scale of Singles Day, etc.)," Deutsche wrote.
Alibaba said the investigation was in relation to the accounting for logistic firm Cainiao Network, which Alibaba has a 48% stake in, operating data from its annual "Singles' Day" sales extravaganza, as well as the accounting of related-party transactions. The SEC declined to comment for this story. Alibaba also declined to comment past its previous statements on the investigation that it was cooperating with the SEC, that its annual reports were adequate, and that an investigation doesn't mean that the company has broken any U.S. laws. 
Jack Ma talking about its annual Singles Day sales event, which brought the company $17.8 billion in sales in 2016. 
An Alibaba analyst who asked not to be named due to the ongoing investigation broke down the three concerns for TheStreet:
1. Single's Day Gross Merchandise Value: "There were some questions about whether the cancellations and returns were still counted as GMV. To me, this is not a big deal since the financials are not dependent on GMV but rather on Alibaba's revenues which most of it comes from marketing services (now called customer management revenue). Since then, Alibaba only provides GMV on an annual basis. This is odd since all Chinese companies provide this metric including JD.com (JD) - Get JD.com, Inc. (JD) Report and Vipshop Holdings  (VIPS) - Get Vipshop Holdings Ltd Sponsored ADR Report ."
2. Why Alibaba doesn't consolidate Cainiao: "This has been short sellers key criticism on BABA as they believe BABA should so they can have apples to apples comparison with JD.com. I disagree in that BABA is a platform company and therefore does not sell its own products. BABA is not responsible for the fulfillment or the delivery of the products; sellers are responsible just like Ebay  (EBAY) - Get eBay Inc. Report . However, for BABA it is important to have Cainiao because without it BABA cannot control the shipping prices and process control, the absence of which allowed Amazon to become dominant over Ebay even though the latter had the early mover advantage. Moreover, US GAAP does not require BABA to consolidate if it owns less than 50%. BABA owns 48% of Cainiao." 
3. Related party transactions: "I have no visibility on this. I didn't think there was much since there are no relationships potentially exposing the company for any transfer pricing issues. However, I think there were some questions about BABA's relationship with Ant Financials since BABA pays fees for payment processing, even if it receives 37% of Ant's profit.  
The most common mistake found by the SEC in accounting investigations has to do with not meeting revenue recognition criteria, Mulford said. Reporting revenue at the wrong time is especially common. Companies sometimes get in trouble for improper revenue cut-off at the end of an accounting period, according to the SEC. While the details of the investigation aren't clear, Mulford said he would guess the SEC is looking into whether Alibaba's Singles Day met revenue recognition criteria. Alibaba's Singles Day, a day for people to celebrate being alone on November 11 by buying gifts for themselves, brought int $17.8 billion in sales last year.
Jack Ciesielski, an analyst with Analyst's Accounting Observer, said he was curious about how the SEC will enforce any potential penalties on a company that's headquartered and operated in China. Alibaba has a "weird construct" with its numerous business segments, including six core e-commerce businesses, as well as a digital media and entertainment arm, a cloud arm, as well as investments in Cainaio and Lianhua Supermarket chain. "It's hard enough to enforce things with domestic companies," he said. "How do you get legal recourse when it's on the other side of the world?"
More of What's Trending on TheStreet:
Like Rats Off a Sinking Ship, Steve Bannon Out at White House
10 of the Most Worthless And Expensive Olympic Venues of All Time