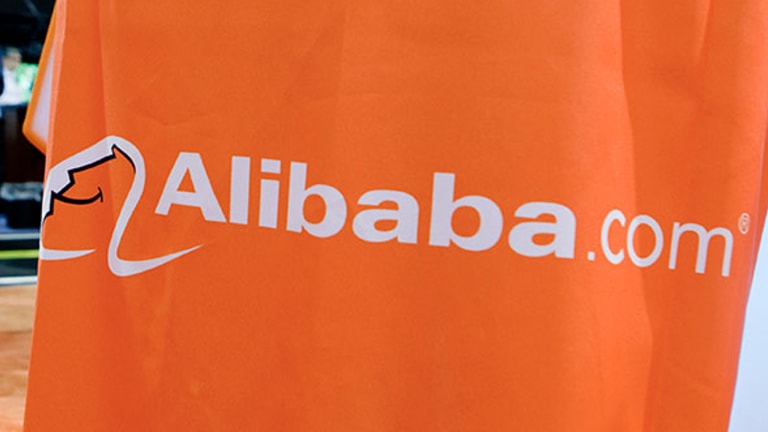 Alibaba Rises 3%, and Analysts Expect Even More Gains
BABA shares are already up 90% in 2017, but Wall Street expects the Chinese e-commerce giant to soar in 2017's second half.
Alibaba Group Holding Ltd. (BABA) - Get Free Report  is trading some 3% higher at almost $170 a share at midday Friday after the company reported a great fiscal first-quarter -- and analysts see more good times ahead for the e-commerce giant.
Shares are already up nearly 90% in 2017, but BABA's positive earnings release Thursday suggests this is only the beginning. Alibaba reported stunning 56% year-over-year growth in revenue to $7.4 billion for the quarter, topping Wall Street's expectations for $7.1 billion. Earnings came in at $1.17 per share, also beating estimates for 93 cents per share. For the same quarter last year, Alibaba reported earnings of 71 cents per share on revenue of $4.6 billion.
Highlights from the report included 96% growth in the company's cloud revenue to $359 million. But Alibaba still relies on its six core e-commerce platforms for 85% of its revenue. These China-based online retail businesses brought in $6.3 billion in revenue, representing 58% growth year over year. 
On the earnings call, Alibaba CFO Maggie Wu attributed the company's strong performance recently to new users on its platforms, increased traffic from users and personalizing the content that shows up in users' feeds. She also noted that Alibaba always has taken a long-term view and investors are starting to realize the value that has created. 
On Friday, Alibaba got a round of price-target hikes from Wall Street, suggesting analysts see the stock heading up further still in 2017:
Youssef Squali, Suntrust Robinson Humphrey Inc. (Buy, price target raised to $200 from $175)
"We reiterate our buy on BABA and raise our PT to $200 from $175 (DCFderived) on the back of better F1Q18 results, and expectations for sustained performance throughout FY18. Increased investments in 2H18 and tougher Y/Y comps are short-term headwinds that should be more than offset by sustained momentum in demand and scale benefits, which should allow BABA to meet its 45-49% Y/Y revenue growth, with improving profitability still."
Hans Chung, KeyBanc Capital Markets (Overweight, price target raised to $182 from $160)
"Despite stronger promotions during the quarter, BABA delivered strong revenue growth and operating leverage driven by better monetization in e-commerce. We expect the upward trend of e-commerce monetization to persist, driven by better personalization, share gain in marketing budgets and potential room to grow ad loads. Remain buyers and raise target to $182."
Mark Mahaney, RBC Capital Markets (Outperform, price target raised to $185 from $160)
"Core commerce (86% of revs) drove the majority of the beat for the second consecutive quarter, as customer management revenue (formerly online marketing services) delivered accelerating growth, (+65% Y/Y vs. +46% Y/Y in March Qtr), driven by higher conversion and click volume. These services are gaining critical mass, and we believe continued product enhancements will help drive growth. ... Fundamental trends remain impressive -- particularly premium organic growth rates (56% Y/Y) in the core commerce segment, as brands/merchants ramp [up] advertising spending on BABA's massive platform." 
Jialong Shi, Nomura (Buy, price target raised to $201 from $170)
"Power of big data manifests. Alibaba reported 1QFY18 revenue growth of 56% y-y to CNY50bn, which beat consensus by 5%."
Jim Cramer Reveals Why His Trust Didn't Buy Alibaba Shares
(This story has been updated with midday stock prices.)
Don't miss these top stories on TheStreet:
Watch Out for This Ripple Crypto, a Possible Hot Rival to Bitcoin And Ethereum
Tesla's Many Would-Be Rivals Are Chasing a Speeding Target
Cocoa Prices Are Plunging. Here's What It Means to Hershey