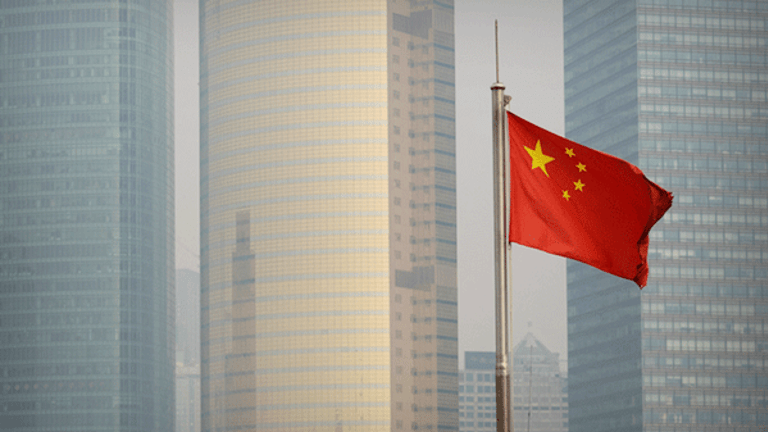 Alibaba Says Chinese Consumers Are Obsessed With Sneakers and Supplements
Alibaba's large trove of data on Chinese consumers will come in handy for U.S. sellers deciding what products to sell in China.
Alibaba's  (BABA) - Get Report  data on its 500 million users in China will be invaluable to U.S. sellers looking to break into the $4.89 trillion China retail market. 
Alibaba invited certain U.S. small businesses to its conference on Tuesday and Wednesday in Detroit to teach them more about breaking into the China market. The invite list was focused on fashion, apparel and everyday goods, including cosmetics, bicycles, fresh food, supplements, baby products and running shoes, Alibaba president Michael Evans told TheStreet. 
Alibaba CEO Jack Ma and other company executives used the Gateway '17 conference to convince the selected U.S. businesses that they can no longer ignore the opportunity to sell goods to China's population of 1.4 billion. Ma noted China has 300 million in the middle class that wants to buy higher quality products from the U.S. He expects the middle class in China to double to 600 million in the next 15 to 20 years. 
The company wants to reach 2 billion users in the next decade, meaning it needs more sellers to sign up for its platform. 
Here's a look at two specific items Alibaba highlighted at the conference for their popularity in the current China retail market. 
1. Sneakers
Demand for running shoes is surging in China and New York-based sneaker consignment shop Stadium Goods is benefiting big time. 
Stadium Goods CEO John McPheters spoke on Wednesday at Gateway '17 and said he knew he wanted to sell in China after a customer came into his New York store and bought $10,000 worth of Nike Air Jordans to resell back in China. "That opened our eyes to the opportunity," he said. 
The company has seen "exponential" growth since listing on Alibaba's Tmall Global Platform and has been adding jobs to keep up with the additional sales. 
In the next year, McPheters is planning to offer collectible kicks that aren't available in China yet and to start adding more content on Tmall Global for users to engage with as a form of advertisement. 
The company is on track for $115 million in sales in 2017. China is "obsessed" with sneakers, McPheters said. 
2. Supplements
China supplement retail sales reached $80 billion in 2016, according to Chicago-based business consulting service Vision Avenue Consulting. Chinese seniors are the top buyers of supplements, accounting for 48% of the sales. The top three types of supplements purchased are multivitamins, immune supports, and sleep aids, but protein and sports nutrition and skin and beauty supplements are trending up.
"The Chinese are very, very focused on supplements and natural supplements that you can buy from the U.S. market," Evans said. The growing Chinese middle-class consumers view American supplements as high-quality products, putting them in high demand.
The health food market in China has also benefitted from the rise in health awareness with sales reaching $144.2 billion in 2016, according to a study by the Hong Kong Trade Development Council.