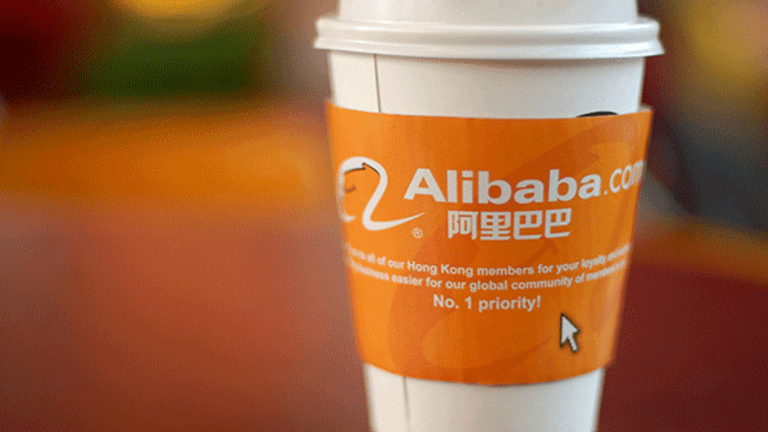 Alibaba Fires Back at US Trade Group Over Counterfeiting Claims, Shares Tick Higher
The company questions whether the report was influenced by the current political climate.
Alibaba (BABA) - Get ReportCEO Daniel Zhang fired back at the U.S. Office of the Trade Representatives (USTR) after the group added the company's consumer-to-consumer e-commerce platform Taobao to its "Notorious Markets" list.
"The fight against counterfeit is a fight against the dark side of human nature. Counterfeiters are like bacteria in the air that we breathe," wrote Zhang in an internal e-mail to Alibaba employees Thursday night. "Eradicating counterfeits require serious, long term commitment and cannot be achieved overnight."
The company said on Friday that it would establish an advisory board of brands and trade associations to help international brands and smaller enterprises protect their intellectual property on its e-commerce platforms.
Despite having stepped up its efforts to crack down on counterfeits, Chinese e-commerce giant Alibaba is still under fire for fake goods and copyright infringement and may have a hard time shaking the stigma around one of its main e-commerce properties.
"Alibaba has been fighting against counterfeit goods, but I think the issue still exists in mainland China, which is not only the problem for Alibaba's online marketplace but also at offline stores," said Marie Sun, analyst at Morningstar. "In addition, there is some gray area for counterfeit products that even local law or regulations haven't reached it."
The comments come after Alibaba's main e-commerce marketplace platform Taobao was called out in a report released by the U.S. Office of the Trade Representatives (USTR) on Wednesday, Dec. 21, and labeled one of the "notorious markets" the consumer protection group deems is wrought with large-scale copyright infringement.
"Given the dominance of Chinese sellers on Alibaba's platforms, it is critical that the Chinese Government support these efforts through measurable enforcement efforts across China and stronger domestic IPR reforms identified in previous Special 301 reports such as the development of its E-Commerce law," said the report.
Shares of Alibaba opened Friday to $86.80, gaining more than 2% percent compared to Thursday's closing price. Its shares are trading at $86.80 early Friday.
"We are very disappointed by the USTR's decision to include Taobao on its 'notorious markets' list, as we are far more effective and advanced in IPR protection than when the USTR took us off the list four years ago," said Michael Evans, president of Alibaba Group in a statement Wednesday evening. "The decision ignores the real work Alibaba has done to protect IP rights holders and assist law enforcement to bring counterfeiters to justice. We question whether the USTR acted based on the actual facts or was influenced by the current political climate."
Since 2006, the International Intellectual Property Alliance in conjunction with the USTR has filed the annual report, which is aimed at encouraging authorities to combat piracy and counterfeiting. While the report does not reflect national trade policy, companies have closed or reformed in order to get off the list. 
Alibaba, whose efforts to stop sale of counterfeit goods have faced backlash from international brands and trade groups such as the American Apparel & Footwear Association before, recently announced the achievements of its second annual anti-counterfeit campaign called Operation Cloud Sword.
Launched in April, the 2016 Operation Cloud Sword lasted until July when Alibaba provided intelligence about counterfeit warehouses and organizations to the Chinese law enforcement from Zhejiang Province.
The company claimed that the operation cracked down on 417 counterfeit production rackets and storage facilities across 12 provinces and municipalities, seizing counterfeit goods valuing RMB1.43 billion ($200 million) while leading a total of 332 suspects to be arrested.
"Counterfeiters are on notice. We are using big data to help authorities identify them, their manufacturing facilities and their distribution locations," said Matthew Bassiur, Head of Global Intellectual Property Enforcement at Alibaba. "Attempting to sell counterfeits online may very well lead to their arrest and imprisonment offline."
While Alibaba has been criticized by French luxury brand Longchamp, U.S. fashion brand Michael Kors (KORS) and Coach (COH) , the operation is said to have detected over 30 categories of counterfeit across 131 brands such as Action Alerts PLUS holdingStarbucks (SBUX) - Get Report , Converse, Adidas, Nike (NKE) - Get Report , Exxon Mobil (XOM) - Get Report , Bolon and Philips.
But analysts believe that it will not be so easy for Alibaba to solve its counterfeit problem.
"Alibaba has had a longstanding dispute with the U.S. Office of the Trade Representatives and it is not surprising that the USTR is continuing to pursue this matter," said Gil Luria, managing director at Wedbush Securities. "However, from the work we have done, Alibaba may be doing more to prevent counterfeit than some of the US based marketplaces. In one spot check we actually found that you were more likely to find a questionable item on Etsy (ETSY) - Get Report  than you were on Alibaba's AliExpress."
Besides firing back at allegations by USTR, Alibaba also turned heads around Friday by securing close to $1.2 billion of funding for its on-demand services unit Koubei from first-time investors including Silver Lake Management, China's sovereign wealth fund,Yunfeng Capital, Primavera Capital Group and CDH Investments, according to Bloomberg.