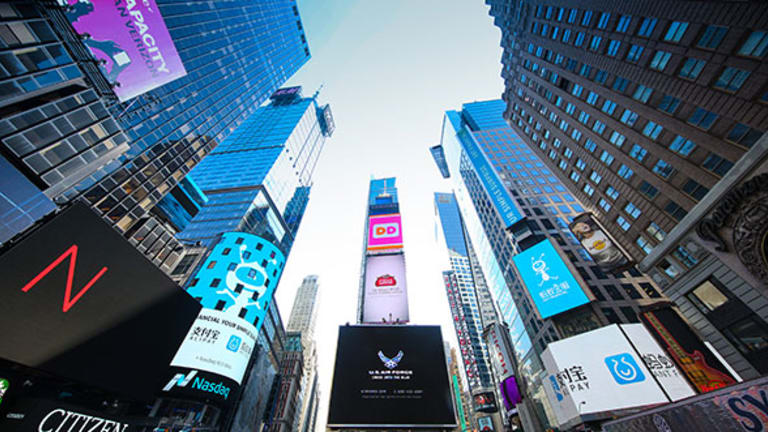 This $75 Billion Alibaba Business Is Readying to Become Even More of a Global Force of Nature
Here's the latest.
Ant Financial, the finance affiliate of Chinese e-commerce giant Alibaba (BABA) , is seeking to raise around $3 billion through a debt issuance to fund its acquisitions, various news outlets reported.
Hangzhou, China-based Ant Financial is raising money for future acquisitions and also in part to finance its acquisition of Dallas-based money transfer company MoneyGram International (MGI) . The deal, first announced on Jan. 26, is valued at approximately $880 million in equity but carries an enterprise value of $1.64 billion when you factor in MoneyGram's debt and cash balances.
"It is the market practice for a globalized company like Ant Financial to raise debt in USD," said an Ant Financial spokeswoman. The person declined to comment on the amount of debt being raised.
Ant Financial's move to raise funds via debt, instead of selling equity as most Chinese tech firms have usually done in the past, is due to favorable interest rates for bank loans, a source familiar with the matter told Reuters.
Acquisitions have been a key growth strategy for Ant Financial, which invested $680 million in Indian e-commerce and payments player Paytm in Sept. 2015 and purchased a 20 percent stake in Thailand's Ascend Money, an e-payment services and micro-loans provider in Nov. 2016.
As China's largest online payment service provider, Ant Financial was last valued at $60 billion after closing the world's largest private fundraising round for an Internet company at $4.5 billion in April 2016. According to Bloomberg, the company has been revalued at $75 billion by Hong Kong-based brokerage and investment company CLSA Ltd. and is planning an initial public offering for as soon as 2017 pending Chinese regulatory approvals.
Although Ant Financial is generally reported to be controlled by Alibaba founder and executive chairman Jack ma, an Alibaba spokesman told TheStreet earlier that "while Jack Ma does have a financial stake in Ant, this should not be construed to mean that it is "his company," or that he has a majority stake."
Ant Financial claims a broad customer base of 450 million users and manages the payment platform Alipay for Alibaba's Taobao and Tmall online shopping sites. Alipay also competes fiercely with Wechat Pay, a product of China's second largest internet company Tencent.
Ant Financial said it will also assume or refinance MoneyGram's outstanding debt, which stood at $937.3 million for the quarter ended on Sept. 30, according to the company's latest financial statement. It is believed the financing is in its early stages, though the company declined to comment outside of a brief statement.
Alibaba, which owns an unspecified stake in Ant along with its founder Jack Ma, did not respond to an immediate request for comment. According to Chinese state media Xinhua News Agency, Ma owns about 7% of Ant.