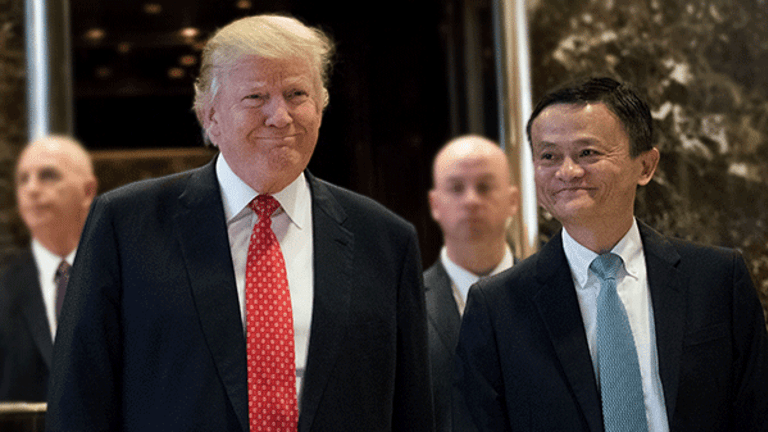 Alibaba's Jack Ma: China Needs More 'Made in America' Products
Alibaba executive chairman Jack Ma says small businesses won't be able to survive if they don't globalize.
Alibaba (BABA) - Get Alibaba Group Holding Ltd. Sponsored ADR Report executive chairman Jack Ma said U.S. small businesses need to start selling globally to China and other countries through online marketplaces or risk going out of business.
"I'm not scaring you guys, [but] you have to think outside the box," Ma said to an audience of 3,000 U.S. small businesses, entrepreneurs and farmers at the company's Gateway '17 conference in Detroit. The conference is aimed at teaching attendees how to start selling goods on Alibaba's platforms.
Ma said that he's excited at the state of China-U.S. relations. "I'm so happy about [China] President Xi Jinping and [U.S. president] Donald Trump and the wonderful dialogue they had," he said in reference to the two leaders' meeting at Mar-a-Lago in April.
Trump has been pushing for more U.S. manufacturing activity and Ma seems to agree, saying the rest of the world needs more "Made in America" products. "America has beautiful products and we Chinese consumers are crazy about that," Ma said. "We need that."
China is an enormous opportunity for small businesses simply because of its population of about 1.4 billion vs. the U.S.'s 320 million, Ma said. On June 18, Alibaba sold two million lipsticks in less than 10 minutes. "Everything goes so quick and fast," he said.
He then gave two past examples of how Alibaba has helped Canada and the U.S. sell an incredible volume of goods to Chineses consumers in a short period of time. In the first example, Canada asked Alibaba to help it sell lobsters. In one day, Alibaba ended up selling 90,000 live lobsters and shipped them from Canada to China within 72 hours.
In the second example, the U.S. asked Alibaba to help it sell cherries. Within 72 hours, the cherries had been picked off the trees in the U.S., shipped to China and were in the hands of 80,000 different families, Ma said. Afterward, Alibaba received complaints from people who were wondering why they couldn't buy more high-quality cherries for such a low price.
Alibaba's goal is to be able to ship any item to any person in the world within 72 hours, including a coconut shipped from Thailand to the U.S, Ma said.
China needs U.S. small business' products because it's shifting from an export-focused economy to an import-focused one as its growing middle-class demands higher-quality goods and as the country works to solve its pollution problem, Ma said. "If we don't start buying things, we're going to be in big trouble," Ma said in reference to China's air and water pollution issue. Factories in China are a major cause of air, water and soil pollution in China, with almost 14,000 companies failing to meet air pollution control standards from the Ministry of Environmental Protection, the New York Times reported. 
Don't miss these top stories from TheStreet:
Could Walmart Shock Everyone By Spending Over $70 Billion to Buy Costco to Take on Amazon? Well...
20 Photos Will Help You Get Why Money-Losing Tesla Is Worth More Than $60 Billion
What Apple, Microsoft and Some of the World's Biggest Tech Companies Are Doing Now in Healthcare