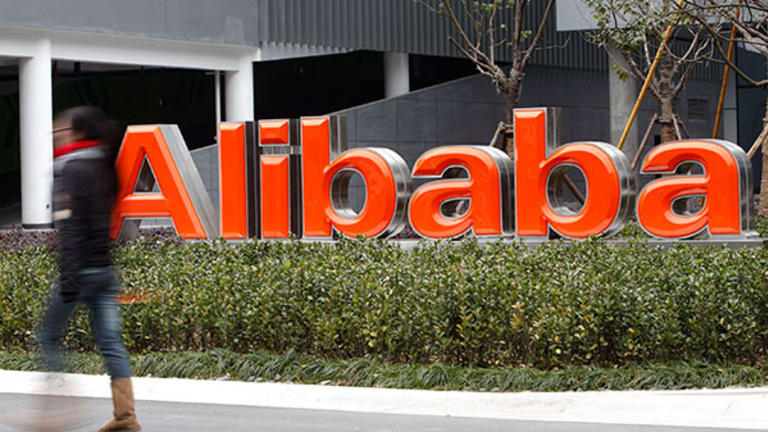 Alibaba's Big Local Services Bet Is Paying Off Nicely
The company's Koubei local services JV is reportedly set to raise funds at an $8 billion valuation. Alibaba's efforts to use its empire to grow Koubei are fueling its gains.
It's an open secret that China has often stolen a march on the rest of the world when it comes to adopting cutting-edge mobile payment and commerce services. That, along with some other factors, has led the amount of Chinese transactions involving online orders/payments for real-world services -- the proverbial online-to-offline (O2O) market -- to balloon.
Alibaba (BABA) - Get Reportis bent on claiming a big piece of this market with the help of some deep-pocketed investors. And though competition is intense, the e-commerce giant does have a couple of unique strengths it brings to the table, and which are helping it take share.
Bloomberg reported on Thursday evening that Alibaba's local services joint venture, Koubei, is close to obtaining $1.2 billion in new funding, from investors that include private-equity firm Silver Lake, Chinese sovereign wealth fund China Investment Corp and Alibaba chairman Jack Ma's Yunfeng Capital. The funding is said to value Koubei at about $8 billion, a figure far higher than the JV's implied valuation when it kicked off.
Koubei was launched in June 2015 in partnership with Ant Financial, the parent of Alibaba-affiliated Chinese online payments leader Alipay. At the time, Alibaba and Ant each committed 3 billion yuan ($431 million) to the venture. Alibaba also added its Taodiandian online food-ordering/delivery service, and Ant its offline merchant resources.
Around the same time that Koubei was being hatched, search giant Baidu (BIDU) - Get Reportpromised to invest $3.2 billion in O2O services over the following three years, via its local deals/group-buying service Nuomi, which was acquired from Renren (RENN) - Get Report in 2013. And this year, Baidu closed a funding round for its Takeout Delivery food-ordering service that values the business at $2.5 billion.
But the largest player in this space, at least if one excludes ride-sharing leader Didi Chuxing, has been Meituan-Dianping, the product of a 2015 merger between top local deals platform Meituan and rival/restaurant review leader Dianping. Meituan-Dianping obtained $3.3 billion in funding at an $18 billion valuation in January, and handled over $25 billion in transactions last year. Chinese messaging/gaming giant Tencent (TCEHY) is an investor.
Research firm eMarketer estimates the Chinese O2O market, which encompasses food-ordering, housekeeping, transportation, travel, auto repairs and various other types of local services, will grow 28% in 2016 to 428 billion yuan ($61.6 billion). While high smartphone and e-commerce penetration rates have helped this market grow, they aren't the only reasons.
The fact that an estimated 56% of Chinese now live in urban areas, including a disproportionate number of the upper and middle-class consumers likely to use O2O services, has made providing local delivery services on a large scale easier. Relatively low labor costs have also helped.
And as eMarketer observes, the ubiquity of mobile payment services such as Alipay and Tencent's WeChat Pay is also a factor. Whereas someone booking a restaurant reservation or hotel room online in the U.S. is likely to pay at the point of service with a credit card, there's a greater chance payment will happen in China through a smartphone app, leading the transaction to qualify as O2O.
For this reason, the fact that Koubei can provide tight integration with Alipay certainly acts as a selling point. Alipay, which claims over 450 million active users and 270 million mobile users, added Koubei support to its app in July 2015. Koubei handled $7 billion in payment volume via Alipay in Alibaba's September quarter, up 55% annually.
The integration of Koubei with Alibaba's Mobile Taobao app also has value. This is due both to the popularity of the Taobao marketplace -- it's by far China's biggest e-commerce platform for smaller merchants -- and the potential to cross-sell certain Taobao merchants on using Koubei.
With transaction growth rates for Alibaba's core Taobao and Tmall marketplaces gradually slowing, the company has a strong incentive to diversify. Koubei, along with Alibaba's online media and cloud infrastructure efforts, is shaping up to be a key part of this push. It's not a business that's likely to squash its largest rivals, but it is shaping up to be a formidable player in a big market that's still seeing healthy growth.