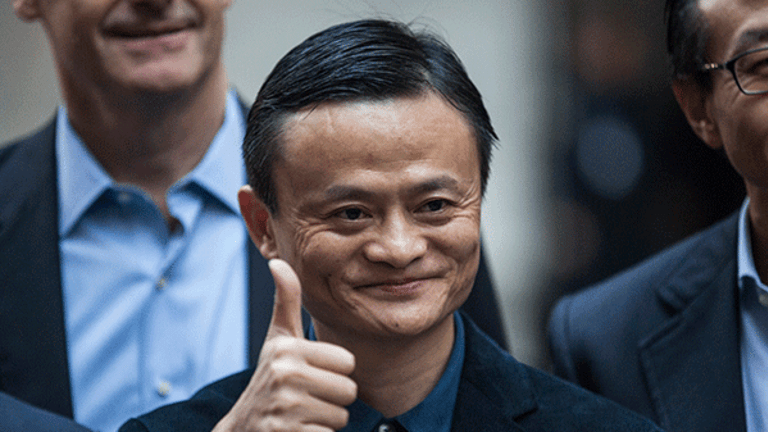 Here Are the Defining Traits That Set One of the World's Richest Business People Apart From Others
TheStreet sits down with Alibaba.
Alibaba (BABA) - Get Report  co-founder and executive chairman Jack Ma went from being rejected for a job at Kentucky Fried Chicken (KFC) to later buying part of KFC and accruing a worth of $33.7 billion. 
Alibaba President Michael Evans spoke to TheStreet about what it's like working with such a determined leader like Ma in an interview from Detroit, Michigan, where Alibaba is hosting its two-day Gateway '17 conference to help 3,000 U.S. small businesses, entrepreneurs and farmers learn about how to sell their goods on Alibaba.
People like Ma don't come around often, Evans admitted. "I think Jack is a very, very unusual leader," he said. "Truly, he's a visionary."
What sets Ma apart from everyone else is his ability to have a long term vision for his company, while also maintaining a short-term, action-oriented philosophy that allows him to adapt to regulatory and market changes. "If you fall in love with the long term vision and you don't continuously adapt to be competitive. . . then you can easily get out of step," Evans explained. 
Prior to his position at Alibaba, Evans earned an Olympic gold medal in rowing, worked as a Wall Street executive and then went on to run Goldman Sachs' (GS) - Get Report Asia operations, which is how he first met Ma in the late 1990s. "China was a huge focus for Goldman Sachs and for me personally, so we were one of the first investors in Alibaba," he said. 
Evans admits that going from banking to ecommerce isn't an obvious or natural transition, but said the job at Alibaba came to him for three reasons: his passion for China, his connection to Jack Ma and his knowledge of Alibaba. "Those were all important and when Ma called after I left Goldman, that was a pretty interesting conversation," he said. 
The conference in Michigan aimed at sellers in the U.S. will run from Tuesday to Wednesday. Jack Ma will speak with talk show host Charlie Rose on Tuesday in an informal interview style and will give a more formal keynote on Wednesday. Ma has a special interest in signing up U.S. sellers because he made a promise in January to create 1 million jobs in the U.S.
If sellers start doing business in China, they will naturally need to hire additional help.
TheStreet's Brian Sozzi contributed to this story.
Visit here for the latest business headlines.