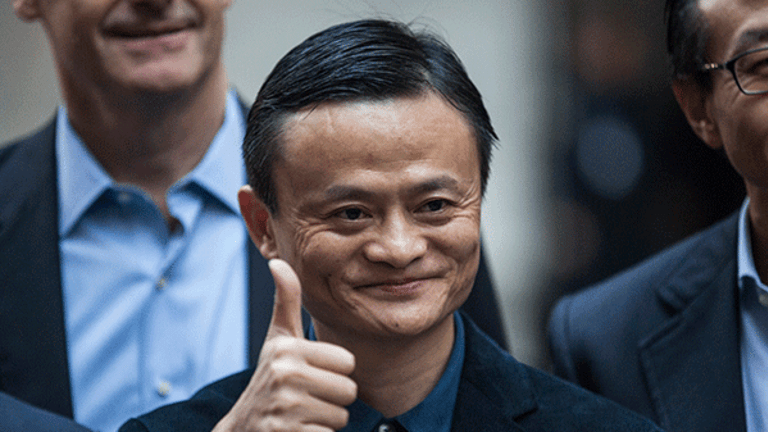 Alibaba Says Swarovski Suit Is 'First of Many' in Fight Against Counterfeiters
The litigation comes two weeks after Alibaba's Taobao was included in the U.S. Trade Representative's 'notorious markets' list.
The litigation comes two weeks after Alibaba's Taobao was included in the U.S. Trade Representative's 'notorious markets' list.
Chinese e-commerce giant Alibaba (BABA) - Get Report is taking two vendors who have been selling fake Swarovski watches on its online shopping platform Taobao to court.
The suit, the company's first ever legal action against counterfeiters, took place two weeks after the United States Trade Representative added Alibaba Group's Taobao Marketplace to its "notorious markets" list in late December.
The litigation against sellers Liu Huajun and Wang Shenyi claims RMB1.4 million ($201,320) for "violation of contract and goodwill."
"It's the first of many civil lawsuits coming against counterfeiters. And it comes on top of a criminal charges already filed by local authorities against these same individuals," said an Alibaba spokesman to TheStreet. "These potent examples show two things: first, we are dead serious about fighting the counterfeit scourge and second, we are we are using all available tools to combat it."
Shares of Alibaba were up 1.76% to $90.15 in midday trading on Wednesday.
"This lawsuit is part of the considerable effort Alibaba expends to combat counterfeit items on their marketplace. Even though a lot of inauthentic merchandise may slip between the cracks, I believe Alibaba does at least as much as its US counterparts to combat this type of merchandise," said Gil Luria, senior analyst at Wedbush Securities. "However, since they have many more sellers and buyers than the U.S. e-commerce providers, this is a tougher task."
Alibaba said that it was able to use its big data technology to identify counterfeit Swarovski products and locate the sellers in Shenzhen, the southern Chinese city near Hong Kong. The company then resorted to a "mystery shopping" tactic to test buy the products and then have Swarovski examine their quality, workmanship and packaging to confirm the watches were fake.
Alibaba, founded by Chinese businessman Jack Ma, claims that the action has led to the confiscation of 125 fake Swarovski watches and two counterfeit Swarovski official seals, with an estimated total value of $28.7 million.
Alibaba has been cracking down on counterfeits through an operation called "Cloud Sword" since early 2016. The operation provides intelligence and leads to local authorities who in turn carry out raids to root out fake goods factories and warehouses.
"Selling counterfeits not only violates our service agreement, it also infringes on the intellectual property rights of the brand owner, puts inferior products in the hands of consumers and ruins the hard-earned trust and reputation Alibaba has with our customers," said Jessie Zheng, Alibaba Group's chief platform governance officer in a statement released on Wednesday.
The company claims a good track record of anti-counterfeiting efforts and expressed shock when it was put back on the "notorious market" list after being removed from it for four years. Alibaba executives say the decision was driven by political incentives during a tumultuous U.S. election year.
The company, which continues to battle for global market share with U.S.-based rival Amazon (AMZN) - Get Report  and domestic rival JD.com (JD) - Get Report , is set to report earnings on Jan. 26. Analyst project EPS in the range of 89 cents to $1.23, according to FactSet.