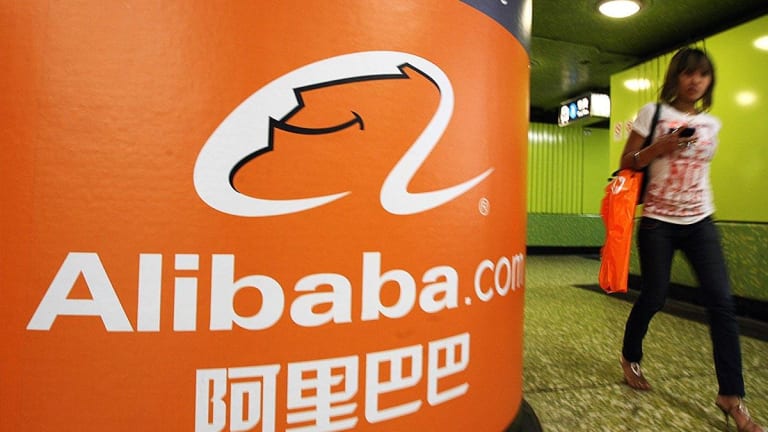 Alibaba Downplays Impact of U.S. China Trade War as It Reports Robust Results
The trade tensions will actually help accelerate some trends working in its favor, executives said on a quarterly earnings call.
Chinese e-commerce giant Alibaba (BABA) downplayed the impact of rising trade tensions between the U.S. and China as it announced healthy results for its March quarter on Wednesday morning.
Alibaba shares were rising 0.9% to $176.36 on Wednesday and are up 28% year to date, but have been hurt in recent weeks on concerns about the tariffs being levied by the U.S. and China on each other's goods.
With much of the company's business coming from domestic e-commerce, the amount of cross-border transactions between the U.S. and China handled by Alibaba is relatively small, the company said.
"The vexing issues in trade negotiations will resolve themselves as the Chinese economy is already evolving to close the gap between the interests of the U.S. and China," said Joseph Tsai, Alibaba's executive vice chairman, on a conference call with analysts following the release of its earnings. "This means in the future, there will be bigger Chinese domestic consumption, more foreign imports, continuing focus on enhanced IP protection and further digitization of industries driven by participation of the private sector."
"As we look at the evolution of the Chinese economy, Alibaba is on the right side of all these issues," Tsai argued.
CEO Daniel Zhang said that the recent trade tensions are "both a challenge and an opportunity for the Chinese economy. Looking into the future, China will expedite its journey to transform from an export-driven economy to a consumption-driven economy." Tsai noted that this transformation is a reason why Alibaba is not concerned that Chinese GDP growth will slow due to reduced Chinese exports as a result of the trade war.  
Zhang said that Alibaba's long-term growth will be driven by two factors. One is by growing domestic spending as "Alibaba is becoming synonymous with everyday consumption in China," Zhang said. The second is by servicing enterprises through such services as cloud computing as Chinese businesses increasingly digitize their operations.
"The macro conditions we look at are all long-term secular trends," noted Tsai in responding to a question about how macro-economic factors such as would affect the company's near-term plans and assumptions. "Those are the more significant drivers of our business as opposed to quarter-to-quarter GDP or industrial growth or things like that."
Specifically, Tsai pointed to the Chinese economy shifting towards from a manufacturing economy to a service economy, which would increase disposable income, as well as China importing more goods, which Tsai said the current trade negotiations would accelerate.
"If you're looking at our business as swimming in a stream, if you will, we're flowing in the direction of the tide as opposed to going upstream against it," Tsai said. "Because all those long-term macro factors are providing the tailwind to push our business forward."