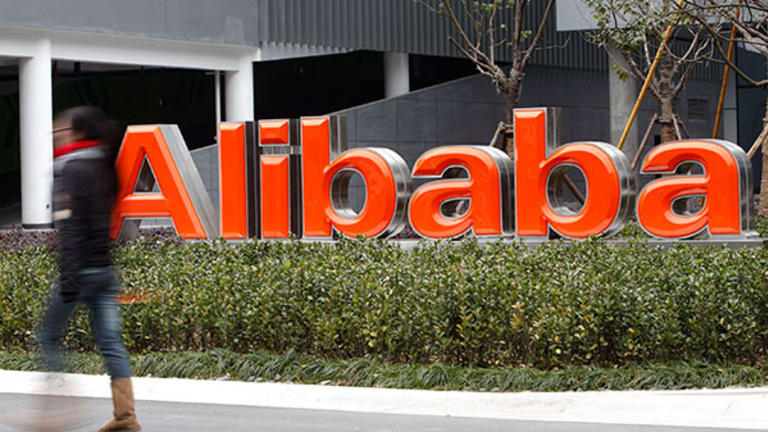 Alibaba Details Its Plans for World Domination
The Chinese juggernaut wants to serve a third of the world, and this could eventually mean competing with Amazon in the U.S., according to one analyst.
The Chinese juggernaut wants to serve a third of the world, and this could eventually mean competing with Amazon in the U.S., according to one analyst.
Alibaba (BABA) - Get Report  executive chairman Jack Ma recently made the bold prediction that the Chinese e-commerce giant would hit $1 trillion in gross merchandise value (GMV) by the 2020 fiscal year, and eventually serve two billion customers by 2036. Although Alibaba currently dominates the enormous Chinese market, achieving such lofty goals obviously would require a significant global expansion.
"If a company can serve two billion consumers, that is one-third of the total population of the world," Ma told about 400 investors at its annual investor day event in Hangzhou, China last week. "If a company can create 100 million jobs, that is probably bigger than most governments can do. If a company can support 10 million profitable businesses on its platform, this is called an economy." 
Expanding beyond its stronghold in China has long been a goal of Alibaba's. Shortly after Daniel Zhang was named CEO in 2015, he said the company "must absolutely globalize and it must be a successful effort."
Last year, Alibaba absorbed Southeast Asian e-commerce platform Lazada, which helped spur Alibaba's 56% revenue growth overall for the year to $23.3 billion. The company is also partnering with Argentina to make it easier for the country to sell wine and produce on its platforms. 
Alibaba's international platforms Lazada and AliExpress, a B2C platform that allows Chinese companies to sell their items to international consumers, had a combined 83 million annual active buyers for the past year ended March 31, with their combined revenue increasing 233% year-over-year to $1.066 billion.
But the company still has a ways to go.
"We now have 500 million consumers in China," Alibaba vice chairman Joe Tsai told TheStreet earlier this week. "So obviously we're a long way from that [Ma's two billion customer goal], so we need to think about expanding the business outside China." 
The natural next step for Alibaba is to help businesses sell their products to its huge base of customers in China, Tsai said, helping Alibaba gain customers and giving small businesses around the world access to the $4.8 trillion China retail market. China surpassed the U.S. as the world's largest retail market last year. 
"In terms of global expansion, we have to think about how we can leverage the advantages of being in China," Tsai said. Chief among these, Tsai said, is Alibaba's close relationship to a huge base of customers in China.
Editors' pick: Originally published June 15.
Alibaba is already working on marketing these advantages to businesses in the U.S. On June 20 and 21, Alibaba is hosting a conference in Detroit called Gateway '17 to teach small businesses in the U.S. about opportunities in the China market. "The Chinese market presents tremendous opportunities for U.S. small businesses and farmers to grow their businesses, and in turn, create more U.S. jobs," Ma wrote in an April blog post. At a meeting with President Donald Trump in January, Ma committed to creating one million jobs in the U.S. within the next five years. 
While Alibaba has not laid out plans for establishing a U.S.-based e-commerce operation that would compete directly with Amazon.com (AMZN) - Get Report , the Detroit event could be a prelude to a future entry into the U.S., said Tigress Financial Partners CIO Ivan Feinseth, who predicted it could happen within the next one to five years. "They haven't said much on it because you don't want to give away your battle plan, but the bottom line is that you have to go where the customers are," he explained.
China's population of 1.4 billion dwarfs the U.S.'s 321.4 million, but the U.S. is still the second largest retail market in the world. China's total sales of $4.89 trillion in 2016 just barely surpassed U.S. sales of $4.82 trillion, according to eMarketer.  
Breaking into the U.S. would be a big challenge, however, considering Amazon's huge lead and large base of Prime members, who each pay a yearly membership fee for benefits such as free two-day shipping on many items and a vast library of movies and TV shows. While Amazon doesn't release Prime membership figures, Cowen & Co. analyst John Blackledge estimates there are 80 million Prime subscribers worldwide (Guggenheim Securities analyst Robert Drbul put the number at 65 million). 
According to Feinseth, though, online shoppers are not particularly brand loyal, and so there's an opportunity for competitors to offer better prices and better fulfillment. "There's just no stickiness in online retail," he said. "That means Amazon can potentially be 'out-Amazoned'." 
While Tsai did not comment on where Alibaba is looking to expand next, he has noted in the past that the company is looking for growing markets that boast large populations with high mobile phone usage. These are all characteristics of places it's already ventured into, such as India, Indonesia and Thailand. 
While Alibaba is actively expanding, Tsai emphasized that it has an advantage by being based in China, not only because of its large consumer base, but also because of its huge manufacturing base. "Being in China means that both inbound and export, we have an advantage," Tsai claimed. "Having one leg in China gives us the advantage to do a lot of cross-border trade." 
Alibaba's shares fell 1.3% to $134.85 at Thursday's close.
Visit here for the latest business headlines
Read More Trending Articles:
Jim Cramer: Another Rotation Out of Apple and Nvidia Is in the Cards
Oil Reaches a Spot Where Nibbling at Energy Stocks Becomes Possible: Market Recon
Don't Forget Why You Love Tech Stocks Like Amazon, Jim Cramer Explains
Snap Has Shed an Astounding $13 Billion in Value and Now the Stock Is Trading Near Its IPO Price