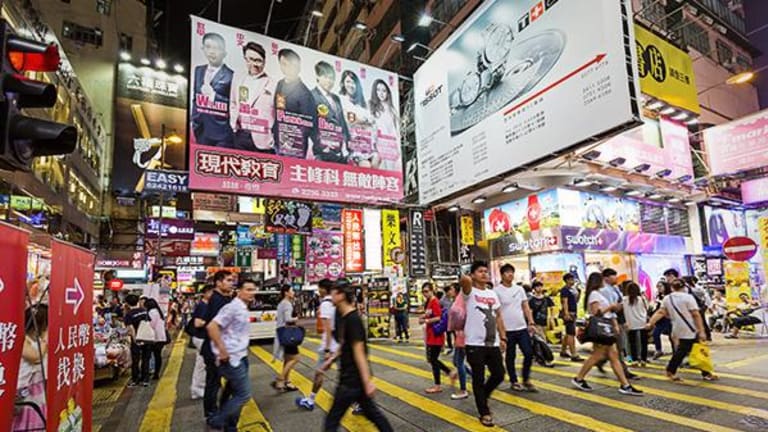 Alibaba and Tencent Could Have Much to Gain By Investing in One Of China's Biggest Phone Carriers
A big deal could be in the works.
As the eye-popping stats and growth rates in their March quarter earnings reports make clear, Alibaba Group Holding Ltd. (BABA) - Get Free Report and Tencent Holdings Ltd. (TCEHY) have become Chinese tech institutions in much the same way that Alphabet Inc. (GOOGL) - Get Free Report and Amazon.com Inc. (AMZN) - Get Free Report have become in the U.S. And just as Alphabet and Amazon's ambitions have gradually expanded to cover things such as self-driving cars, drones, anti-aging drugs and grocery stores, Alibaba and Tencent's reach now extends into areas such as shopping malls, movie studios and logistics networks.
That provides some context to a Reuters report that Alibaba and Tencent will be taking part in a roughly $10 billion funding round for Big 3 Chinese carrier China Unicom Limited (CHU) - Get Free Report . The investments could yield some obvious and less-obvious benefits for companies with giant Chinese mobile app footprints, such as Alibaba and Tencent.
Jim Cramer and the AAP team hold a position in Apple and Alphabet for their Action Alerts PLUS Charitable Trust Portfolio. Want to be alerted before Cramer buys or sells GOOGL? Learn more now.
Sources tell Reuters that Alibaba and Tencent would be the lead investors in China Unicom's funding round, which is part of a broader effort by Beijing to inject private capital into state-controlled companies. Search giant Baidu Inc. (BIDU) - Get Free Reportis said to have pulled out of investment talks, and a deal is reportedly likely to be finalized by this summer.
Taking sizable stakes in Unicom, which currently has a $36 billion market cap, could pave the way for Alibaba and Tencent to have their apps pre-installed on the Android phones Unicom sells. For Alibaba, possibilities include its Taobao and Tmall shopping apps, UCWeb mobile browser, Youku Tudou unit's video apps, AutoNavi mapping app, Wandoujia app store and Ant Financial's Alipay payments app. For Tencent, they include its WeChat mobile messaging app (nearly ubiquitous in China), myApp app store, the Tencent Video app and apps for its QQ and Qzone social platforms.
It's also possible that Tencent could have some of its mobile games pre-installed on phones. App pre-install deals with Chinese carriers and smartphone OEMs certainly aren't anything new. In 2015, Alibaba teamed with Unicom rival China Telecom Corp. (CHA) - Get Free Report to offer low-end phones in small towns and rural regions that featured either the Taobao app or Alibaba's Android-based YunOS operating system.
For an app as ubiquitous as WeChat or Alipay, a pre-install deal might be of limited value, since a very large percentage of Chinese smartphone users will be installing it either way. But for apps battling in more fragmented markets such as Android app stores, mobile mapping and online video, pre-install deals could be quite valuable.
And potential synergies for a Unicom investment go beyond apps. In addition to having 268 million mobile subscribers, Unicom claims 77 million broadband subs and a major retail store footprint -- Tesla Motors Inc. (TSLA) - Get Free Reportalready uses the latter to provide charging stations for its cars. Unicom could eventually offer streaming set-tops and other home hardware powered by YunOS to its broadband customers, and sell them in its stores. One could also see Alibaba's Cainiao logistics network, which has set up tens of thousands of delivery stations and pick-up spots for goods ordered online, making use of Unicom's stores.
Given that Unicom, like China's other Big 3 carriers, is state-controlled, it would be a mistake to overlook the political angle to any investment made by Alibaba or Tencent. Cutting a 10-figure check so that a carrier can make big investments that would further the Chinese government's ambitious infrastructure goals could earn some goodwill in Beijing.
But then again, such goodwill could be highly valuable precisely because Alibaba and Tencent's tentacles now extend to large swaths of China's tech and media sectors (and in Alibaba's case, to China's physical retail sector as well). That reach also has much to do with why investing in a major Chinese carrier (assuming the price is right) could make sense for each company in the absence of any earned goodwill.
A few years ago, it would be easy to look at a deal like this along fairly narrow lines -- as a way for two prominent Chinese Internet companies to obtain better distribution for their core apps and services.
But like Google and Amazon, Alibaba and Tencent are much larger and more ambitious entities than they were in 2011 or 2012. And that expanded ambition makes an investment in a company like Unicom much more intriguing.
Alibaba's shares fell 0.7% to $142.26 by Thursday's close.
Visit here for the latest business headlines.