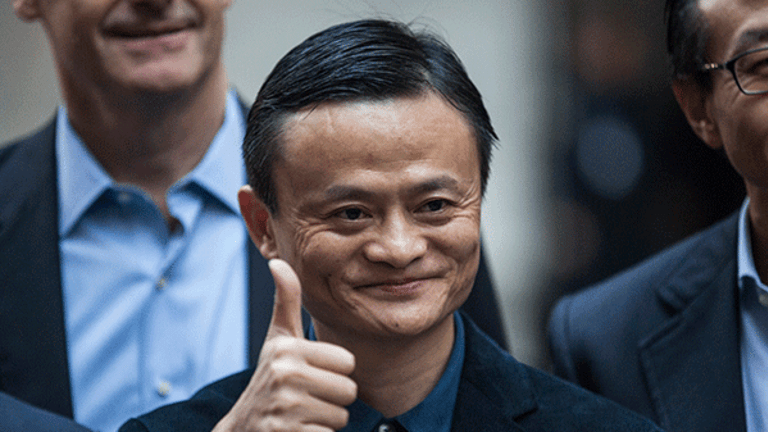 Alibaba and Tencent Are China's FANG Stocks
Like Amazon and Facebook, China's Internet giants are rapidly growing both their sales and their spending, and getting a thumbs-up for their strategies from investors.
An e-commerce, online video and cloud services giant just reported torrid March quarter revenue growth, but slightly missed EPS estimates as big content, infrastructure and logistics investments weighed on its bottom line.
Meanwhile, a social media and messaging giant just beat estimates on the back of very strong revenue growth, as its successful efforts to monetize its various platforms offset the margin pressure caused by heavy-spending ways.
No, this isn't Amazon.com (AMZN) - Get Amazon.com Inc. Reportand Facebook (FB) - Get Meta Platforms Inc. Reportthat we're talking about, but Alibaba (BABA) - Get Alibaba Group Holding Limited American Depositary Shares each representing eight Reportand Tencent (TCEHY) , each of which is looking as formidable in China as the proverbial FANG stocks (Facebook, Amazon, Netflix (NFLX) - Get Netflix Inc. Report and Google/Alphabet (GOOGL) - Get Alphabet Inc. Report ) are elsewhere.
On Thursday morning, Alibaba reported March quarter (fiscal fourth quarter) revenue of RMB38.6 billion (up 60%, equal to $5.61 billion) and adjusted EPS of RMB4.35 (up 45%, equal to $0.63). The former beat a $5.24 billion consensus analyst estimate, but the latter missed a $0.65 consensus.
Alibaba also announced a new $6 billion stock buyback authorization, after having repurchased $2 billion worth of shares (mostly from top investor SoftBank) in fiscal 2017. Shares finished fractionally up on Thursday, after having risen 37% in 2017 going into earnings. Yahoo's (YHOO) 384 million-share Alibaba stake currently has a pre-tax value of $46.2 billion.
On Wednesday morning, meanwhile, Tencent reported first quarter revenue of RMB49.6 billion (up 55%, equal to $7.2 billion) and net income of RMB14.5 billion (up 58% and equal to $2.1 billion), beating consensus estimates of RMB46.4 billion ($6.7 billion) and RMB13 billion ($1.9 billion), respectively. Shares rose 1.6% overnight in Hong Kong, and are now up 39% on the year.
It should be noted that for both companies, dollar-based revenue and earnings growth isn't quite as strong as yuan-based growth due to forex swings. The dollar has gained about 6% on the yuan over the last 12 months.
Alibaba's steadily-improving ability to monetize transactions on its massive Taobao and Tmall Chinese marketplaces via revenue streams such as ads, commissions and shipping fees remains a major growth driver. The company's China commerce retail revenue rose 41% annually to RMB25.8 billion ($3.75 billion, 67% of total revenue), nearly matching the December quarter's 42% growth. Revenue per annual active Taobao/Tmall buyer grew 33% to RMB251 ($36); annual active buyers rose 7% to 454 million.
Jim Cramer and the AAP team hold positions in Facebook and Alphabet for their Action Alerts PLUS Charitable Trust Portfolio. Want to be alerted before Cramer buys or sells FB or GOOGL? Learn more now.
Editors' pick: Originally published May 18.
While Alibaba doesn't break out quarterly gross merchandise volume (GMV) figures anymore, the company did disclose that Taobao/Tmall GMV grew 22% in fiscal 2017 to RMB3.77 trillion (equal to $547 billion, that's not a typo). GMV growth slowed a bit from the 27% reported in fiscal 2016, and is less than the 42% rival JD.comsaw in Q1. But it's still impressive given Alibaba's size, and indicates transaction volume per annual active buyer grew around 14%.
Meanwhile, Taobao/Tmall's monetization rate, defined as the ratio of revenue to GMV, grew to 3.03% in fiscal 2017 from 2.59% in fiscal 2016. Notably, mobile devices produced 80% of Taobao/Tmall's revenue and 79% of their GMV, with their mobile monetization rate slightly topping their PC monetization rate.
Alibaba's efforts (aided by its analytics investments) to deliver effective targeted ads mobile devices seem to be helping. And as Alphabet/Google (GOOGL) - Get Alphabet Inc. Report can vouch, it doesn't hurt that there's less screen space on smartphones for product listings, which increases the incentive for sellers to pay to have their listings promoted. The fact that Tmall, which (unlike Taobao) collects commissions on transactions, is outgrowing Taobao might also be lifting Alibaba's monetization rate. The former's GMV rose 29% in fiscal 2017 to RMB1.57 billion, while the latter's rose 17% to RMB2.20 billion.
But with a third of Alibaba's revenue now coming from sources other than Taobao/Tmall, the company is much more diversified than it used to be. Thanks in large part to its purchase of Southeast Asian e-commerce firm Lazada, Alibaba's international retail commerce revenue rose 312% last quarter to RMB2.43 billion ($353 million). Chinese wholesale commerce revenue grew 36% to RMB1.47 billion ($213 million), and international wholesale commerce revenue 8% to $219 million.
The AliCloud cloud infrastructure unit saw revenue rise 103% to $219 million (still only about 6% the size of Amazon Web Services). And "digital entertainment and commerce" revenue, which covers the Youku Tudou online video unit (acquired in April 2016), the popular UCWeb mobile browser and app store and game-publishing services, grew 234% to RMB3.93 billion ($571 million).
At the same time, the big investments Alibaba is making in non-core businesses are dinging its bottom line for now. In spite of posting 60% revenue growth, adjusted cost of revenue grew to 37% of revenue from 35% a year ago, thanks partly to Youku's content costs and logistics service payments to the Alibaba-affiliated Cainiao Network. Sales/marketing and R&D spend respectively remained at 10% and 8% of revenue. G&A spend grew to 6% from 4%, but that was due to an accounting adjustment.
Tencent's sales growth continues to be driven by its leading position in China's huge PC and mobile gaming markets, and strong advertising, subscription and payment volume growth for its WeChat, QQ and Qzone platforms. Online gaming revenue rose 34% to RMB22.8 billion (46% of total revenue), with PC gaming revenue rising 24% and smartphone gaming revenue rising 57%. Hit titles such as League of Legends, Honour of Kings and CrossFire Mobile fueled the growth.
"Social networks" revenue, driven by music, video and e-book subscriptions along with virtual goods, grew 56% to RMB12.3 billion. Ad revenue, lifted by soaring WeChat ad sales, rose 47% to RMB6.89 billion. "Other" revenue, which covers the popular WeChat Pay mobile payments service and cloud offerings, grew 224% to RMB7.56 billion.
WeChat, which has created a large content, social media and e-commerce ecosystem on top of its core messaging services, saw monthly active users (MAUs) rise 23% annually to 938 million. That makes it the world's third-most popular messaging app behind WhatsApp and Facebook Messenger, each of which have over 1.2 billion MAUs. QQ and Qzone usage is gradually declining as WeChat, with its ubiquitous Chinese mobile presence, takes center stage, but still respectively claim 861 million and 632 million MAUs.
As is the case for Alibaba, big video investments are weighing on Tencent's profits, and so is heavy marketing and R&D spend. In addition, a mix shift towards relatively low-margin subscription and payment services is pressuring margins. Gross margin fell to 51% from 58% a year ago, and operating margin to 39% from 42%. On its earnings call, Tencent noted its video operations remain "heavily loss-making," and signaled it doesn't see WeChat Pay "as a profit center for the foreseeable future."
But right now, investors aren't troubled by this any more than they are by Alibaba's video, cloud and overseas e-commerce investments. Just as they're willing to give Amazon a pass for its multi-billion dollar video investments and continued international losses, and Facebook one for its $7 billion-plus 2017 capital spending budget.
When your core businesses are delivering tremendous growth, and you have a strong track record of making many (though perhaps not all) of your growth initiatives pay off, it's easy to get that kind of vote of confidence. That's as true for China's internet giants as it is for their U.S. counterparts.
Read More Trending Articles:
Why Dying Sears Has Lost Nearly $300 Million in Value Inside of Nine Days
Jim Cramer and Real Money columnists discuss the latest from President Donald Trump and the GOP efforts to repeal and replace the Affordable Care Act. See which stocks they are discussing and get his insights or analysis with a free trial subscription to Real Money.