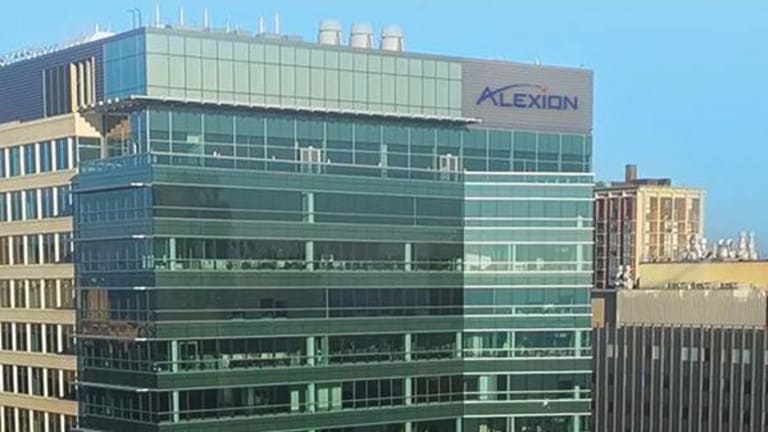 Alexion Pharma: Negative Market Sentiment Creates Buying Opportunity
I think the market is obsessing over the Alexion negatives and not looking at the real potential for positive catalysts ahead.
Editor's note: Dan Rosenblum (@sharkbiotech) is an experienced biotech trader and the publisher of a biotech trading newsletter at SharkBiotech.com. Last week, Rosenblum took a long position in Alexion Pharmaceuticals (ALXN) . In this column, he explains his reasons.
Alexion is coming off a brutal month where the stock has fallen nearly 30% including a 17% drop over the last four days. This brings the stock down a whopping 50% from its all time high in 2015 and back to 2013 levels when earnings were about half what they are today.
This recent fall started as a result of an investigation in Brazil over the company's sales practices for its blockbuster drug Soliris. Then last week, new Alexion CEO Ludwig Hantson cleaned house, with top executives in charge of R&D and sales, as well as the CFO, all resigning. The management shakeup coincided with a Bloomberg Businessweek cover story casting a negative spotlight on the company's aggressive sales practices.
Today, investors are assuming the worst when it comes to Alexion, including the possibility of yet more bad news. Perhaps overlooked, however, is the fact that no one is accusing Alexion of putting patients on Soliris who do not need it. I believe Hantson has just been unhappy with expense management, the bloated R&D structure and those aforementioned sales practices. He's taking full control of the company, which explains the management shakeup.
At recent investor conferences, Hantson has expressed displeasure with the company's current expense structure, particularly spending 25% of sales on R&D and 23% of sales on SG&A. He believes a number south of 20% for both expense items are more reasonable. 
Hantson has promised a restructuring announcement as soon as the second quarter earnings report. I believe this could be the first of several major positive catalysts for Alexion.
Another reason for the decline in Alexion has been the horrid launch for their drug Kanuma. Alexion bought Synageva for $8 billion in 2015 primarily for Kanuma, but it has taken over a year to reach $12 million in sales per quarter. This leads me to believe that along with the restructuring announcement, the company may write off part of the Synageva purchase. While this will look ugly on the bottom line it will actually save the company quite a bit of taxes by just writing off the purchase.
Alexion's operations have been nothing short of stellar. In the last quarter, the company grew revenue 24%, none of which was due to price increases. Sales volume grew 26% as the company continues to find new patients for Soliris. Strensiq, Alexion's drug to treat HPP, a rare bone disease, is in its second year post approval and revenue grew over 100% over last year.
Overall, Alexion's 24% revenue growth is faster than any of the other large-cap biotech or pharma companies, exceeding that of fast growers Celgene (CELG) (17%) Actelion (18%) or Regeneron (REGN) (10%).
The disconnect and opportunity for investors, as I see it, is buying this torrid growth at an historically cheap valuation. For years, Alexion traded at more than a 30 P/E, sometimes hitting 40 times earnings. Now, the stock trades at around 15 times next year's earnings estimate.
There is reason to believe this growth can continue. In October, the FDA will decide on expanding Soliris into a new indication, refractory generalized myasthenia gravis (gMG) a rare neuromuscular disease where patients who have myasthenia gravis have exhausted conventional therapy.
Last summer, the company announced that the primary endpoint of a clinical trial failed, but the study hit on the three secondary endpoints and a total of 18 of 22 measurements when they looked at the totality of the data. With no real other options for these patients I think there is a good chance both the FDA and the EMA approve Soliris for this indication later this year.
A fourth indication for Soliris, for a condition called NMOSD, an optical nerve and spinal cord disease, will have data early next year.
Also next year the company will be reporting pivotal data from their successor to Soliris called ALXN1210. The company hopes the drug not only shows a much easier dosing schedule (once every other month as opposed to every other week) but is possibly more effective as well in treating both PNH and aHUS, the two main indications for Soliris.
A successful successor for Soliris would provide the company patent protection out to 2035 and shore up the franchise from any possible competition.
Of course, the investigation in Brazil may cause a negative headline and the lack of aggressiveness from the sales department may cause them to lose a few patients. The FDA may turn down the gMG indication and '1210 may not prove to be such an improvement over Soliris. However, I think the market is obsessing over the negatives and not looking at the real potential for positive catalysts ahead.
I bought Alexion stock last week for both my personal account and for the sharkbiotech.com account portfolio. Investors have a rare opportunity to buy a premium stock when sentiment is at a low ebb. With possibly several major positive catalysts ahead, I think now is the time to buy the stock.
Read More Trending Articles:
Stocks Turn Negative on Final Day of May; Crude Oil Plummets Again
Dan Rosenblum has been a full-time stock trader since 1999 after leaving a job at a publicly held medical-device company. Rosenblum joined
that year and has been the online trading community's resident biotech expert ever since. Rosenblum writes the
newsletter, which has outperformed the S&P 500 and the Nasdaq Biotechnology Index every year since its inception in 2006. Rosenblum lives with his wife and kids in Rockland County, New York.