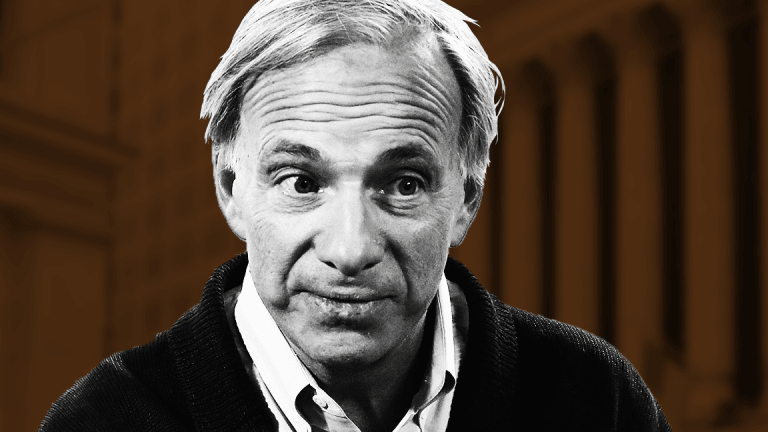 Alexion Pharma and Carnival Among Stocks Billionaire Ray Dalio Added in Q4
One of the world's largest hedge fund added these 'strong buy' stocks last quarter.
Building one of the world's largest hedge funds is bound to bring some notice, so Ray Dalio likely is used to having people follow his stock picks. That probably doesn't make much of a difference to him; this is the man who said of investing, "I just want to be right - I don't care if the right answer comes from me."
Now that the 13Fs are public, we can see which stocks Dalio's Bridgewater Associates chose as new investments in the fourth quarter of 2018. With a stock portfolio worth almost $11 billion, Bridgewater has a reputation for finding stocks set to soar. Let's dive into TipRanks analyst reviews to take a closer look at what makes these stocks such compelling choices right now:
Ameriprise Financial Inc.
The first stock on our list, Ameriprise Financial Inc. (AMP) - Get Ameriprise Financial Inc. Report ,was one of Bridgewater's major new acquisitions for the quarter. The fund purchased 335,850 shares of the financial services company at a cost of more than $35 million. Ameriprise, which spun off from American Express back in 2005, had a successful year at a time when the finance and asset management industry was struggling.
The financial blogger Sure Dividend laid out the bullish case for AMP in clear terms. The company showed steady earnings-per-share growth through 2018, totaling 28% by the end of the third quarter. In its most recent quarterly earnings, AMP reported earnings of $4.05 a share, well above the expected $3.68, and revenue, which came in at $3.29 billion, beat the forecast by $90 million. In short, Ameriprise's fundamentals are solid, and the growth and earnings reflect that.
From an investor perspective, however, Ameriprise offers something even better than company growth: A strong return on investment. The company has a history of returning adjusted earnings to shareholders through stock buybacks and direct dividend payments. The dividend yield, at 2.7%, is well above the S&P 500's average of 2%, and the payout, at $3.60 annualized, is a nice perk to the stock.
Market analysts agree with the rosy outlook on AMP. Five-star rated analyst Jay Gelb of Barclays, upgraded the stock to buy from neutral last month, describing it as a "tactical upgrade opportunity" and setting a $135 price target.
More recently, analysts have been setting higher price targets. Morgan Stanley's Nigel Dally set a price target of $150 on Jan. 11, suggesting a 13% upside, while UBS analyst John Nadel gave a target of $156, for an 17% upside, on Jan. 31.
Overall, AMP shares hold a strong Buy consensus rating from Wall Street, based on five "buys" and one "hold." The current share price is $132, and the average price target is $140, suggesting a 6% upside potential to this stock.
Alexion Pharmaceuticals Inc.
Alexion Pharmaceuticals Inc.  (ALXN) - Get Alexion Pharmaceuticals, Inc. Report is deeply involved in researching treatments for rare blood disorders and autoimmune diseases. The Boston-based company is best known for the extremely expensive Soliris, a treatment for paroxysmal nocturnal hemoglobinuria. This is a rare disease characterized by the destruction of red blood cells.
Bridgewater spent $27 million to acquire 277,885 shares of Alexion, making the pharmaceutical company its third-biggest new acquisition in the fourth quarter. With an established market for six medications, and 12 more in various phases of clinical development, Alexion has both a steady income stream and potential to expand upon it.
Kennen MacKay of RBC Capital noted both the pipeline and the established drugs when he reviewed ALXN stock after the company's fourth-quarter earnings call. "We came away from ALXN's Q4:18 call excited by detail into a growing pipeline, and increasing confidence ... based on a solid run-rate, strong volume growth, and a history of conservative guidance." MacKay gave ALXN a price target of $165, implying almost 27% upside potential.
From Morgan Stanley, analyst Matthew Harrison pointed out that Alexion's most urgent issue is switching current Soliris patients to the drug's next-generation iteration. He noted that, "[T]he firm's survey points to a rapid switch, with physicians saying they expect 57% of their patients to switch in 6 months and 84% in the first year. Robust switching, as supported by the survey data, should drive durable long-term revenue growth." With that in mind, he suggests a 34% upside to the stock, and price target of $175.
Alexion is another strong buy, with eight "buy" ratings and one "hold." The stock's $129 share price and $165 average price target give it a 27% upside.
Carnival Corp.
Bridgewater's fourth-biggest new purchase was in Carnival Corp. (CCL) - Get Carnival Corporation Report , the parent company of Carnival Cruise Lines - and nine other cruise lines - and the world's largest travel and leisure company. Carnival operates more than 100 ships, and its cruise brands account for more than half of the world's cruise traffic.
The hedge fund put up $26 million, and acquired 528,726 shares in the cruise operator. Entertainment is widely considered a recession-proof industry, as its key demographics are generally not reliant on contingent income.
CCL is also, like Ameriprise, a high-performing dividend stock. Since 2011, the dividend has increased steadily from 25 cents quarterly to the current 50 cents. The annualized yield, 3.4%, makes the annual payout almost exactly $2 a share. Bridgewater is looking at a return of more than $1 million per year from the CCL investment, just based on the dividends.
Wall Street analysts agreed that Carnival is a buy option. Macquarie's Matthew Brooks upgraded his view of CCL, changing the rating to buy from neutral, and raised his price target to $66. His target suggests 12% upside to the stock.
Writing at Wells Fargo, Timothy Conder also took an optimistic view of Carnival. He said, "Overall cruise industry demand remains strong, and investor concerns appear misplaced." He gives the stock a $70 price target and 19% upside.
Overall, Carnival gets a strong buy from the analyst consensus, based on 11 "buy" ratings and two "holds." The stock is trading at $58, and the current average price target of $69 gives an 17% upside.
offers exclusive insights for investors by focusing on the moves of experts: Analysts, Insiders, Bloggers, Hedge Fund Managers and more. See what the experts are saying about your stocks now at
. Author: Michael Marcus.