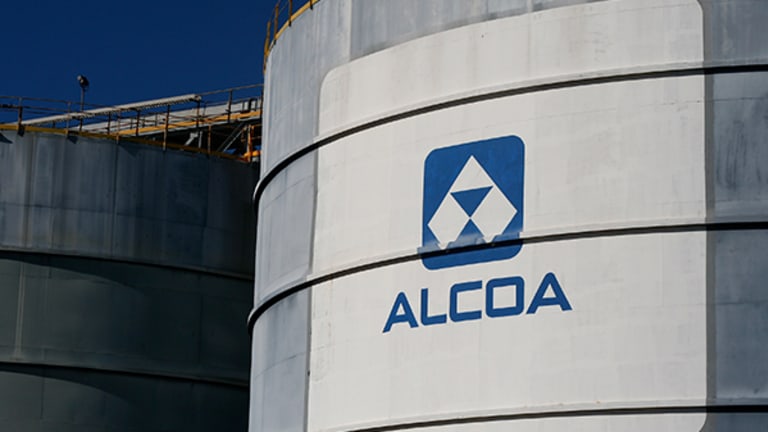 One Number Shot Alcoa Shares Higher After Nasty Earnings Surprise
Here's what got investors excited.
The market looks more focused on Alcoa's (AA) - Get Free Report future rather than its stunning fourth quarter earnings whiff. 
Alcoa (AA) - Get Free Report on Tuesday reported a fourth quarter loss of $125 million, or 68 cents a share, weighed down by restructuring charges following the company's November split into two independent entities.
Excluding special items, New York-based Alcoa said it earned $26 million in the quarter, or 14 cents a share. Analysts had expected the company to earn 20 cents a share, according to FactSet.
Alcoa generated revenue of $2.5 billion, up 9% sequentially, which came in above a $2.385 billion consensus estimate. Shares of the company, after closing up 3.3%, climbed another 4% in initial after hours trading following the release as it forecast solid 4% growth in global aluminum demand this year.
Alcoa shares are up by more than 30% so far in January.
Alcoa, a producer of bauxite, alumina, and aluminum products, said that in the weeks since its Arconic (ARNC) - Get Free Report finished products business separated into a standalone company its cash position increased by $198 million, closing the year with a cash balance of $853 million. As part of the deal to split Arconic took on all of Alcoa's $9 billion in debt and $3 billion of the combined $5.6 billion in pension obligations, helping to strengthen the former parent's balance sheet.
The company in a statement said it benefited from higher alumina and aluminum pricing in the quarter.
"Alcoa's first reporting period as a new, standalone, publicly-traded company points to our ability to deliver shareholder value," CEO Roy Harvey said in a statement. "Rising alumina and aluminum prices improved the bottom line, our alumina segment had exceptional profit growth in a stronger market environment and doubled margins, while our bauxite business also increased profits and reported robust margins."
The fourth quarter results included $151 million in special items primarily related to the permanent closure of a refinery and mines in Suriname and the impairment of an interest in an Australian operation.
For the full year, the company reported a net loss of $400 million, or $2.19 per share, on $9.3 billion in revenue. Analysts had predicted revenue of $9.254 billion.
Harvey said he sees further opportunities to cut costs in the coming quarters. "We will reduce complexity and costs across Alcoa, remain disciplined with cash, and focus on smart investments with strong returns," the executive said.