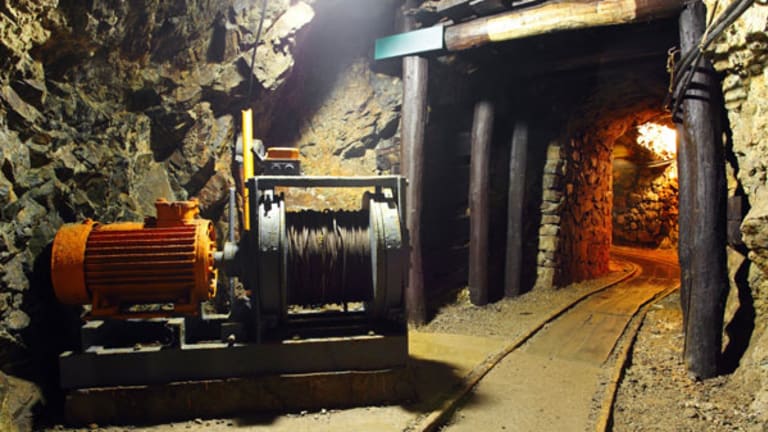 Alcoa Earnings Preview: How Long Will the Rally Last?
Alcoa's first quarter benefited from steadily rising aluminum prices, but how long can the metal's rally last?
NEW YORK (TheStreet) -- Aluminum or aluminium?
On the
London Metals Exchange
, the only bourse in the world where the light, malleable, corrosive-resistant metal is traded, it's the latter: al-yoo-MIN-ee-um. And when it comes to
Alcoa
, the third-biggest producer of aluminum/aluminium in the world, investors know to pay attention to the LME, situated at No. 56 on the appropriately named
, in the heart of the Square Mile of the City of London.
That's because Alcoa shares tightly track the price of the metal on the venerable exchange (as do the equities of all aluminum producers). And that's because nearly two-thirds of Alcoa's business -- as measured by earnings before interest, taxes, depreciation and amortization -- comes from its "upstream" segment, which produces raw alumina and primary aluminum, as opposed to finished products like beer cans or
aviation-grade sheet metal
.
Inside an Alcoa aluminium smelter
As it happens, aluminum prices on the LME have marched steadily upward (for the most part) since the middle of last year, recently achieving their highest point -- about $1.20 per pound -- since early September 2008.
That fact seems almost as symbolic as Alcoa's unofficial status as the opener for each quarter's earnings season. The company is set to report its numbers for 2011's first period after the close of trading Monday.
Indeed, despite Japanese natural disasters, American budget crises, European debt crises, Chinese inflation combat, and Middle Eastern political upheaval, demand for aluminum is on the rise amid what appears to be a global economic recovery that still exists.
But the supply side has also helped. Mainly that's because the Chinese government, late last year, forced the country's highest-cost smelters to shut down, amid a kind of energy crisis in the People's Republic. Aluminum smelting, in case you don't know, is one of the most energy-intensive manufacturing processes ever devised by humankind. A midsized smelter consumes as much electricity per day as a city of one million people. Thus, the lowest-cost smelters in the world tend to be located near cheap sources of electricity (like Brazil, where enormous hydroelectric dams produce inexpensive wattage for nearby aluminum plants). Electricity in China is some of the most expensive in the world.
Another factor driving aluminum prices of late: the higher cost of oil, pushed up by the various Middle Eastern rebellions, especially Libya's civil war. Though petroleum isn't a raw material in aluminum production, higher crude prices have a tendency to get metals traders worked up about higher energy costs in general. The price of aluminum, because its manufacture requires so much juice, would theoretically receive support from higher energy costs.
Alcoa's share price, meanwhile, after starting 2011 on a
literal bullish note
, has gained 17.7% year-to-date, easily defeating the S&P 500, which has risen by 4.7% over the same period. The stock just set another 52-week high -- $18.47 -- on Friday morning, before retreating some to about $18.
Recently, the supply-demand dynamics driving aluminum prices led one longtime metals-and-mining analyst, Lloyd O'Carroll of Davenport & Co. in Richmond, Va., to hike his aluminum price outlook for the next two years -- and, consequently, his Alcoa profit forecasts for the next two years. He thinks aluminum prices will average about $1.15 a pound on the LME in 2011 and $1.17 next year (up from his earlier targets of $1.04 and $1.09). He upped his annual EPS forecasts for this year and next to $1.32 and $1.45.
Despite all that, though, O'Carroll has a neutral rating on Alcoa's stock. Why? As his forecasts make clear, he doesn't believe aluminum prices can rise much higher from here. "If our forecast is correct and aluminum prices are range-bound for at least the next several quarters, then AA will likely be range-bound as well," he wrote in a note to clients on March 29.
And why does O'Carroll (along with many other analysts) think prices will be range bound? For one thing, some portion of the smelters shut down by Chinese authorities last year have received the all-clear to fire up again. No one really knows when or by how much the re-started plants will add to global supply. But everyone agrees that it's unfolding as we speak.
Further, the high price of LME aluminum means that all smelters are now turning a profit. To operate the highest-cost, least-efficient smelters in the world, it costs about $1.09 per pound of aluminum produced, estimates Bridget Freas, the metals and mining equities analyst at Morningstar. With prices on the LME about 10 cents per pound higher than that, it will surely induce more companies to fire up smelters that have remained idled since the start of the recession. And this extra supply, in turn, could drag on aluminum prices.
"Sometimes there's a band around how high prices can go because of that," Freas says.
As for the just-ended quarter, the 14 analysts who cover Alcoa are forecasting earnings of 27 cents a share, according to the Thompson Reuters survey. That would represent a near-tripling of EPS from a year earlier, when Alcoa's profit came to 10 cents a share.
First-quarter revenue, analysts say, according to the consensus, will come to $6.3 billion, up nearly 30% from the same period of 2010.
"The bottom line for Alcoa is: they should have a pretty decent quarter, but they're probably not going to blow it out of the water," Freas says.
Alcoa, she cautions, has had to contend with some "headwinds" during the first quarter, which may have squeezed its margins. There have been maintenance outages at it a few of its smelters, for instance. At others in the U.S., the Pittsburgh-based industrial icon has moved to restart production idled during the recession, and the restart process costs money. Plus, the U.S. dollar has risen compared to other benchmark currencies, which will squeeze the multinational's profits.
"When it balances out," Freas says, "the quarter will be better than the prior, but for Alcoa it's still a slow earnings recovery."
-- Written by Scott Eden in New York
>To contact the writer of this article, click here:
Scott Eden
.
>To follow the writer on Twitter, go to
.
>To submit a news tip, send an email to:
.
Disclosure: TheStreet's editorial policy prohibits staff editors and reporters from holding positions in any individual stocks.