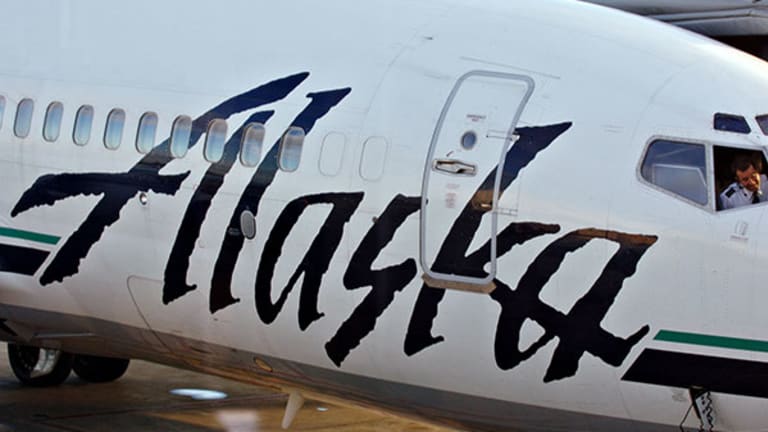 Alaska Air Trading Gains Lead Investor to Start an Airlines ETF
Delta buys back shares, American CEO Doug Parker takes compensation in stock, Alaska shares double and Global Investors CEO Frank Holmes starts thinking 'time for an airlines ETF.'
NEW YORK (TheStreet) -- Let's just say upfront that the airline exchange-traded fund business doesn't seem like the world's greatest business. Guggenheim Partners acquired an airline ETF in 2010 and shut it down in 2013. Direxion Shares started one in 2010 and shut it down in 2011. Neither lured many investors -- the Guggenheim fund shut down with assets of $21 million.
On April 30, San Antonio-based US Global Investors started its Global Jets ETF (JETS) - Get Report. This was just in time for the May collapse of U.S. airline shares. The fund opened at $24.49 and ended the first month down 6% at $23.10. Shares closed Tuesday at $23.44.
Obviously, it's not fair to judge this effort by the first month's negative performance. Certainly, U.S. Global Investors CEO Frank Holmes sees it differently. "It's exciting for us, our first ETF, and we've blown out all the numbers when it comes to trading volume," he said in an interview. The fund has been trading about 120,000 shares a day and had assets of $37.6 million as of Tuesday's close.
Jim Cramer wrote Friday that airlines, "right now, are in free fall" and that, if he were a buyer of airlines, he "would wait for the downgrades to happen." But Holmes looks at the bright side.
Airline industry trends -- including profits, margins, ancillary revenue, cash flow and declining debt -- have all been positive for a couple of years. Also, Holmes noted that in April American (AAL) - Get Report CEO Doug Parker said he would take his compensation in stock. "Other CEOS have done it because they are confident about their industries and stock," Holmes said. In May, he noted, Delta (DAL) - Get Report announced a $5 billion stock buyback and a 50% dividend increase.
Also, Holmes said, the Dow Jones Transport Index trades at 19 times earnings, while the stocks in the JETS fund trade at nine times earnings.
Holmes, 60, is a Toronto native with 35 years of investing experience. He purchased controlling interest in U.S. Global Investors in 1989. His focus has long been on natural resources investing, and he wrote a book on gold investing. Times were tough in the 1990s, he conceded. "Nobody wanted resources -- it was all tech boom."
A successful purchase of Alaska Airlines (ALK) - Get Report stock and a lot of flying got him thinking about an airline ETF.
"Three years ago I bought Alaska and it doubled for me," he said. "I started doing an analysis of the industry." Also, he flew about 100 times in 2014. "I noticed that fees were going up. I thought I should stop bitching about it and make money."
As for the closing of the Guggenheim airline ETF, Holmes noted that "this was done by a product manager (and) from the day they closed, you can see the (airline) stocks climbing." The completion of the American/US Airways merger in 2013 underscored the trends -- already well-established -- for airlines to pay down debt, better manage capacity and derive income from ancillary charges including fees for checked bags and desirable seating.
Holmes said he wishes he had started the Jets ETF in 2013 "but I was slow."
Two other trends also impress Holmes -- thinner seats boost aircraft capacity, and a pilot shortage could assure continued capacity discipline.
Jet's top four holdings, at 12% each, are the four biggest U.S. airlines: American, Delta, Southwest (LUV) - Get Report and United (UAL) - Get Report. The next five U.S. carriers, including Alaska and JetBlue (JBLU) - Get Report, each account for 4% of holdings. The next four airline industry companies, including Boeing (BA) - Get Report and General Dynamics (GD) - Get Report, each account for 3%. And the top 20 foreign airline industry companies, including China Southern (ZNH) - Get Report and Lufthansa, each account for 1% of holdings.
Regarding falling oil prices, which have been perhaps the biggest factor in airline price gains, the news is mixed. Yes, oil prices have been rising, but that can be seen as good news for an airline ETF, which provides a chance to hedge.
In fact, hedging opportunities abound. Holmes said some traders short the transportation index and go long the airline ETF.  "Or someone says 'I hate airlines. I will short Delta, but go long the ETF,'" he said. And then another investor goes long Delta and shorts the ETF. In other words, the hedging possibilities are just about endless.
"If you want to hedge, JETS gives you a bigger bang for your dollar," Holmes said. "About 10% of sales are to hedgers."
This article is commentary by an independent contributor. At the time of publication, the author held no positions in the stocks mentioned.